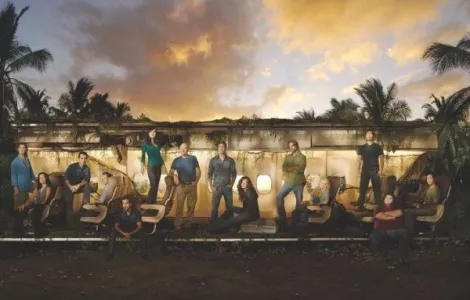 Lost
Sunday, May 23 (ABC)
Series Finale:
How does it all end? Like the rest of the critical intelligentsia, True TV isn't privy to that information, but this much is known: It's going to take all damned night to get
Lost
over with.
First, a two-hour (!) greatest-hits retrospective called "The Final Journey" kicks off the night at 6, which doesn't bode well—remember how Journey figured into/fucked up the series finale of The Sopranos? Then, it's The End, imaginatively titled "The End," 2 1/2 hours wherein all/some/nothing is explained and all/some/nothing is resolved to the satisfaction of all/some/no fans. After that, a special edition of Jimmy Kimmel Live (it's some sort of late-night talk show on ABC, I believe) will wrap it all up with all/some/none of the cast and writers of the show, all/some/none sober.
4 8 15 16 23 42


867-5309


668: The Neighbor of the Beast

That's over five hours of prime TV real estate—more like six, counting ABC 4's likely all-about-Lost Sunday newscast between the finale and JKL. Considering that the producers have had over four years to craft "The End," this should be plenty of time to answer the 1,000 questions about the mysterious island and the mysterious-er castaways. So, realistically, expect about 10 answers and an assload of existential ephemera.
Among my questions: Are the numbers really just the reorder ID for a 1999 Ford Escort taillight? Why did they wait so long to kill Charlie? What kind of conditioner does Desmond use? Has Penny (Sonya Walger) ever not gotten a series canceled? How did Sawyer, Jack, Kate, Hurley and the rest travel back to the '70s without a hot tub or a time machine? Seriously, why was that greasy elf Charlie kept around for so long? Is DHARMA Beer a pilsner or a lager? Why doesn't someone tell Claire to try some of Desmond's conditioner? How many direct-to-DVD erotic thrillers and CSI guest roles are in Evangeline Lilly's (Kate) post-Lost career? Charlie, weak little weasel, easily killed 'round Season 2—why the hell not? Is the four-toed statue the lone remnant of a Simpsons museum? What kind of so-called writer uses "assload" and "ephemera" in the same sentence?
I'll just tune in to Kimmel after Breaking Bad Sunday night and see what I get …
Season Finales
Thursday, May 20: Bones, Fringe (Fox); Community, Parks & Recreation, The Office, 30 Rock, The Marriage Ref (NBC); CSI, The Mentalist (CBS); Grey's Anatomy (ABC)

Friday, May 21: Ghost Whisperer, Medium, Miami Medical (CBS); Kitchen Nightmares (Fox); The Ricky Gervais Show (HBO)

Saturday, May 22: Legend of the Seeker (Syndicated)

Sunday, May 23: The Simpsons, The Cleveland Show, Family Guy (Fox); The Apprentice (NBC); Lost (ABC, series finale)

Monday, May 24: How I Met Your Mother, Rules of Engagement, Two & a Half Men, Big Bang Theory, CSI: Miami (CBS); 24 (Fox); Chuck, Law & Order (NBC)

Tuesday, May 25: NCIS, NCIS: Los Angeles, The Good Wife (CBS); The Biggest Loser, Parenthood (NBC)

Wednesday, May 26: American Idol (Fox); Criminal Minds, CSI:NY (CBS)
Thursday, May 27: FlashForward (ABC)

Monday, June 7: Nurse Jackie, United States of Tara (Showtime)
Tuesday, June 8: Glee (Fox)
Official Cancellations
Better Off Ted, Eastwick, FlashForward, The Forgotten, Hank, Lost, Romantically Challenged, Ugly Betty (ABC); Accidentally on Purpose, Cold Case, Gary Unmarried, Ghost Whisperer, Miami Medical, The New Adventures of Old Christine, Numb3rs (CBS); Heroes, Law & Order, Mercy, Trauma (NBC); Brothers, Dollhouse, Past Life, Sons of Tucson, 'Til Death (Fox); The Beautiful Life, Melrose Place (The CW); Legend of the Seeker (Syndicated)