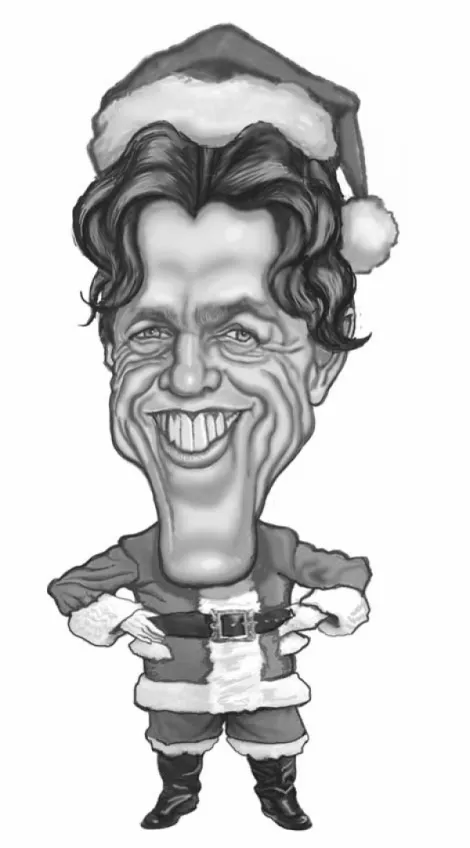 The National Association for the Preservation of the Christmas Spirit (N.A.P.C.S.) has just named Love, Actually as the Christmas movie of the decade, just barely edging out Bad Santa. Past winners include such perennial favorites as A Christmas Story, National Lampoon's Christmas Vacation, Miracle on 34th Street, Holiday Inn, A Christmas Carol (with Alistair Sim as Scrooge, though the 1974 version with Regis Philbin in the title role has a loyal following), and, of course, the Christmas movie of all time, It's a Wonderful Life.
It so happens that the executive secretary of N.A.P.C.S., Elna Mistletoe, has recently taken up residence in Coalville, where she and her husband, Harvey, are raising llamas. She agreed to sit down with us and discuss the selection at the High Mountain Drug in Kamas, when Elna was picking up a prescription for a skin condition she fears she may have picked up from caring for her herd of llamas.
Deep End: Tell us how you arrived at the decision to make Love, Actually the Christmas movie of the decade.
Mrs. Mistletoe: It was a no-brainer, to tell you the truth. My favorite part is when the prime minister's driver starts singing "Good King Wenceslaus" when they're out looking for Natalie, who the prime minister, played by Hugh Grant, is looking for, because he realizes he really loves her, even though he caught her kissing Bill Clinton, played by Billy Bob Thornton. I could go on forever, including the part where the deaf mute holds up signs for Keira Knightly telling her how much he loves her, even though her husband is upstairs drinking eggnog. Or when Aurelia, the Portuguese maid, dives into the lake to save Colin Firth, who is was not really committing suicide but just doing another take from Pride and Prejudice, that sexy scene when Elizabeth Bennet catches him skinny-dipping.
DE: It is a feel-good movie, no doubt about it. Did you pick it for its universal message of love, as in, "Love is all around us?"

MM: That's it exactly. You've got love covered every which way. You've got the little kid with the big head who has a crush on the little black girl who's missing a tooth, and who gets shot—the boy with the big head, not the girl—in the leg by airport security when he tries to say good-bye to her at the airport. You've got the nude body-doubles who fall deeply in love after performing simulated sex at the school Christmas play. You've got Emma Thompson going after Alan Rickman with a golf club and breaking the back window in his Bentley when she finds out he has bought an expensive necklace for his secretary, who, it turns out, has a mentally ill religious fanatic brother who sings hymns whenever he has a court appearance to determine if he is mentally competent.
DE: It's certainly a complicated plot.
MM: I see new things in it every time I see it. Oh, and I forgot about the part where the one guy flies to Wisconsin and is turned away at all the inns until he happens across a lonely farmhouse, where the farmer tells him he doesn't have a bed for him, so he'll have to sleep with his daughter. Well, they hit it off, even though she speaks a rare upper Midwest dialect and used to be a supermodel.
DE: Here's what I don't understand: You say the movie has love covered every which way—young kids, people who don't speak the same language, unrequited love, love between nude body-doubles, etc. But the movie left out gay people and geezers.
MM: You've got a point, and the rumor is the producers are at this very moment updating the picture to make it more inclusive.
DE: Can you give us a hint?
MM: They're revamping the story between the dissipated rock singer and his manager, where they will go fishing together and experience sex as if for the first time. As for the geezer factor, I understand they are going to add a segment called "Geezer on the Roof," with Senator Orrin Hatch wooing Barbra Streisand with Yiddish love songs.
DE: Having the Jewish senator from Utah will also widen the appeal, tossing a crumb to our non-Christian friends. Two birds with one stone, so to speak. Well, thank you for your time, and Merry Christmas!
MM: Happy Hanukkah to you!