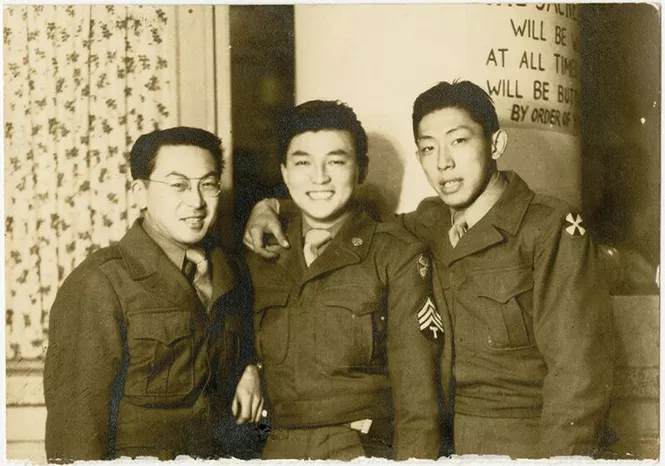 Special Collections, J. Willard Marriott Library, University of Utah
David Hisato Yamate, right
David Hisato Yamate and Tamaki Tsubokura's courtship began in the summer of 1944. Like so many young lovers, they would go for long, soulful walks. Their choice of location, however, was severely limited by the barbed-wire fence that surrounded the Central Utah Relocation Center.
They were born and raised near San Francisco—Yamate in November 1925; Tsubokura a year later. Shortly after the Pearl Harbor bombing of Dec. 7 1941, the War Relocation Authority forced their families and many other Japanese-Americans to move to the hastily assembled black tarpaper barracks at the Topaz internment camp near Delta, Utah.
The story of their relationship until they got married in 1946 is told through several hundred letters held at the J. Willard Marriott Library's special collections department at the University of Utah. The "David Hisato and Tamaki Tsubokura Yamate papers" also include pictures of Yamate but not of Tsubokura, perhaps because cameras were not allowed in the camp.
The letters were rescued from a landfill dump in Berkeley, Calif., according to a 2013 report by the Eureka Times-Standard, and sold to the Marriott through a deal brokered by a Berkeley book dealer and local rare books guru, Ken Sanders. A City Weekly reporter read the letters which covered Tsubokura's time at Topaz, after reference librarian Alison Elbrader organized a tour of some special collections materials at the reporter's request.
The correspondence, which stretches from September 1944 to January 1947, reveals two young people negotiating their feelings through pen and paper. It also offers a chilling insight into life within and without a government-sponsored mass incarceration program for a specific ethnic group.
In November 2016, a key financial supporter of President Trump, while promoting the idea of a Muslim registry, called such internment camps "precedents." With Trump now publicly committed to ending the Deferred Action for Childhood Arrivals program (DACA), throwing up the specter of mass deportations of hundreds of thousands of youth currently legally studying and working in the U.S., the shadows of such precedents seem only more threatening.
Yamate and Tsubokura's letters began in earnest after he left the camp to provide much-needed local wartime labor. Being released was a mixed blessing, given Tsubokura was still there. "At first I was glad to be out here free and fooling around, but now I wish I [were] back there," he wrote.
Much of their letters are devoted to movies they had seen and songs that reminded them of each other.
Before winter hit, Yamate picked tomatoes near Roy. He wrote Tsubokura that he hoped a frost would freeze them so he could return to Topaz. He read magazines "to keep the loneliness away."
Life at Topaz was tedious. When a fire broke out in one of the huts, Tsubokura wrote, "it sure broke the monotony." Mostly her letters were about working at the camp's welfare office, the climate and missing her beau. "It's windy like anything. There's more dust than you can imagine." When she looked up from her desk, she could barely make out the post office across the way.
Their letters were more than lifelines through which to express their feelings; they were an integral part of every day. Yamate set his alarm clock for 10:30 each morning to know when the mailman came. Tsubokura would leave work early, running to the barracks to see if he had written her.
Special Collections, J. Willard Marriott Library, U of U.
David Hisato Yamate
In December 1944, Yamate left Utah for Chicago and wrote that he felt the distance between them all the more, calling it the "acid test" of their relationship. On the train to Chicago, "they were singing songs that reminded me of you so much I had tears in my eyes." He continued, "I sure hope it won't be long before you are out."
He would return to Topaz to see her for several days, but leaving proved painful. "I feel so damn rotten leaving you alone in Topaz for Christmas and New Year's, darling," he wrote. She replied she had cried herself to sleep. She chafed at her lack of freedom, writing that she wished she were free, if only to see the movies she wanted to. Feelings of rejection penetrated her dreams: "I dreamt last night that I went to where you worked and got kicked out. I really have crazy dreams. They really get me down."
Yamate moved to Salt Lake City and worked at the Hotel Utah coffee shop. Being so close to Topaz was hard. "I wish I was back at camp with you. It sure seems every time I'm out I wish I was back there and when I'm back there I wish I was out but not in Salt Lake."
Problems emerged when Tsubokura became friends with a younger female at the camp who, according to the letters, seemed intent on creating problems. "She says that she gets along better with you than you do with me," an anguished Tsubokura wrote. Rumors of his straying reached her ears. "I love you a lot and I hate to see you mixed up with another girl."
FBI agents came to the camp "investigating some mimeographed copies of some articles," Tsubokura wrote Yamate. The agents instructed internees not to plan to relocate, despite the exclusion order banning Japanese-Americans to the camps having been lifted.
When Yamate went to see her in early February 1945, he was frustrated because she had gone to a show rather than see him. He broke up with her shortly after his visit—via letter.
Tsubokura wrote to explain she'd made a firm promise to go to a show with the female friend, and could not break the promise. Yamate hit the bottle when she informed him she'd attended a Valentine's Day dance with a young man. He was stung, too, that she'd typed the note, instead of writing in her usual elegant script. He got up at noon "and started drinking," he wrote. "Boy, I guess you get drunk fast on an empty stomach."
With the prospect of the camp closing, and her and her family returning to San Mateo, Calif., she had increasing doubts about a future for them. "I feel as though I want to cry and yet I can't," she wrote.
By the end of the month, they were slowly healing the rift—one letter at a time. Yamate went to Topaz in March to straighten things out. Days before his arrival, she wrote about how going to a sad movie made those around her cry. She, however shed no tears. "Guess I am getting pretty hard-boiled since coming in camp. I never was like that back home."
Special Collections, J. Willard Marriott Library, University of Utah
Face-to-face, the couple resolved their differences. After he left, she wrote, "The days I spent with you [are] the happiest days I have spent in my whole life. I know I'll never have that happiness with anyone else."
Yamate attended BYU in late March, studying algebra and chemistry, while also playing tennis for the university. Come late June, days before Tsubokura and her family left Topaz, Yamate went to the camp, putting her "on the spot," he later wrote, although he didn't mention about what. "That day you came to say goodbye, it frightened me more than anything had in all my life," she wrote. Topaz closed four months later, on Oct. 31, 1945.
Back in San Mateo, Tsubokura felt happier in some ways. "The feeling here is very good," she wrote. "No one looks to stare at you. It feels as though I never left it except for memories." She rediscovered her softer self, she wrote, but wished they could be together. "I rather have the barracks if you were there where I could see you, darling."
Tsubokura worked for the U.S. Navy as a secretary, while Yamate found employment in Salt Lake City until he could afford to return to California in October 1945. The following year, Yamate joined the Army. Shortly before Yamate was sent to Japan in late 1946, they were married. Special collections had no details of their lives after Yamate returned from Japan on Jan. 3 1947.
Perhaps what kept them together was the strength of a love that distance, rather than eroding, finally confirmed. "I miss you terribly darling," Tsubokura wrote from the gentle climes of San Mateo. "I loved you in the past but I love you more now. I think distance makes the heart grow fonder."