Page 2 of 2
Heather & Jax Collins
Wearing a lily-white wedding dress and holding a bouquet of roses and a bag packed with snacks and Powerade, Heather Collins had been camped outside the county building since 3 a.m on that chilly Monday morning. Needless to say, she and Jax were pretty excited for the doors to open at 6 a.m.—two hours earlier than usual—for the rush of newlyweds-to-be.
When asked how long the couple has been together, the simultaneous answers of "five years" from Heather and "six" from Jax was cause for some mock indignation from Heather.
"How come you don't know how long we've been together?" she asks.
Heather recounted their first storybook encounter at local bar the Paper Moon this way:
"Yeah, we totally met at a bar, and I was really cool, and was, like, 'Hey, good looking, we should dance,' and we did—and that's how it happened."
"Yeah, sorta like that," Jax said with a laugh.
Jax says she knows there will always be hostility from some; she says she's been punched in the face simply for being gay. But there's something to be said about having equality in spite of the rancor that still lingers in the community.
"We walk around every day, and we know that we're different," Jax said. They know that some people who see them together "don't like it," she said. "So that won't change for us. The thing that will change is we can say 'we're just like you.' "
"Yup, and we'll have the license to prove it," Heather said, beaming.
Melissa & Dawnn Chatwin
After their marriage was completed at 9:15 a.m., as other couples were expecting a court decision that might have stopped the marriages at any moment, the Chatwins were finally able to relax, with license in hand.
"After all the excitement from being here the whole night, now I can finally breathe," Dawnn said.
The couple had friends save a spot in line the night prior while they arranged for someone to watch their 5-month-old son.
As part of the first wave of married couples that morning, the Chatwins were still rocking between the joy and bliss of marriage and the shock and awe of same-sex marriage being legal in Utah. Asked their thoughts on Utah being the 18th state to allow same-sex marriage, their simultaneous response was simply, "weird."
For them, it was a weird relief, as it finally gave them equal privileges when it comes to raising their child.
Prior to getting married, only Melissa, the biological mother, had rights.
"Since we have a baby together, it is so scary thinking she can't take him to the hospital if I'm not there because she's not legally his mother," Melissa said.
While the couple did find Utah's (temporary) spot as the 18th state to allow gay marriage somewhat surprising given the local culture, they said that their personal experience has been mostly positive, receiving lots of support from family and friends.
"There's more support here than not," Dawnn said.
They say that people all over are just becoming more accepting, including Melissa's Baptist grandmother.
"Even though she knows we'll go to hell, she's still OK with us as people," Melissa said with a laugh.
Barbara Christensen & Melanie Hansen
While many courtships started at clubs, bars or in the workplace, Barbara Christensen and Melanie Hansen met on a court—the racquetball courts at the Marv Jenson Recreation Center in South Jordan.
"We were pretty competitive, but it was also just for fun and exercise," Hansen said. "Then we just became friends and figured out life together."
The couple staked out their spot in line with their 21-month-old son, Kaden, in tow. Kaden, having spent hours in line in the hallway of a county government center, was struggling to keep still.
Kaden, whom Hansen gave birth to, is not the first child she's considered immediate family. In a previous relationship, her partner was the biological mother. The two eventually separated, and without having been officially married, Hansen had no right to the child she had helped raise as an equal parent.
It's a part of her story she doesn't like to dwell on.
"History is history, but I learned a lot from it," Hansen said. "It's motivated me to move forward, and helped me learn how much rights really mean to protect people."
Same-sex marriage not being legal, Hansen said, is "not going to stop people from having families."
Shane Atkinson & Darrell Whatcott
At 7:30 a.m. Dec. 23, Shane Atkinson and Darrell Whatcott found themselves near the end of the line. They had been caught off guard and hadn't staked out a spot at the county building the night before, as other couples had; like most Utahns, they hadn't expected same-sex marriage to happen in Utah.
"Not without the help of federal troops!" Atkinson joked.
Atkinson and Whatcott had long considered themselves married, having been together for the past 28 years. The couple met when Atkinson was a lab teaching assistant for a college engineering class that Whatcott taught.
"Our first date was at Hire's, we had root-beer floats," Whatcott said. "You know, traditional Utah thing."
The couple had planned to be married out of state in the spring to reap federal health-care benefits now available under the Affordable Care Act, but with marriages suddenly legal in Utah, the couple decided to tie the knot in their home state.
"Now we have the legal and the health benefits we are entitled to," Whatcott said. "I don't know how many thousands we've spent on lawyers, just trying to set up trusts and trying to get some of the basics that you get with a marriage license."
Rusty James & Melvin Nimer
In their matching baby-blue sweaters, Rusty James and Melvin Nimer drew reporters to them like moths to a flame.
Like others, the couple were caught up in the excitement of the moment, ecstatic about the recognition of their right to marry.
And for James, 35, being able to have a say in the health-care decisions of his soon-to-be husband, the 65-year-old Nimer, is hugely important.
"If something happens to him, I don't have to worry," James said. "I can take care of him and know that he'll be taken care of."
Nimer fondly recalled the couple's first rendezvous at Club Try-Angles where, he said with a grin, James "kept stalking me until I fell in love with him." The couple has been inseparable for the 6 1/2 years since.
For Nimer—a board member of the gay caucus group Utah Log Cabin Republicans and the treasurer of the Salt Lake County GOP—the day was momentous politically as well as personally.
He said he hopes same-sex marriage will provide a lesson to fellow conservatives about being consistent when it comes to advocating against big government.
"True conservatives want government out of their lives as much as possible," Nimer says. "A conservative wants everyone treated equally, but most of them are lost when their definition of 'everyone treated equally' means everyone like them, instead of all people. We're trying to teach conservatives how to be true conservatives."
Daniel Musto & Christopher Johns
Daniel Musto and Christopher Johns were wed in the lobby of the building, with their ceremony officiated by Johns' brother, surrounded by smiling, teary-eyed family members, including a young girl armed with an iPad, busily Skyping the union to family from out of state.
Interviewed after being married for all of five minutes, Musto and Johns had no complaints about the married life.
"It's amazing," Johns said. "It feels like something I didn't even know I could dream to have come true."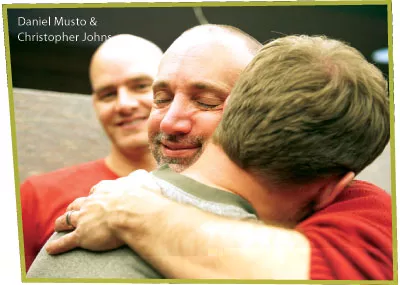 The couple first met after being set up on a blind dinner date by friends. It wasn't love at first sight.
"I hated him at first," Musto said with a grin.
But their love grew; the couple had been together eight years before their wedding day.
For Musto, the fact that the bang of a judge's gavel could bring marriage equality to the state was surprising, but was something he had long wished for.
"I have been praying and praying, and I just couldn't be happier about it," Musto said. "We're finally being validated for the love we have for one another in the eyes of the state. Our love for one another hasn't changed, but now it's official: I can say this man is my husband."