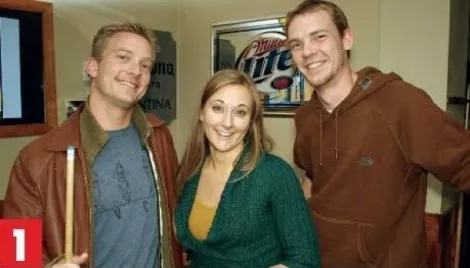 We want to keep Utah up to speed on local nightlife. Submit tips about club openings, closures, remodels, special events, drink recipes and noteworthy changes to comments@cityweekly.net

Lumpy's hits a home run
The Angels pulled an awesome win the other night (7-6) versus the Yankees in the Game 5 of the American League Championship Series. Lumpy's Downtown provided a great environment in which to follow the proceedings, with huge TVs and individual booths screening the action. Yankees fans showed their pride with jerseys and hats galore. Lumpy's is also a good spot to catch Monday Night Football (25-cent wings all night) and basketball, too.
Pierpont Entertainment District Takes Over
Pierpont Avenue will be closed off to vehicle traffic for the massive Halloween Block Party featuring participating clubs Sandbar (122 W. Pierpont) and Lumpy's Downtown. (145 W. Pierpont). The event will include a costume contest with prizes including $1,000 cash and an eight-day trip to Hawaii. Ticket prices include admission to both venues. Pre-sale orders are available for $20; $30 on day of party. The fun begins at 6 p.m.
Go North
Ogden is not bereft of entertainment. In fact, Historic 25th Street offers more bars per block than most Salt Lake City districts. From stalwart live-music venue Brewskis to gastro-pub Rooster's Brewing Company, there's something for everyone—within walking distance, no less.
1. Michael Thatcher, Heather Baxter, Ryan Vossberg at Lumpy's Downtown
2. Mike Miecznikowski, Ryan Mabellos at Lumpy's Downtown
3. Shelly Vansant, Melisa Mccoy at Lumpy's Downtown