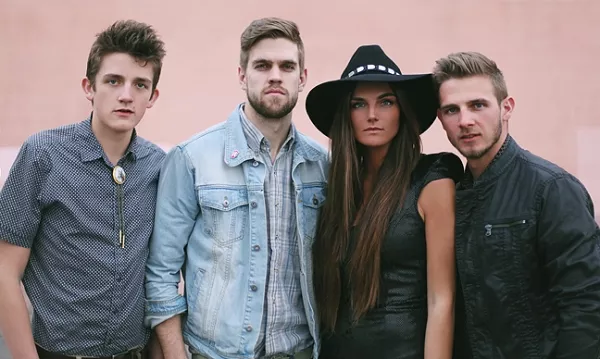 "I hear it's beautiful where you're going."
In June 2010, when local singer-songwriters and sisters Sophie and Tessa Barton wrote those lyrics together, they didn't know that the line would take on an especially poignant meaning just a week later, when Sophie suddenly passed away because of a heart arrhythmia at age 17.
At the time, Sophie and Tessa weren't sure where those words had come from, and set the unfinished song aside. But the night that Sophie passed away, "I was in the hospital with her," Tessa says. "I was overcome with a sense of calmness. I could feel my sister and as clear as day heard her tell me that I needed to go home and finish that song. It was about her and our journey together. I remember going home that night and having an out-of-body experience as the song wrote itself. I knew Sophie was right there with me writing it."
Tessa performed the finished song, which was eventually titled "Walk With Me," for the first time at Sophie's funeral. But it became more than Tessa's goodbye to her sister—it also marked the point when Tessa chose to continue creating music.
"Our biggest connection was the music, so I decided after that that I was still going to play because it was so cool to still have that to be close to her," she says.
Shortly after Sophie's passing, Tessa began collaborating with two of her brothers, Chas (guitar) and Luke (bass/guitar), performing simply as Tessa Barton. The lineup was later completed with the addition of drummer Tony Farley. Just as Sophie's memory influenced Tessa's journey of discovering her own musical abilities—namely, her unique, smoky voice—it also inspired the name that the band eventually adopted in 2012: Luna Lune.
"My mom would always say to Sophie, 'No matter where you are, we're always looking up at the same moon,' " Chas says. "And it was really interesting that she would share that with her without knowing what was coming. After she passed away, that saying and the moon became a symbol for us."
The feel of Luna Lune's 2012 debut album, Walk With Me, is hopeful but wistful folk-rock, with Tessa's soulful, slightly raspy voice dancing above a cloudbank of guitar, percussion and touches of strings.
Many of the tracks on the debut had been co-written by Tessa and Sophie, and while it was a more than solid first step by a new band, Luna Lune feel like they've outgrown that old material and are preparing to enter the studio to record new material that reflects their maturing sense of songwriting.
"As a songwriter, I started out writing about the typical things like heartbreak, and for the first album, I wrote a few songs about my sister and I stuck to more of the sweeter side of things—I don't feel like I dug deep enough," Tessa says. "And I feel like in our writing lately there's definitely a darker side to it, which wasn't on the first album."
Luna Lune's next record will also represent the band's instrumental progression from folk-rock to Jack White-influenced alt-rock with muscular guitar riffs and some synths, a change that is most visible during their live performances.
It's unusual for a vocalist to play drums while they sing, let alone for one to bang away on a lone bass drum with a large drumstick, as Tessa does. But as she lets loose with her powerful pipes, her accompanying drumbeats become another facet of her message, like rhythmic exclamation points.
In fact, she says, when she first tried playing the drum, it unleashed "this fire I didn't know I had" that radiated rock & roll energy to the other band members. They even dedicated a new song to it—called, fittingly, "The Drum."
"We had parts of us that were trapped or caged, wanting to get out, and we probably overcompensated on ['The Drum']," Chas says. "It goes really far to the other side, if you compare Sophie and Tessa's music compared to this song. I mean, we go to the whole other end of the spectrum and we get really hard and heavy."
Luna Lune's goal is to release their new EP sometime in the summer. Excited about their evolution and progression musically, Tessa believes that during "the next six to eight months, a lot's going to happen, and we're really going to define everything we're doing."
"We're feeling really, really good, better than we've ever felt as a band," Chas says. "Really on the rise."
LUNA LUNE
w/The Blue Aces, Faith Johnson, Maddie Wilson
Velour, 135 N. University Ave., Provo
Friday, Feb. 21, 8 p.m.
$7
VelourLive.com
Twitter: @VonStonehocker