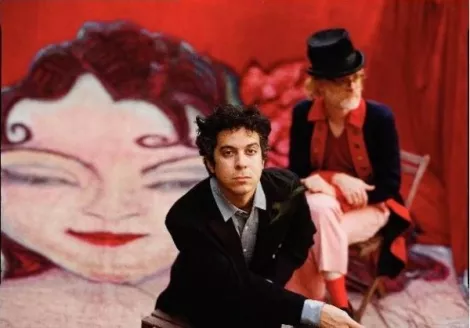 Matt Ward, known musically as M. Ward, has always had a fondness for old things—archaic yet hardy artifacts. He has held on to traditional musical forms, genres and even (mostly) sounds. Since the Portland artist's first album Duet For Guitars No. 2 (1999), his sonic palette has recalled a time a good century ago, before the electric guitar was a twinkle in Les Paul's eye.

"I've asked myself the same question," Ward says of his affection for the bygone eras. "Since high school I've loved nonlinear works of art, and answers to bigger questions that come through music in unpredictable ways. I'm attracted to elements of music of the past that have to do with music of the future," he explains. "There's a commonality between what happened and what will happen."

Maybe Ward seems like such a natural because his songs have grown along with him. "All the songs I've ever recorded I've been living with since before I can remember," he explains. "Just as John Fahey struck me, with how much history you can learn listening to him, sometimes you learn more about what life was like for people living then than reading a textbook." 2001's The End of Amnesia is all about waking up from our amnesia to history, and parts of it sound like it was recorded from the end of the deep tunnel of years stretching back, crackling and a bit faded.

Ward's new release Hold Time (Merge) incorporates into his sound a more-contemporary sensibility, though his methods are still the same, originating tracks with a four-track recorder, the favorite gear of indie musicians, before bringing them to the studio. Since his discovery by the likes of Conor Oberst and Isaac Brock of Modest Mouse and appearances on late-night talk shows, he's garnered backing vocals by Lucinda Williams, Jason Lytle, and Zooey Deschanel, with whom he also performs as She & Him.

Ward met Deschanel when he was writing the soundtrack for the indie film The Go-Getter. "Normally, images come in the act of composition," he explains. "But with a soundtrack, images come first." His music from the beginning has been highly evocative of visual ambiance, like it was meant to be used as a soundtrack; or, have a film written around it, some kind of period piece, with people riding bicycles with huge wheels, or the invention of baseball.

"It's been very instructional for me to have a lot of talented friends," he says. "Lucinda and Zooey, their voices are so different, but so great and evocative. Their voices aren't the only instruments added to his palette. "I learned how to arrange strings, and with a broader instrumental horizon, it changes the overall sound of the album. Some might find the new album a little overproduced, but Ward is just enlarging his range. His painstaking process has been able to continue on the Merge label: "I'm lucky that the label won't release anything till I'm happy with it."

M. WARD
w/ Land of Talk
Gallivan Center
239 S. Main
Thursday, July 23
7 p.m.