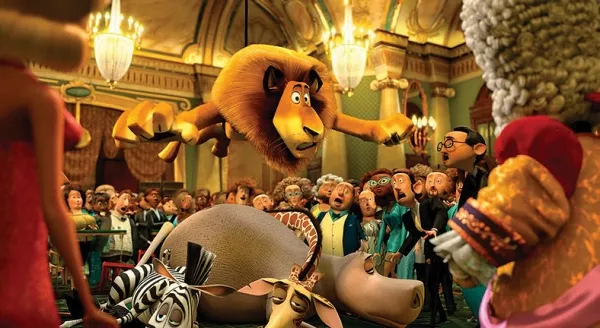 What do you do for a story when you're plowing your way into the third installment of an animated film series that was never particularly inspired to begin with? Maybe the best way to go is abandoning the idea that you need a story at all.
Technically, of course, that's not what returning directors Tom McGrath and Eric Darnell—joined by Conrad Vernon (Monsters vs. Aliens)—do in Madagascar 3. There's a nominal plot involving Alex the lion (Ben Stiller) longing once again to return to his zoo home in New York City from Africa, leading to a plan to track down the penguins and their plane in Monte Carlo. Once there, they find themselves on the wrong side of determined animal-control officer DuBois (Frances McDormand), and hiding out in a traveling circus that may be their ticket home.
How do Alex, Marty the zebra (Chris Rock) and company get to Monte Carlo from the African mainland? Why, they swim, of course—and the utter lack of concern with setting up genuine obstacles actually allows the filmmakers to embrace spectacle and silliness. Lemur king Julian (Sacha Baron Cohen) falls in love with the circus's performing bear. The elaborate circus performances become candy-colored barrages of in-your-face 3-D effects, while a careening chase through the streets of Monte Carlo turns DuBois into a cross between Inspector Javert and the Terminator.
It all comes to an absurdist climax during a sequence in which DuBois retrieves her injured henchmen from their hospital beds through the strange power of … a performance of Edith Piaf's "Je Ne Regrette Rien" that causes casts to spontaneously explode. Will Marty and the gang find true love and/or their way home? Who cares? When a movie commits itself to nothing more than providing freaky fun, it's amazing how a tired series can feel fresh again.
MADAGASCAR 3: EUROPE'S MOST WANTED


Ben Stiller, Chris Rock, Jessica Chastain
Rated PG