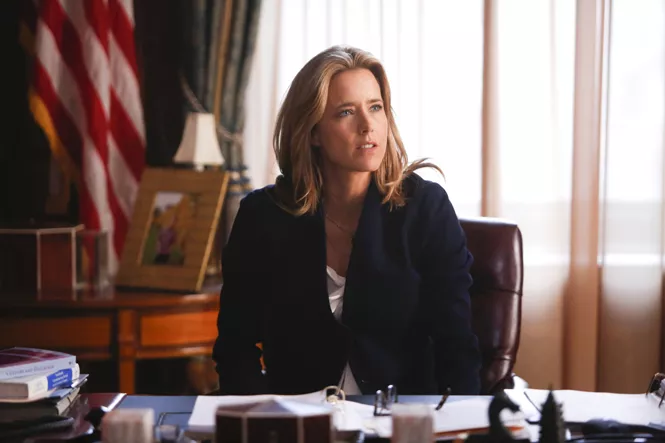 Madam Secretary
Sunday, Sept. 21 (CBS)
Series Debut: When the Secretary of State is killed in a plane crash, Elizabeth McCord (Téa Leoni), who quit the CIA years ago over "ethical issues," is yanked out of her college-professor gig to replace him ... sure. Once past the iffy setup, Madam Secretary kicks into West Wing mode, establishing McCord's zero-tolerance policy for bureaucratic bullshit and useless protocol. Madam Secretary is as solid a political drama as network TV has seen in years and, handled right, could be Leoni's The Good Wife moment—work it, CBS.
Mr. Pickles
Sunday, Sept. 21 (Adult Swim)
Series Debut: Finally! A new animated series from Adult Swim! The live-action shows are cool (most of them, anyway—we'll see how Tim & Eric's Bedtime Stories goes), but the late-night stoner toons have been missed. In quaint Old Town, young boy Tommy thinks his dog Mr. Pickles is just a carefree scamp—but he's really a Satanic entity that will screw, maim or kill (in no particular order) any human or animal that crosses his path, and then make it look like he saved the day, à la Lassie. Only Grandpa has witnessed the evil of Mr. Pickles, but no one believes him because, well, he's old. Sick, twisted and wrong—just the way I like my cartoons. Thanks, Adult Swim.

Scorpion
Monday, Sept. 22 (CBS)
Series Debut: Seems late for a Nerds Assist the Feds procedural, but here's Scorpion, wherein three good-looking "outcasts" clack keyboards, drop sci-fi references and run wires to fight The Terrorists. Working for squinty fed Robert Patrick, the Scorpion—or, if you won't,</scorpion>—team are "brilliant misfits who comprise the last line of defense against complex, high-tech threats of the modern age." </lame>

Forever
Monday, Sept. 22 (ABC)
Series Debut: Ioan Gruffudd (Fantastic Four) plays a New York City medical examiner who knows everything—literally, because he's secretly been alive for 200 years. When he teams up with NYPD detective Jo Martinez (Alana de la Garza), there's no crime they can't solve ... if Castle or Elementary haven't already closed it. Matters not: Forever is too optimistic a title for an ABC series whose regular timeslot will be Tuesdays at 9.
Gotham
Monday, Sept. 22 (Fox)
Series Debut: The Batman-free Gotham may be just a highly stylized cop show with glimpses of future DC Comics supervillains, but a highly stylized cop show is better than a no-style cop show. Gotham, centered around detectives James Gordon (Ben McKenzie) and Harvey Bullock (Donal Logue) sports this season's priciest-looking pilot: The police station looks like the '40s, the cars look like the '70s, you never see a cell phone or computer, but there are satellite dishes on the rooftops; Gotham occupies no time period. And of all the excellent performances, the most surprising of all is Jada Pinkett Smith as Gotham crime boss Fish Mooney—any show that can make her likable is onto something.
Black-ish
Wednesday, Sept. 23 (ABC)
Series Debut: Anthony Anderson stars as a family man with a corporate PR job and a sweet suburban spread, but he's becoming more aware (via narration, this season's hot trend, along with the Chubby Bearded Bud) of his clan's disassociation with black culture, and the casual disapproval of his live-in dad Pops (Laurence Fishburne) only exacerbates his anxiety. For a seemingly one-note premise, Black-ish delivers as many laughs in its debut episode as its more-established sitcom neighbors—this is either what The Boondocks railed against or really wanted all along.