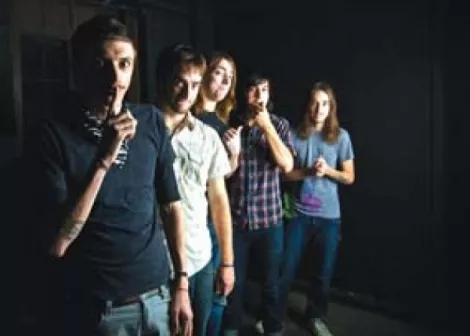 Most bands feel the need to reinvent their identity at one point or another. Sometimes the change comes on the heels of a disappointing record or a disastrous tour. Other times, though, it comes after a few too many member shake-ups force the band to re-evaluate what direction they're headed in and whether or not they want to stray from the beaten path. That's exactly the kind of mindset Adam Fisher and the rest of his band—
Fear Before the March of Flames
—found themselves in while recording their newest album. n
Midway through the session, the band decided to drop "The March of Flames" from their moniker and continue on as simply Fear Before.
n
"We've had so many changes—both member-wise and personally—that we wanted something that would give us kind of a fresh start," said Fisher. "And so many people knew and referred to us as just Fear Before anyway that we figured it would be OK."
n
Formed in Denver in 2002, Fear Before garnered attention with their Rise Records debut Odd How People Shake. Mixing elements from metal heroes Converge, Botch and The Blood Brothers, the band added their own unique, artsy twist and was able to craft a distinct sound that set them apart from the rest of the "rising stars of screamo" bands just starting to sweep the scene.
n
Since then, each Fear Before record marked a significant break from the prior release. The band has moved in a more experimental direction, but they still retain heavy, math-core roots. The Always Open Mouth (2006) expanded the band's fan base and reiterated their need to evolve.
n
After spending most of the last two years on the road, Fear Before settled down in Seattle to record their newest record. Fisher has stated in previous interviews that he definitely doesn't want to rehash the past, but at the same time, he doesn't want to alienate loyal followers.
n
"We didn't totally disregard our past albums or anything," he says. "We went through all of them, found things we liked and tried to expand on them. I think that in itself helped make this album different."
n
Fear Before's new self-titled LP draws on a wide range of elements—inspirations that make it hard to limit the band to one specific category. There are prog-rock riffs that wouldn't be out of a place on a Rush album, but then the tempo drops and the band switches to a Neurosis-style drone and mesh the two in a strangely brilliant fashion. It might confuse listeners at first, but the new songs will definitely inject a little more life into the band's already chaotic live show.
n
"We wanted to write songs that were fun to play live," says Fisher. "Not that I don't love the songs from Mouth, but a lot of them don't translate too well. We wanted to make this one a rocker."
n
With song titles like "I'm Fine Today," "Everything's Not Shitty" and "Get Your Life Together," Fear Before has also crafted an album that, while largely dark and depressing, is also occasionally, surprisingly upbeat. Fisher said he wanted the overall feel of the record to be, "more hopeful."
n
The new record will be released through Equal Vision Records on Oct. 28, the same day Fear Before headlines the final show of their current tour in Utah.
n
"We've been out for about six weeks now," says Fisher. "Salt Lake City is a good place to have a CD release show."
n
Fisher is proud of everything the band has done, but he's especially proud of the fact that they can continue to redefine what this band means to them. After six years, four albums, a DVD and thousands of shows, he's happy that they were all able to bring something to the table.
n
"We just wanted to make something a little more energized. Something that all of us contributed to," he says.
n
Fisher enjoys looking forward to what's next instead of what's already come, "but it's not like we're going to stop playing our old songs or anything like that," he says.
n
Well, except for "On the Brightside, She Could Choke."
n
No matter how many times that's requested, it probably won't happen.
n
n
FEAR BEFORE w/ I Am the Ocean
nIn the Venue, 219 S. 600 West, Tuesday, Oct. 28, 6:30 p.m., 24Tix.com
n
n
n
tttt