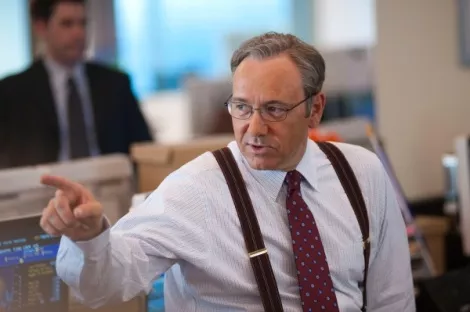 If you go to see a drama about the guys in suits who dicked over the world during the 2008 financial meltdown, you either want catharsis, or you want answers. It seems more than slightly baffling that Margin Call writer/director J.C. Chandor can't figure out a way to provide either one.

His story takes place almost entirely within the walls of an unnamed brokerage firm over the course of 24 hours. Young risk-management analyst Peter Sullivan (Zachary Quinto) has discovered information in the files of his just-downsized manager (Stanley Tucci) indicating that mortgage-backed securities are turning toxic, potentially bankrupting the firm. Peter's bosses, Will (Paul Bettany) and Sam (Kevin Spacey), scramble to figure out an escape strategy, while the firm's executives (Simon Baker and Jeremy Irons) simply want to sell all the risky securities as quickly as possible.

Despite the insistence by the film's characters that people "explain things like I'm a 5-year-old"—presumably for the lay audience's benefit—Margin Call actually spends little time explaining precisely why the situation is so dire. That frees up exposition time that could have been spent on building the characters who may have to make morally indefensible choices, but nearly every one of these people remains a cipher, interchangeably anxious over what is about to happen to the markets. No matter how many times Spacey's Sam insists he's conflicted over the proposed course of action, it doesn't shake the sense that we're watching something that's fundamentally clinical and procedural.

Chandor tiptoes into a potentially intriguing area when Bettany's Will gives a speech implicating the general public in speculative bubbles, and it might have been fascinating to focus on what people have to tell themselves when they're about to do something they know is wrong. While it could be appropriate to tell this story with no real heroes, Margin Call also doesn't tell us anything new or compelling about its villains.

MARGIN CALL


Kevin Spacey, Zachary Quinto, Jeremy Irons
Rated R