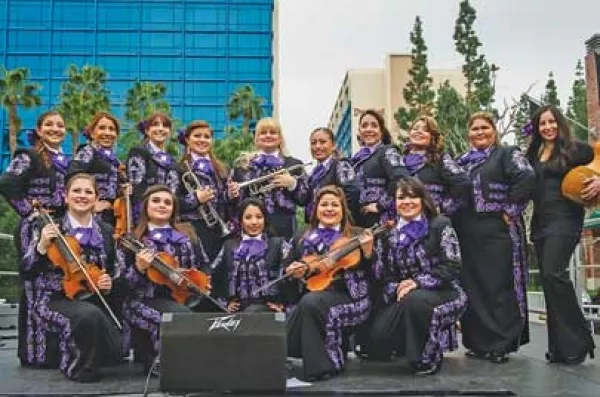 Seeing the Mariachi Divas onstage for the first time probably makes many people do a double-take. Not only is each of the 15 musicians female—rare in the male-dominated genre of mariachi music—but they're also culturally diverse. The leader and founder of the traditional but innovative group, in fact, is the blond-haired, Irish-Italian, trumpet-playing Cindy Shea, who says fighting to play the music she loves has made her, and her fellow Divas, stronger, better musicians. Now, the Grammy-winning Mariachi Divas will bring their brass- and string-based Mexican music to the 28th-annual Living Traditions Festival as one of four headlining acts.
Since the group's start in 1999, the Divas have succeeded in bringing their own spice and flavor to mariachi music, blazing new trails in the traditional genre. The Mariachi Divas have been the official mariachi band of Disneyland Resort in Anaheim, Calif., since 2003, and their 2008 album, Canciones de Amor, won a Grammy for Best Regional Mexican Album. It was the first time an all-female mariachi group had been nominated and won. But the pathway to success has been "a rough road," Shea says.
When Shea was 8 years old, while her friends were picking up the flute or clarinet, she gravitated toward the trumpet, an instrument typically played by male musicians. So by the time she was an adult, performing with multiple Latin and jazz artists and oftentimes being the band's only female member, the bias she would experience "wasn't shocking," she says. "I'd already had years of discrimination and 'You can't do that' and having to constantly prove myself. … I'm a strong woman because the instrument I chose, in general, was male-dominated."
When Shea realized there were other odd-girls-out just like her, she saw an opportunity to create an all-female band that would be free to play the mariachi music she loved. "Imagine if you took every one of those girls in every band that had all men," she says. "So every one of those girls is going to be strong like I am, right? So if you take all … of those girls and put them in a band, imagine the magic that can happen."
And "magical" certainly is an apt way to describe the Mariachi Divas in concert. In their gorgeous beaded charro outfits, they create a striking scene onstage. During their set, they're likely to start with classic mariachi tunes and then transition into beautiful original compositions such as "Viva la Diva" and "Ay Mi Mexico"—the Divas' music is written by Shea's husband, Mexican musician Alberto Jimenez Maeda—appealing to multiple generations of listeners. "In a one-hour Diva show, we can get Grandma and Grandpa in tears remembering those classics back in the day, we can get the little ones dancing in front like crazy, you get Mom and Dad singing along," Shea says. "[It's] music that all three generations can fall in love with and respond to and connect with."
Attendees of the Living Traditions Festival will have the opportunity to experience local mariachi music, too. On Saturday night, the evening's program will close with a joint performance by mariachi band Sol de Jalisco and dance group Ballet Folklorico Citlali, which has performed traditional dances from the diverse states of Mexico at many past Living Traditions Festivals. Ballet Folklorico Director Martin Marquez says audience members can expect "great dances and colorful costumes," and adds, "We are very happy every year … to be part of this festival."
Festival director Casey Jarman says while musical trends come and go, mariachi has staying power. "The popularity of [mariachi music] is very, very strong here in Salt Lake and throughout the Wasatch Front," he says.
"The love people have for mariachi music is unbelievable," Shea adds. "It's truly such a universal music. I can't see myself doing anything else from this point on in my career other than being a mariachi diva." The Divas' upcoming album, A Mi Manera, will be out June 18.
On a larger scale, Mexican culture is only one of the many diverse ethnic identities that will be celebrated at the three-day festival (see p. 23 for more information about activities and performers). "I think that the festival is stronger than ever in the groups that we're seeing this year," Jarman says. "We're making a commitment to cultural diversity in the city."
MARIACHI DIVAS
Living Traditions Festival
Salt Lake City & County Building
450 S. 200 East
Friday, May 17, 8:30 p.m.
Free
LivingTraditionsFestival.com