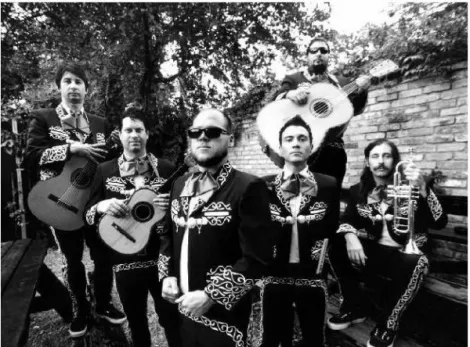 The Bronx thrive in disorder. In an April '09 performance, frontman Matt Caughthran transformed into a one-man riot. Once their set started, he poured beer onto himself, pretended to snort coke off his mic, walked across a table barely stable enough to hold drinks, dove into a poorly lit crowd with no warning, cut through to the center of the audience and incited a moshpit around him, crawled up a pillar, and launched into the occasional uncontrolled spasm. He did all of this while letting out the frustrated, jagged screams of a man attempting to audibly convey mental torture. Behind him, the rest of The Bronx delivered a bloodthirsty compound of proto-punk and '80s hardcore, trading off between bursts of pandemonium and moments where they doused gasoline on the instrumentals to reignite said pandemonium. Their turbulence would only be restrained when they felt like pulling back.
Over three albums (all self-titled, which can make discussion confusing) and a handful of EPs, the Los Angeles-based rockers have built a discography out of anger. For example, "Heart Attack American," the opener from The Bronx (No. 1, from 2003), spends a couple of minutes lashing out at someone called "Baby," culminating with a bleak observation: "There is no revolution."
Caughthran wrote the track on the heels of some major introspection prompted by his turbulent youth. First, he was kicked out of high-school and barely completed a "goofy-ass extension program." Then his parents divorced and he relocated to San Diego where he worked—and subsequently partied—too hard. Eventually, though, music became his drug of choice.
"The band saved my life," he says. "['Baby'] sums up all that time in the desert, searching to find out who I was."
It's a pretty heavy back story to absorb for a single song, but as it shows that Caughthran's vocal vitriol is so rooted in experience, it's understandable why The Bronx tends to stick to such depraved pieces of music. Yet, for as dark as they can get, even they have a lighter side: the band also plays mariachi music.
Beneath the guise of Mariachi El Bronx (or just El Bronx), The Bronx suit up and some companions don traditional mariachi outfits and turn out summery, positively docile tunes, creating a sharp contrast to what they usually sound like. As Caughthran reveals, The Bronx scored the chance to play a performance for cable TV network Fuel for the release of The Bronx (No. 2, from 2006). The catch? It had to be without electricity—an integral component of the group's fire.
"They wanted us to do the typical acoustic-rock band and that just always sucks, you know?" says the vocalist. Instead, they decided to do a version of "Dirty Leaves" mariachi-style. "We had a friend come in and play a horn, and another friend play guitarrón. It was so much fun stepping outside of the box."
While, yes, Mariachi El Bronx does sound like a gimmick, Caughthran attests that, like The Bronx's lyrics, the idea is something inspired by a youth spent in California. "I grew up in a predominantly Mexican neighborhood and all my friends growing up, for the most part, were Mexican," he says. "Obviously, I'm not well versed in the history of mariachi music, but it's a music I love and, more importantly, a culture I really respect."
With one record behind them (August's self-titled, continuing their beloved quirk), the good-natured Mariachi El Bronx is a cool and refreshing change, showing that the act's output can be enjoyable even when done softly and distortion-free (remarkably, Caughthran sings, too). "A lot of the lyrics focus on positive things like family and relationships," he says. "It's a good time for me to look back at the last four or five years and be thankful for what I've achieved and I have, instead of looking at things in a negative way, as I sometimes do in The Bronx." Though chaos remains their natural home, even The Bronx needs a break from madness.

MARIACHI EL BRONX


with The Killers
The E Center
3200 Decker Lake Dr.
Saturday, Sept. 26
6:30 p.m.
24Tix.com