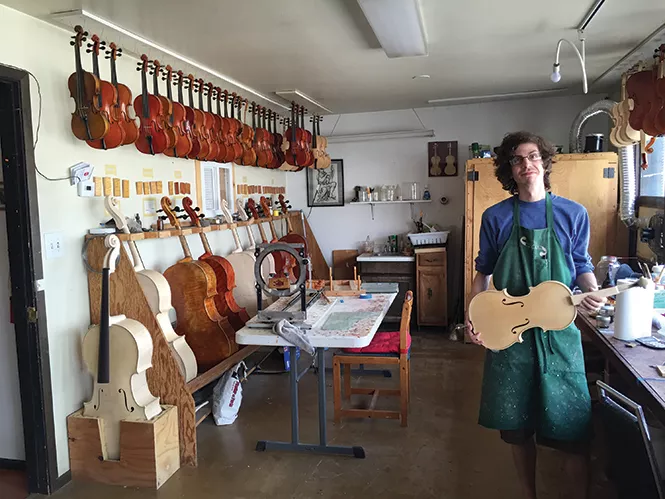 The presence of a world-renowned violin-making school in Salt Lake City may be a secret to some locals—as if the large mural on the west side of the Violin Making School of America (304 E. 200 South, 801-209-3494, VMSA.net) didn't give it away. Student luthier Marinos Glitsos, 27, says when he asked the apartment owners across the street, they weren't aware of its existence. Prior to enrolling at VMSA, Glitsos earned a bachelor's of music from the University of Wisconson and apprenticed with a prominent lute builder. He spoke with City Weekly about what it's like to train at one of the only schools of its kind in the country.
When the other kids wanted to be cops and firefighters, was violin-making your siren song?
I knew early on I'd be involved in music in some capacity. One night in college, I was hired as a musician for a dinner party where I met an organ builder. He introduced me to a great lute maker who allowed me to apprentice in his shop for two years. This is when I came to the realization that I wanted to make a career as a violin maker. Or a firefighter.
What's the biggest advance in violin making in the past 100 years?
Nothing. That's the real beauty of it! Violin making is relatively the same now as it has been for hundreds of years. Modern makers strive to create instruments as great as those that were built in the 1700s.
What is it about music that you love?
There is a cliché saying about music transcending all languages. It's true.
Do you hope for a crescendo in your career as great as that of your school's founder, the late Peter Prier?
Peter left behind a legacy. The school he founded has trained many of the world's greatest contemporary violin makers. Very few people in this field will ever leave an impact as momentous as he did.
Have you sustained any injuries in production?
There are some nine-fingered violin makers. I was born with eleven fingers. Either someone was rooting for me all along ... or bad genetics. "There is no more important safety rule than to wear these: safety glasses." —Norm Abram.
Will you ever build yourself a dream violin?
My dream violin will probably be the last instrument I ever work on. I assume I'll die at the workbench, so it will probably look unfinished.
Why do you suppose violins have sustained popularity while other musical trends come and go?
[Insert obligatory snobby comment from a classically trained musician]