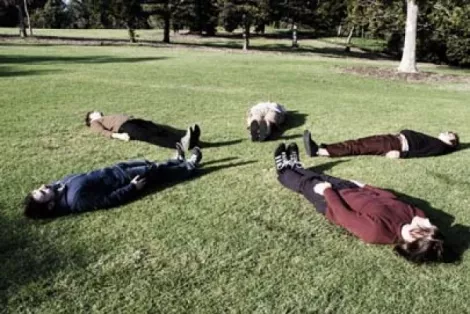 Interviewing three members of Maus Haus at the same time has much in common with listening to a Maus Haus song.
The band is always freely lobbing idea after idea out there—material that clearly originates from several perspectives and occasionally creates some conflicting, muddled results—and things can get confusing, at times. Still, once everything's wrapped up, the conversation (or, in the other case, the track) still manages to maintain a strange sense of cohesion. In both scenarios, when Maus Haus are really on, they're prone to saying something insightful and peculiar.
When the San Francisco-based act first came together in 2007 with a different lineup, they championed an incredibly open-ended M.O.—an ideology that, when they discuss it now, comes off as both implausible and pretentious.
"The band could have gone any direction," says Sean Mabry, one of the four members of the shape-shifting, all-multi-instrumentalist act.
"I don't know that we had any preconceived notions, other than maybe a shared love of certain music that we all knew we enjoyed and [knowing] that we all wanted it to be unique," Jason Kick adds. Joe Genden is a bit clearer: "Basically, we talked a lot about what we didn't like—the kind of music we didn't want to play."
At the outset, this approach meant a total absence of electric guitar. There were more than enough instruments on board instead, including bass, drums and various keyboards and synths, and if you pay attention to Lark Marvels, their debut full-length, it wouldn't even cross your mind that something was missing.
Released in October 2008, the album's a topsy-turvy head trip cobbled out of distorted voices, lyricism that happily indulges in mumbo jumbo, synths that jangle rhythmically at points and awkwardly at others, freaked-out pedal effects and an unpredictable vim. Improvised moments and unpolished experiments are cool in Maus Haus' world; a couple of Lark Marvels tracks contain recorded snippets from their first or second time playing together.
This is the sort of band that's simultaneously into weightier things like prog-rock and Captain Beefheart (two things that other writers have justifiably likened Maus Haus to) as well as "normal people stuff" like the Beach Boys and Depeche Mode.
"The way I look at it is there's about 40 years of popular music that is post-Beatles or whatever. All of my friends love music from decades of all sorts. I see it as making a lot of sense but not really having a particular kinship with one particular band in the past or present or future," says Kick. "It seems like everybody's iPod is full of all kinds of stuff now, so it sort of makes sense that you just absorb all that and come up with something new."
He (or one of the others—it's hard to tell) adds: "There are moments or two [when writing] where you'll hear something and you say, 'Oh, that sounds too much like the Pixies or something,' and you don't want to directly rip off your favorite music. Sometimes, it feels more comfortable when you're like, 'Oh, that's like Michael Jackson,' and then you're like, 'Oh, that's crazy. We can do something perverted to it.' If it feels like outside the arguable realm of iconoclastic worship, then it sort of feels more up for grabs for messing around with it."
Though they're young, Maus Haus already sound determined to consistently screw with their own direction. Someone mentions wanting to incorporate drum machines, Genden is interested in both minimalism and striving toward pop songs and they're now adding guitars into the mix (Mabry even jokes about making something that's nothing but guitar). "We're basically always revolting against our prior ideas. We'll probably do this synth project, but then after that, maybe want to do something totally different," explains Genden. "That's the nature of creativity that you can't really control."

MAUS HAUS
Kilby Court
741 S. 330 West
Saturday, July 9, 7 p.m.
$8 advance/$10 day of
Urban Lounge
241 S. 500 East
Saturday, July 9, 9 p.m.
$8 advance/$10 day of