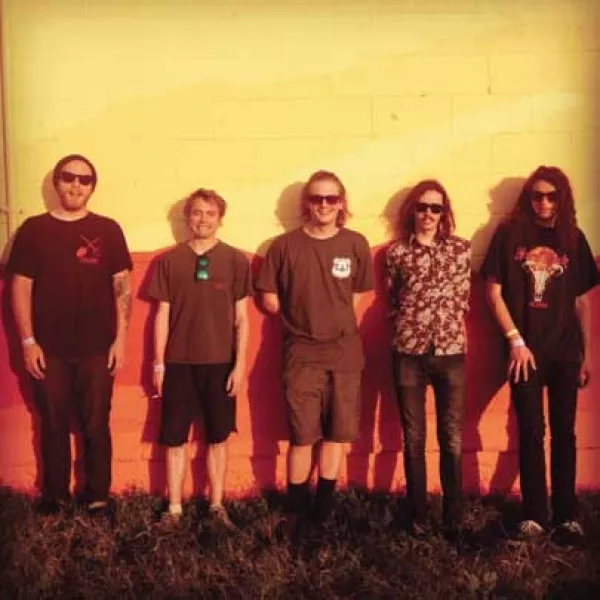 It's been a hell of a year for Max Pain & the Groovies. Since winning the band component of the 2012 City Weekly Music Awards, they've played a nationwide tour, welcomed new bassist Jordan Deveraux, gotten a clothing sponsorship from Coalatree Organics, and brought their bluesy psych-rock sound to South by Southwest in Austin, Texas, earlier this month, in a brand-new tour bus. City Weekly caught up with the Salt Lake City-based five-piece to talk about their recent accomplishments, what's in store for the band and what it was like being a part of the City Weekly Music Awards.
This yearlong wild ride started at the CWMA showcase in February 2012 at The Complex, where the band shared a stage with The 321s and Palace of Buddies. The energetic, rollicking performance "was one of our funnest shows," says vocalist David Johnson. Plenty of local support helped Max Pain & the Groovies earn the winning spot.
"All the love from Salt Lake is so cool," says guitarist Shane Preece. That's what [the CWMAs] made me think, like … how great the Salt Lake music scene is." They scored the most total online and in-person votes to earn the win.
Shortly after Max Pain & the Groovies' CWMA victory, it was off to the Treefort Music Fest in Boise, Idaho, in March. During the summer, in June and July, they embarked on a whirlwind nationwide tour that took them to the Midwest, down the East Coast—including Maryland's Farm Fest and the CBGB Festival in New York City—and through the South.
Touring nationally helped the band dial into their identity as musicians, beyond funny nicknames like "Duck Fangs" (Deveraux) and "Dimebag" (guitarist Dallin Smith). "You wanna be the best you can, but sometimes you can't until you really realize what's out there," says drummer Troy Coughlin. "So, going around the country and back, we can use all those influences, and we've really grown musically and know what we're talking about a little better."
The exposure and attention gained via the CWMAs helped pave the way for Max Pain & the Groovies during that east-of-Utah tour, Coughlin says. "[The tour] was a lot of crucial connections and a lot of good people," he says. "We wouldn't have been able to do that without winning the CWMAs. And it's a lot easier to get shows when you have all that local hype, so that was good, too."
Fast-forward to March 2013, and Max Pain & the Groovies are back from their first SXSW stint, which Coughlin says "was definitely an awesome experience. We plan on going every year." The Groovies played Mock Records' Southern Uproar showcase with The Spyrals, Cab 20 and others, and also played with fellow psychedelia conjurers The Warlocks at a party put on by Psychedelic Light & Sound.
A drive to continually improve as musicians keeps this hard-working band moving forward. In April, Max Pain & the Groovies plan to travel to Los Angeles to record a full-length record, which they hope to release in May on vinyl. The band members agree that this upcoming album will be considered their "debut," although they released a great local LP, Tortilla Gold, in late 2011.
"This will probably be what we claim from here on out as like our first record," Preece says. "Others were just kind of demos. … This next one, we're stoked on."
Reflecting upon the CWMAs, Coughlin says the experience helped them tighten up their act. "I feel like the CWMAs indirectly has … made us better musicians," he says. "Because you realize the competition at the time, and then it puts you in these spots where you really gotta bring it and not sing it."
Now ready to hand off the Band of the Year torch, "we're stoked to see who the next Band of the Year is gonna be," Preece says. "And we're gonna vote. … Best of luck to all the bands."
Check out the CWMA band and DJ showcases April 17-27. Visit CityWeekly.net/CWMA for complete event info.
MAX PAIN & THE GROOVIES
w/ Deer Tick
The Urban Lounge
241 S. 500 East
Thursday, March 28, 9 p.m.
$18 in advance, $20 day of show