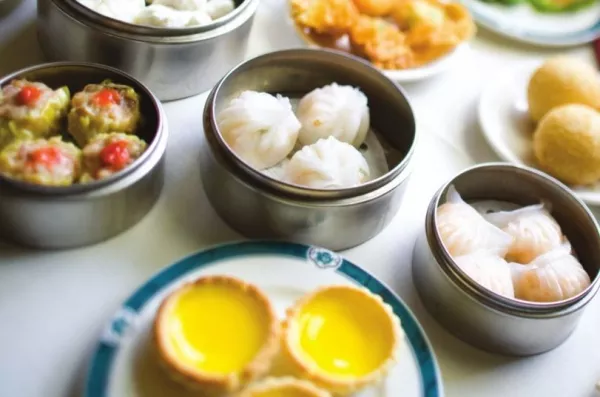 Dim sum at Red Maple Chinese Restaurant
As in years past, loads of restaurants are offering special Mother's Day meals, especially brunch deals. But what if Mom doesn't love Prime rib? Or, maybe eggs Benedict just isn't her thing. Well, here are a dozen can't-miss dishes off of regular restaurant menus that would put a smile on Mom's face on Mother's Day, or any day. You don't have to be a mother to love them, but if I were a mom, these would be at the top of my Mother's Day wish list.
You can't go wrong taking Mom to Takashi (18 W. Market St., 801-519-9595), where the sushi, nigiri, sashimi and such are out of this world. However, nothing tops the silky texture and taste of Takashi's toro tartare, garnished with a simple quail egg. Toro—also called fatty tuna—is just that: the fatty belly flesh cut from bluefin tuna. Yes, it's pricey, but isn't your mom worth it?
Since The Copper Onion (111 E. Broadway, 801-355-3282, TheCopperOnion.com) opened, one dish on the menu has refused to go away: housemade ricotta dumplings. Chef/owner Ryan Lowder starts his simply magnificent morsels with fresh ricotta, made in house, to which he adds eggs and extra yolks, along with Parmesan cheese, spinach, flour and nutmeg. The dumplings are sauteed in brown butter, tossed with more Parmesan, and served garnished with fresh thyme and preserved lemon. Heaven.
My favorite mom (my wife) sure loves her steelhead trout. And nowhere is it better than at Pago (878 S. 900 East, 801-532-0777, PagoSLC.com), where Chef Phelix Gardner serves the trout fillet with its crispy skin intact, surrounded by local fingerling potatoes, Brussels sprouts, bacon lardons and a beautiful clam-chowder nage. It's an elegant, delectable dish that Mom will love.
Surely, Mom likes pizza, right? Well, for the best and most authentic Napoli-style pizza, look no farther than Settebello Pizzeria Napoletana (260 S. 200 West, 801-322-3556; 895 W. East Promontory, Farmington, 801-451-9100, Settebello.net), where the Margherita pizza is made in accordance with VPN (Vera Pizza Napoletana) rules. That means using only "00" flour from Italy, yeast, San Marzano tomato sauce, olive oil, fior di latte cheese and fresh basil. It's cooked in a wood-fired oven at around 900 degrees Fahrenheit until beautifully charred and ready to eat piping hot from the pizza paddle.
One of the more appealing dishes I've ever encountered—both visually and on the tongue—is the beef tataki at Park City's Yuki Arashi (586 Main, 435-649-6293, YukiArashi.com). Bite-size medallions of Wagyu beef are pounded thin and brought to the table raw, to be cooked on a Himalayan sea-salt block heated to about 425 degrees Fahrenheit. The customer sizzles the meat, accompanied with lemon-soy and cilantro-red-pepper dipping sauces, on the hot rock. The meat is so tasty and tender that chewing is almost optional.
Another great Park City spot to show Mom how much you care is the gorgeous Grappa Italian Restaurant (151 Main, 435-645-0636, BillWhiteRestaurantGroup.com). At restaurateur Bill White's flagship eatery, treat her to Grappa's signature lasagne ai funghi: housemade lasagna sheets stuffed with spinach, Taleggio cheese and wild mushrooms, adorned with fine herbs and a rich Parmesan-portabella brodo.
If Mom enjoys Middle Eastern food, Mazza (912 E. 900 South, Salt Lake City, 801-521-4572; 1515 S. 1500 East, Salt Lake City, 801-484-9259, MazzaCafe.com) is the perfect solution. There, I'd suggest owner Ali Sabbah's extraordinary lamb and rice dolaa: tender lamb shoulder braised in a mix of Middle Eastern spices, then cooked with rice in lamb broth and finished with a garnish of toasted pine nuts and almonds. Yep, dolaa is as delicious as it sounds.
Does your mother like a great Philly cheesesteak? If so, Moochie's Meatballs & More (232 E. 800 South, 801-596-1350, MoochiesMeatballs.com) has the goods. Philadelphia native and Moochie's owner Joanna Rendi knows what it takes to make a great cheesesteak, and hers is even Guy Fieri (Diners, Drive-ins & Dives) approved. The meatball subs are killer, too. Who says Mother's Day dinner has to be fancy?
However, if you are looking for a fancy setting for Mom, head over to the always-elegant New Yorker (60 W. Market St. [340 South], 801-363-0166, GINC.com/NewYorker). It's there that Chef Will Pliler offers his heavenly fresh pappardelle with lobster dish. Lobster morsels are bathed in a decadent tomato-basil cream sauce and served atop thick pappardelle pasta. Rich, indeed.
Headed up by family members J.C. Pino, Gabrielle McAfee and her husband, Todd, Café Madrid (5244 S. Highland Drive, 801-273-0837, CafeMadrid.net) always provides a friendly, relaxed, family-type dining experience. Certainly, customers are treated like family there. Take Mom to this gorgeous Mediterranean-style restaurant and introduce her to the melt-in-the-mouth sea bass, draped in a creamy shrimp sauce with caramelized onions. And maybe a little housemade sangria to help Mom round out her Cafe Madrid meal.
For authentic south-of-the-border flavors, invite Mom to Frida Bistro (545 W. 700 South, Salt Lake City, 801-983-6692, FridaBistro.com) for the incredible chile en nogada. The dish—which originated in Puebla, Mexico—is as complex as you're likely to find: a poblano chile pepper stuffed with a marvelous mélange of fruits, nuts and shredded beef, adorned with a wonderful walnut cream sauce and pomegranate seeds.
Wanna treat Mom to something unique on Mother's Day? How about dim sum? At the recently reopened Red Maple Chinese Restaurant (2882 W. 4700 South, West Valley City, 801-747-2888, RedMapleChinese.com) dim sum is served all day, every day, and is especially popular on Sundays. Red Maple has it all, from tender steamed shrimp dumplings and seafood congee, to chicken feet in black-bean sauce, steamed barbecued pork buns and turnip cakes.
Of course, that's a mere dozen dishes among thousands to choose from. Got a favorite mom's dish of your own? Let us hear about it.
Twitter: @critic1