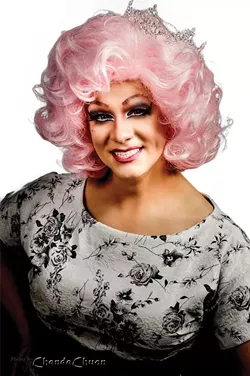 Hear ye, hear ye! The sixth reign of Salt Lake City drag royalty is nearing an end, and the time to crown a new queen is upon us. This year's pageant will be held at Club Elevate (155 W. 200 South, Salt Lake City) on Thursday, June 2 at 9 p.m. As the big day approaches, we sat down with Harry-It Winston, Miss City Weekly 2015, to reflect on the past year and look ahead at what's to come.
So, tell me about the pageant.
I found out about the pageant a few years back. It was kind of an underground thing, and I wasn't really sure if that was the direction I wanted to go. [I thought,] "Do I want to do a pageant? Blah blah blah. Am I really that type of drag queen?" As I got more involved in drag and more into the club scene, it became apparent that if I really wanted to make a name for myself, this is going to be a great avenue to do it. There are other pageants, but they're not as directly involved with our community. ... You win a pageant and then you do whatever you wanna do—it's just a title. But with City Weekly, you become Miss City Weekly with the opportunity to perform once a month. And that was kind of an avenue that was going to help me start to perform more and more.
Do the local pageants and drag scene in general get pretty competitive?
The drag scene is competitive. I think when you're passionate about something, it can be pretty competitive. But it's all in good fun. If you can't have fun doing it, then you shouldn't be doing it. Don't take yourself too serious because life's too short to be so goddamn serious. Enjoy yourself, do your very best, and that's all you can do.
What has it been like as the queen of Salt Lake City?
Well, you know, haters are gonna hate. When it was first announced, of course there's gonna be some recourse, people saying, "Oh, my favorite queen should've won." But that's like with anything. In RuPaul's Drag Race, you see the same thing. We just crowned Bob The Drag Queen. Is Bob the very best at painting his face? No. But he's relatable and likable.
So would you say that's what it's more about?
That's what it's about. So, like I said, there was some recourse, but I've had a fantastic ride. It's been a fantastic year. There's been lots of doors opened to me because of it, and I really can't thank the City Weekly crew enough. It's been such a great experience and I've had such a fun time and I've got to meet lots of people.
Anything you want to say to this year's contestants?
"May the odds be ever in your favor," just like Effie Trinket. When we're looking for the next Miss City Weekly, will you be able to top this crown that I've carried? Maybe not, 'cause I'm a worker. And that's what it is—it's a lot of work being involved in the community. You can win, but it's what you do with the win that makes you successful.
What would be your advice for them, in the pageant and in general?
Enjoy yourself. Be serious, but too serious that you can't enjoy it. I mean, in the long-run and the grand scheme of things, we're just all here to make a difference. And if you can make a difference in someone else's life, then you're a winner. So whether you win or not, enjoy the ride and be a positive example for the community. That's what I have to say. It's wonderful to win, but be a graceful loser, and an even more graceful winner.