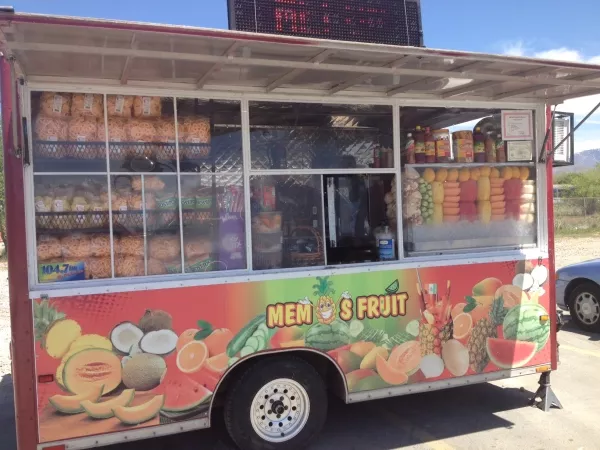 Driving down Redwood Road is one of the easiest ways to explore the variety of ethnic foods available along the Wasatch Front. Asian markets, pho joints, African and Indian restaurants line the street, all promising tasty adventures. And now even a fruit cart has arrived on the scene, just in time for summer.

Popular in Los Angeles and Mexico, fruit carts sell a variety of bite-size fruits, often with spicy toppings that elevate the dish beyond a simple fruit cup or salad. There's no menu to speak of at the Mem's Fruit truck, which sets up shop in the parking lot of Lucero's Tires at 1039 S. Redwood Road. The fruit is served in clear plastic bags with a fork: nicely portable and easy to eat. Orders can be customized, but the cart employees don't speak much English, and since I don't speak Spanish, I handed over my cash—they don't accept credit cards—for the standard combination.

The layered fruit is sprinkled with cayenne pepper and doused with fresh lime juice, which accentuates the sweetness. On top, ripe watermelon, tart mango and sliced young coconut are imbued with new, heavenly tastes thanks to the pepper and lime. The middle layer is comprised of melon and pineapple, which add interesting textures and tangy flavors to the salad. Once you've made your way to the bottom of the bag, the final layer of cucumber and jicama have soaked up the lime juice, ending your meal with a delicious kick.

With friendly and speedy service, Mem's Fruit is a healthy and surprisingly filling lunch option. Ordering might be easier if you speak Spanish, but even if you don't, no worries. Pointing, nodding and smiling work well, too.

MEM'S FRUIT
1039 S. Redwood Road