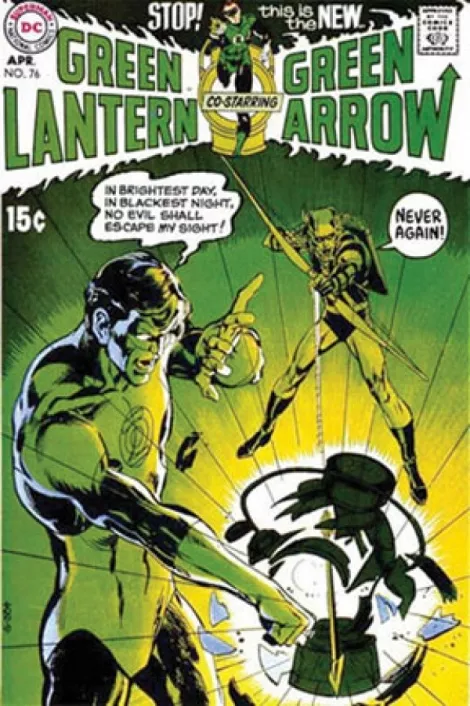 I think we can all agree that, at best, the Green Lantern movie was just OK. It was fun, but it had an awful screenplay. And maybe one of the things missing from it (aside from a competent screenplay) was the soul searching and earthly perspective the Green Lantern has been known to bring to his role as an intergalactic policeman, presiding over Sector 2814.
I'm not the only one who thinks this way. Recently, former Rep. Alan Grayson, D-Florida, sent out a message to supporters referencing the Green Lantern film getting mixed reviews. He said the film probably would have been a lot better if it had included an iconic scene from 1970s Green Lantern #76, where a black man confronts the Lantern about all of the help he's offered the orange-, blue- and purple-skinned people, but never black-skinned people.
"How come? Answer me that," the old man asks.
"I … can't," Green Lantern replies, and sets out on a journey across America (with the Green Arrow) to find out what kind of troubles the people he's sworn to protect are really having.
Grayson then applied the speech to the politics of the day, substituting Republicans and leaders of the conservative movement for Green Lantern and himself as the disenfranchised black man. He asks how they work for multinational corporations and send money abroad and prop up dictators, but they never prop up America—they always seem to want to tear it down.
And they can't answer that question, either.
I think it goes to illustrate two things: First, comics are coming farther into the mainstream, and we'll be seeing more of these kinds of references as time goes on; in fact, the mayor of Austin likened his city to the Green Lantern; New York City to Superman; and Chicago to Batman in a political speech. Secondly, comics are relevant as a medium to get people to think about issues more deeply. Alan Grayson was 11 years old when the comic he referred to was published; I have little doubt that it affected him at that age and informed his moral code.
When asked for comment by Big Shiny Robot, Congressman Grayson admitted to reading that run on Green Lantern for several years: "It's important enough for me to remember it in 2011 and write about it," he said.
But the latest Green Lantern movie was void of that motivation and messaging. Characters flitted about for no good reason. Sure, it was fun to look at, but it lacked substance to those who know the potential of the medium and the characters.
The stuff they were able to cram into the movie was successful with at least one segment of the population, though: kids. I saw this film with my 9-year-old boy (and devout Green Lantern fan), and he had a smile from ear to ear the entire time. And it's not like he didn't learn anything from the film—but they were the same tired things he's learned in every other superhero film. It didn't offer him anything to chew on, and he wasn't asking any hard questions afterward. I'm not saying every superhero film needs to be ambitious, but I took him to see Thor and X-Men: First Class, and he actually left with interesting questions about society and lessons learned. The only thing Green Lantern made him want to do is buy some comics.
I bought him a collection featuring Green Lantern #76, and I hope it can stick with him as much as it stuck with Alan Grayson. And, I suppose, I should be happy the Green Lantern movie wasn't worse.
Bryan Young is the editor-in-chief of BigShinyRobot.com.