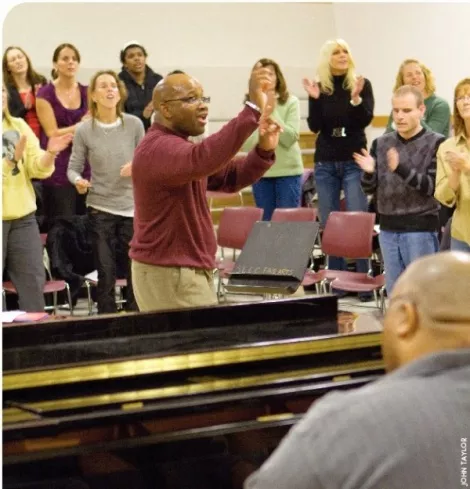 It's a blend of baroque, gospel, pop and jazz music sung by a choir of Baptists, Unitarians, Mormons and Catholics, interspersed with readings from the Bible, Torah, Koran and American Indian wisdom. To call Messiah: A Community Celebration diverse, or even eclectic, seems like a bit of an understatement.
The production takes Handel's masterwork and, while performing some parts in the usual classical manner, also throws in gospel arrangements of some of the most well-known pieces and adds a pinch of jazz and pop—complete with a string section and a gospel band. Now in its eighth year, A Community Celebration claims it has become "a nontraditional holiday tradition."
"When I first came here in 2001, I wanted to look for a holiday tradition that would celebrate the diversity of our community," says Richard Scott, artistic director for the Grand Theatre. "If you had told me then that we'd start a new holiday tradition that's nontraditional, I wouldn't have believed it."
Even though the celebration has been around long enough to qualify as a tradition, it continues to evolve as well.
"Although we've done it eight years, there are new surprises every year," Scott says.
Perhaps the most notable change for 2009 is that B. Murphy, who had been one of the original creative forces behind the celebration, as well as the conductor for the gospel choir, has relocated to another state. This year, Anthony Bennett will take over as director of the gospel choir. Despite having an extensive background in gospel music, Bennett says, "I've been here for 17 years, but I never saw it (the Community Celebration) until last year. Once I did, I felt so strongly about it, I had to get involved."
Bennett will lead what he calls a "pickup" choir, with about 100 people hailing from different faiths and backgrounds who come together for this one event. While Bennett notes that "this is a community that has always had a healthy thirst for gospel music," some of the singers have had experience with the genre before, and some haven't. "If they haven't been born and raised with gospel music, you have to teach it to them," he explains.
That becomes apparent during one of the rehearsals, when Bennett lets a portion of a gospel-tinged Hallelujah Chorus go on a little longer than planned. When a choir member expresses some confusion afterward, he says, "Gospel music is about improvisation. I know a lot of you might be used to going from point A through to Z, but if I'm feeling something I like, I'm going to go with it."
It's that sort of feeling that many choir members say keeps them coming back every year. Beth Wolfer recalls that her first experience with the Community Celebration was when she "was brought by friends who were trying to cheer me up. I saw it and thought, 'If I could do something like that, I'd start singing again.'" She joined the choir and has participated every year since.
Even though the choir only meets up once a year and there is turnover, strong ties can develop. Last year, choir member Nancy Conrow had to miss the performances to tend to her ailing husband, who ended up dying two days after the final performance. A member of the choir came to the funeral with a photo of the group that everyone had signed for Conrow after the show. "I wasn't surprised," Conrow says. "It just shows how much people in this choir care for each other."
The gospel choir is actually one of two choirs that will perform, the other being the Salt Lake Community College student choir, under the direction of Lyle Archibald. When the Community Celebration first began, the gospel choir sang the gospel arrangements while the student choir sang the traditional pieces. With each passing year, there has been increasing crossover between the two groups.
"One of the most remarkable things every year is watching the student choir and the gospel choir start to blend," Scott says. "The choir on the baroque side is excited about learning the gospel side, and the gospel choir has an interest in learning the classical side."
Whichever side they end up on, for the audience, "what always surprises me is how much people get into the energy of the music," Scott notes. While there are some performances of the Messiah—including the Utah Symphony's annual performance locally—where the audience is invited to sing along on the choruses, Scott points out this one is a little different. "This is not a sing-along," he says, "but it is a dance-along."

MESSIAH: A COMMUNITY CELEBRATION
Salt Lake Community College Grand Theatre
1700 S. State
801-957-3322
Dec. 10, 11, 12 & 14
7:30 p.m.
The-Grand.org