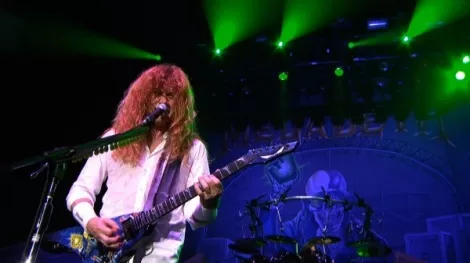 Behind the Music Remastered: Megadeth

Metal Evolution
Friday, Nov. 11 (VH1 Classic)
Documentary Series Debut: There have been more docs about heavy metal than there are subgenres of heavy metal—of which, according to Banger Films' new 11-part series Metal Evolution, there are 26. Thankfully, "folk metal" is not included—violins and flutes ain't metal, Frodo.


Unlike Banger's 2005 series Metal: A Headbangers' Journey, Metal Evolution isn't so much about defending the music and its fans as it is definitely pinpointing its origins—hell, co-producer and host Sam Dunn even calls himself an "anthropologist." Previous docs like Heavy: The Story of Metal just started with Black Sabbath in the late '60s and called it good. Metal Evolution goes all the way back to the 1800s with virtuoso Italian composer Niccolo Paganini (a violinist … damn it) and draws a line through '30s bluesmen to the early-'60s British Invasion, when The Kinks' Dave Davies slashed his amp's speaker cone to achieve the first distorted, "evil" guitar tone on record with "You Really Got Me" in 1964 (four whole years before Ozzy met Satan).


Right in the middle of the 26 genres is "thrash metal," the speed-fueled early-'80s phenomenon simultaneously launched by the legendary Big Four of Metallica, Slayer, Anthrax and …
Behind the Music Remastered: Megadeth
Friday, Nov. 11 (VH1 Classic)
Season Premiere: Megadeth's original Behind the Music profile on VH1 in 2001 was easily one of the most entertaining, if not the most consistent: Founder/guitarist/vocalist Dave Mustaine and his revolving-door band began as drug-addicted, alcoholic assholes; rose to fame as drug-addicted, alcoholic assholes; fell from the charts as drug-addicted, alcoholic assholes; then soldiered on as drug-addicted, alcoholic assholes; fade to credits.

In the 10 years since, Mustaine has cleaned up and relapsed, fired and sued even more band members, lost then regained use of his left arm, played "farewell" and "comeback" tours, reconciled with Metallica (who fired him in 1983) and, least metal of all, become a born-again Christian. Why give Megadeth the Remastered treatment when Anthrax (featured on BTM in 2002) and Slayer (never featured—for shame, VH1) have had a far more interesting decade and released much better music? Because VH1 Classic is wildly inconsistent when it comes to metal, arguably the most popular style retro-featured on the network (see: endless music-video blocks of Metal Mania). For every worthwhile series like Metal Evolution, there's a half-dozen crap entries like …

That Metal Show
Friday, Nov. 11 (VH1 Classic)
Season Premiere: Of course VH1 Classic would premiere Season 9(!) of Chunky Old Radio Dudes Interview Chunky Old Rock Stars, aka That Metal Show, on National Metal Day (11/11/11, in honor of This Is Spinal Tap's Nigel Tufnel … does no one recall that the movie was a satire?). But, for a talk show that's ostensibly a celebration of heavy metal, TMS is really just a consistently sad reminder that most of these geezers should have hung it up years, if not decades, ago. Case in point: The season premiere's Big Guest Get is Guns N' Roses singer Axl Rose, the man who's spent nearly 20 years wrecking the rep of one of the world's greatest rock bands and, apparently, subsidizing every El Pollo Loco in the greater Los Angeles area.

So, Rose's first TV interview in over 10 years will be conducted by That Metal Show's chucklehead panel of host Eddie Trunk and alleged comedian sidekicks Jim Florentine and Don Jamieson, none of whom will dare ask tough questions like "Why keep calling your solo project Guns N' Roses?" "How do you feel about constantly letting down GNR fans?" or "Will you be played by Philip Seymour Hoffman or Eddie Trunk in the biopic?"