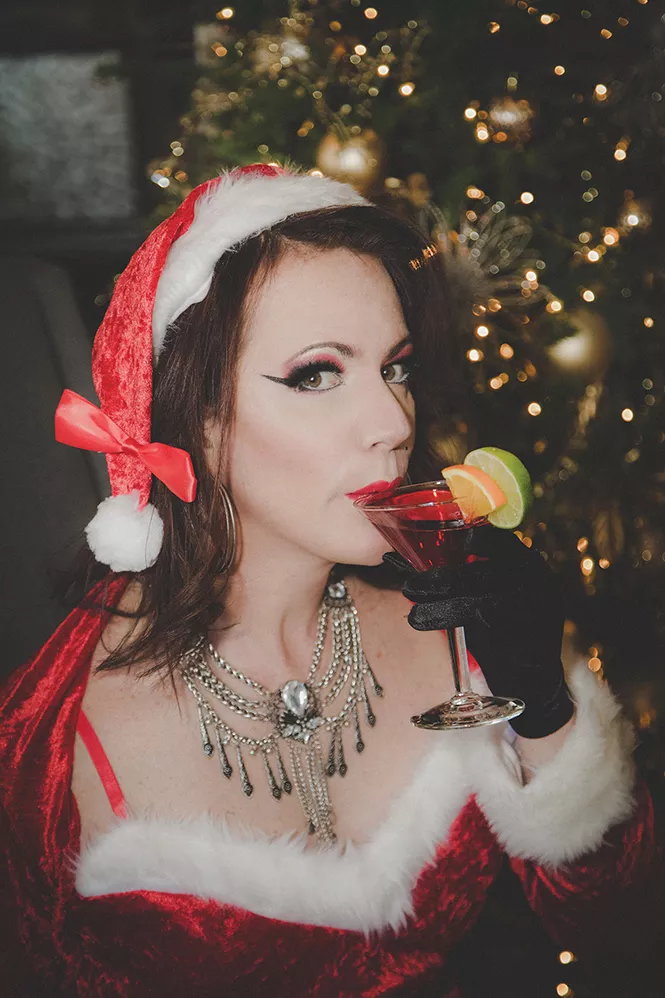 If there's one thing the City Weekly music section lacks, it's hard-hitting Q&A roundups like Metal Edge ran during the '80s, or Tiger Beat (or its 2017 analogue) probably still runs. That's where you really get to know the artists behind your favorite music—their favorite colors/foods/animals, the funny aliases they use at hotels, when they lost their virginity, how low their standards are and whether you meet those minimum requirements for a tour-bus how's-your-father, shit like that.
I promise CW will get around to all of that someday. But since it's the holidays, we'll go ahead and let that be the theme this week, as we ask a panel of local musicians Christmas questions (and next week, we'll pose some New Year's Eve queries). We wish you recuperative time off and a sweet pile of new stuff. Also peace and love.
CW: What's the best holiday gift you've received?
Sarah Pendleton, SubRosa: The Christmas bailout is a thoughtful gift. Christmas Eve in the pokey is abysmal.
David Halliday: That's easily my first tenor saxophone. It was a group gift from my parents, my aunt and uncle and my grandparents. I headed to Best Music in Oakland and selected one of the first Yamaha Custom tenor saxophones ever made. I still have that horn today. It's taken quite a lickin' but it still plays beautifully.
Jon Olschewski, Stonefed: I was spoiled with toys as a child. Probably a toss-up between the Lego Space Monorail and the AT-AT from Star Wars. The Lego probably wins because I preserved it in its original box and sold it on eBay. The AT-AT was consumed by desert sand somewhere in our farm in Moab.
Tom Larsen, Major Tom & the Moonboys: Well, since I can only remember last Christmas, last Christmas' best gift was my "ultimate support" keyboard stand, so I can pretend I'm Keith Emerson on a bad night.
Sofia Scott, Shecock & The Rock Princess: The best gifts are ones from the heart. I received a pair of red ruby earrings as a gift that I wear almost every day. It was paired with a bit of sexual content, which always makes a great gift.
Were you ever bad enough to get a lump of coal? If so, 'fess up—what'd you do?
SP: I don't recall ever having received those lumps of coal that were my due. I could have put them to use in my basement gunpowder recipes.
DH: I joined Galactic almost immediately after moving to NOLA for school in 1994 and Stanton Moore was kind enough to recommend me to a music agent. Soon, I was playing several gigs a week, and I kind of forgot about school. My parents weren't too happy to see my grades that semester.
JO: Well perhaps, but Santa hasn't gifted me one yet. As a lad who received the Advent calendar full of chocolates for every day of the month, I always ate the chocolate behind the little doors prior to Christmas.
TL: One year I was actually kinda good and my wife drove around and found all of the Kansas and Styx CDs I asked for.
SS: Not me, no, never. I've always been such a good kid.
What are your most and least favorite holiday songs?
SP: The only holiday song I can really stomach is "Hamlet, the Danish Princeling" sung to the tune of Rudolph. Everything else induces sparkle vomit and puts me out of commission entirely.
DH: I know lots of musicians detest Christmas songs, but I love them. I have many favorites: "Have Yourself a Merry Little Christmas," "Silent Night," "Christmas in New Orleans" by Louis Armstrong, "Trim Your Tree" by Jimmy Butler—a must for the lyrics, which are hilarious.
JO: [Favorite] would be have to be "The Little Drummer Boy."
TL: Fave, of course, is Bowie and Bing's "Little Drummer Boy." Close second: Anything by Andy Williams. Least favorite is all of the wailing smooth-jazz Christmas crap from the '90s.
SS: I despise every fucking holiday song. Some more than others. I hate hearing them for over a month straight. But on Christmas Day, I have been guilty of putting on the Mariah Carey Merry Christmas album. Weird Al has a few fun Christmas songs, too.
Have you, in any of your projects, ever recorded a holiday tune?
SP: I haven't, but you're making me rethink that.
DH: I recorded A Fat Soul Christmas back in 2003. I still sell it at shows and people come around each year telling me it's their favorite of my albums.
JO: No. Although I played some solo shows recently where Christmas music was requested. I did a favorite, "Jingle Bell Rock."
TL: I got to do "Little Drummer Boy," Bowie's part, with Karl Strange [doing Bing] for Velour Live Music Gallery's "All-Star Christmas Special" last year.
SS: No. Never. Maybe I should do a version of "Walking 'Round in Women's Underwear."