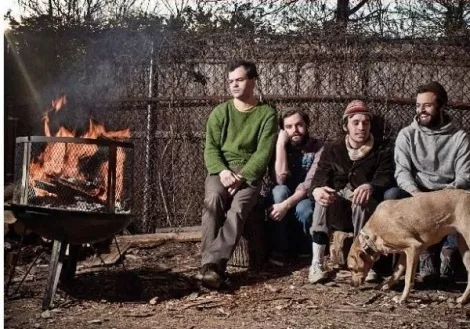 Bands affiliated with Christianity are increasingly inclined to downplay their religious side. If you're into Jeebus, you're a right-wing lunatic, a pushy, deluded, intolerant, mouth-breather without a salient word to say. For that reason, many Christian artists employ pronoun obfuscation (masking love for Jesus as love for Jenny) and adopt a "don't ask, don't tell" policy regarding creative intent. It's surprising, though, that some among them endeavor to be truly Christ-like, and deserve at least the benefit of the doubt.
Aaron Weiss, singer and songwriter in Philly-based MeWithoutYou—despite the slavish worship implied by his band's name—is one such Christian-not-Christian.

Frankly, I wouldn't know about MeWithoutYou if their publicist wasn't less flack than fan. Her pitch was sensational, but honest. Weiss and his bandmates might be Christians, but there's much more to them than that. They're freegans, fringe vegans who eschew consumerism as much as adopting a cruelty- and animal-free diet. Freegans forage—call it strategic dumpster-diving—for sustenance, looking in supermarket and restaurant trash receptacles for unspoiled, cast-off sundries, tossed because the freshness or "born-on" date has passed. More importantly, my friend said, the music kicks ass. As proof, she sent a link to the band's "January 1979" video on YouTube.

From an editorial perspective, the sensational stuff was enough. Plenty of story in Jesus-lovin' dumpster-divers— even if the music wasn't that hot, there's a cheap n' easy but compelling front-of-book piece: "MeWithoutYou's Top Five Dumpster Dives: Where to Find the Best Unspoiled Eats." Readers get a swift, satisfying read; band gets publicity, mag fills space with something besides ubiquitous Q&As and short profiles. But "January 1979" stands out on its own.
It starts with feedback, then a pumping bass line and subtle atmospheric guitar chords prefacing a line sung with manic pain: "January, 1979 / I saw a terrible crime / and I couldn't help but laugh." The author's cynicism and crisis reflected the tortured writings of former Pedro the Lion honcho David Bazan, who famously loved—and may have left—the Lord. The rest of the verse runs past quickly, right up to a left-turn refrain, a chant redolent of the sycophantic lyrics of Christians bands that try to please the flock while serving up ambush evangelism to secular fans. Weiss and the band intone, "IIIIII will beeeeee your serrrrr-vant" repeatedly—but it's not an empty devotional.

"January 1979" is about what it means to want to be a servant of God, and therefore a man, but also be keenly aware of one's own problems, and how we humans, self-centered by nature, prioritize our own above others'. If Weiss is supposed to be a servant, why didn't he automatically serve? Why did he laugh? Clearly, there is unspoiled meat in the dumpster behind MeWithoutYou.

I was told Weiss might be tough to track down since, as a freegan, he takes shelter where it avails itself and carries no phone. Luckily, the band had a string of off days at home in Philadelphia. I discovered, after trying his brother's cell phone, that Weiss was at his parents' residence. Turns out that he's the only freegan in the band and currently wonders if it's not "a selfish pursuit."

Huh? The principles of freeganism, and certainly true Christianity, entail selflessness. How could he live that altruistic lifestyle, forsaking the comforts of central air, fresh food, constant contact and a world of information at your fingertips, and believe he's selfish? "It might be [driven by] my ego," he explains—"it" meaning the endeavor to be Christlike, like it would make him "better than everyone else."
That's where Weiss and MeWithoutYou get really interesting. Weiss admits he's reconsidering freeganism because it may actually lead him to a less-than-Christ-like end, ironically trapped in pride. He's not working an angle, playing with pronouns, looking for credibility on two opposing fronts. In fact, he—like Bazan—is on a constant quest for truth, trying to be the best man he can be, even if that person is a nontraditional version of Christ. Which, all told, wouldn't be so bad, 'cause Christ is just one role model in Weiss' life.

"I was raised in a household where Judaism and Islam were also taught," he says. "I had a very well-rounded upbringing." As well, MeWithoutYou's songs have always had a foot in what Christians would view as the cultish world of Sufi mysticism—even more so on the band's new album It's All Crazy! It's All False! It's All a Dream! It's Alright! (Tooth & Nail). Telling title, huh? Well, Weiss sees the rampant lunacy, deception, and surrealism of this life, and what some may call the folly of belief—but that's okay. By incorporating a little of everything into his philosophy—and incidentally, his music, which on the new record dials down the emo-indie drama and mines the subtle, still textured, acoustic territory of Neutral Milk Hotel—he feels he's making progress in his journey to "being the best person I can be."

Maybe one day that's what we'll think of when someone admits to being spiritual.

MEWITHOUTYOU
Avalon
3605 S. State
Sunday, June 28
7 p.m.
All-ages