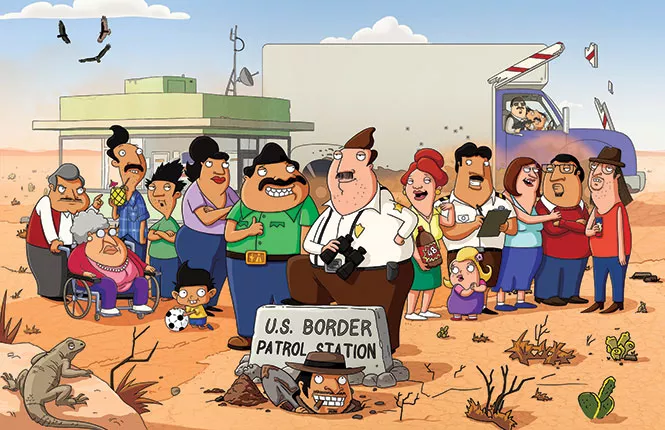 Bordertown
Sunday, Jan. 3 (Fox)
Series Debut: "It's about time we did something about immigration—the Southwest belongs to retired art teachers and meth-lab entrepreneurs!" So begins Bordertown, the long-long-delayed animated comedy from Family Guy producer Mark Hentemann, with a cultural-consulting assist from Lalo Alcaraz (La Cucharacha cartoonist) and Gustavo Arellano (Ask a Mexican columnist). Bordertown mashes-up the Tex-Mex sensibilities of King of the Hill with Family Guy's rapid-fire absurdism, as well as equal-opportunity skewering of whitey-Latino relations and conservative/liberal agendas. At the show's center are Bud (voiced by Hank Azaria), a Fox News-loving 'Merican who works as a U.S. border agent in the desert town of Mexifornia, and Ernesto (Nicholas Gonzalez), his immigrant next-door neighbor who's achieved more in a few years here than Bud has in his entire life—hell, even Bud's boss is Mexican. Of all the comedies that have tried, and mostly failed, to capture the country's modern dual-cultural reality (sorry, Trump), Bordertown comes closest to nailing it, hilariously and even-handedly. And, as if to remind you that Family Guy folks are involved, there's a Philip Seymour Hoffman joke in the second episode that goes way too far. ¡Viva Bordertown!

Cooper Barrett's Guide to Surviving Life
Sunday, Jan. 3 (Fox)
Series Debut: It may have all the quirks of a 1995 network sitcom (20-something "friends" with no apparent jobs, an oddly named lead character who talks directly to the camera, the presence of the word "Guide" in the title, etc.), but Cooper Barrett's Guide to Surviving Life is actually a new Fox comedy—I can tell because it stars Jack Cutmore-Scott (Kingsmen: The Secret Service), and the review screener didn't arrive on a VHS tape. But, despite Cutmore-Scott's charms and a promising support cast (including Meaghan Rath, Justin Bartha and Liza Lapira, all vets of better shows), this is just a lazy bro-com that's nowhere near as clever as it thinks it is. It's as if Fox decided the world needs a "thinky" alternative to NBC's Undateable. Yes, I realize that anything is a thinky alternative to Undateable ...

Galavant
Sunday, Jan. 3 (ABC)
Season Premiere: If you're thinking, "Wasn't this canceled?" or "What's Galavant?" or "Wait ... is 2015 over already?" or any combination thereof, you're not alone. Galavant, a "musical fairytale comedy" (yes, really), debuted in January of last year, blowing out eight back-to-back episodes over four weeks and generating a small buzz with its over-the-top silliness and catchy-as-scurvy song & dance numbers. Galavant is essentially a live-action Disney cartoon, with borrowed elements from Monty Python, Men in Tights and (get ready to strain your Wiki) When Things Were Rotten, and it mostly works. Timothy Omundson (unrecognizable from Psych) is the series' beardy MVP as King Richard, and creator/writer Dan Fogelman (Tangled, The Neighbors) knows how to balance camp and cutting: The first episode of Season 2 is subtitled "Suck It Cancellation Bear," a reference to The Cancel Bear, an Internet TV-demise predictor that repeatedly labeled Galavant as a goner last year. Cheeky.

Finding Bigfoot
Sunday, Jan. 3 (Animal Planet)
Season Premiere: Season 9, that is. Which means Finding Bigfoot has failed to find Bigfoot in more than 70 episodes now. Not to imply that this show is any more nor less abortive than Keeping Up With the Kardashians. (From what I've seen—which is, admittedly, limited to clips from The Soup (R.I.P.) and random chunks accidentally DVRed following E!'s The Royals—there's nothing to "keep up" on with the Kardashians, as nothing ever happens on the screen. Seriously, nothing.) KUWTK is just endless hours of plastic dolts who are barely more "real" than Sasquatch, contributing nada and sucking oxygen. Wishing death upon the Kardashians and Jenners is as pointless as looking for Bigfoot, because it's not like they were ever really "here" or "did" anything, either. Scott Disick, however ... there's a man of action.

It's Always Sunny in Philadelphia
Wednesday, Jan. 6 (FXX)
Season Premiere: The Gang kicks off Season 11 by referencing Season 7: A board-game company is interested in buying the utterly incomprehensible drinking game that Charlie, Dee, Mac and Dennis invented, the epic "Chardee MacDennis," which includes—but is not limited to—booze chugging, dog kennels and emotional battery. Can they cooperate long enough to not blow the deal? Are you unfamiliar with The Greatest Comedy in the History of Television? Long live It's Always Sunny in Philadelphia.
Listen to Bill on Mondays at 8 a.m. on X96 Radio From Hell; weekly on the TV Tan podcast via iTunes and Stitcher.