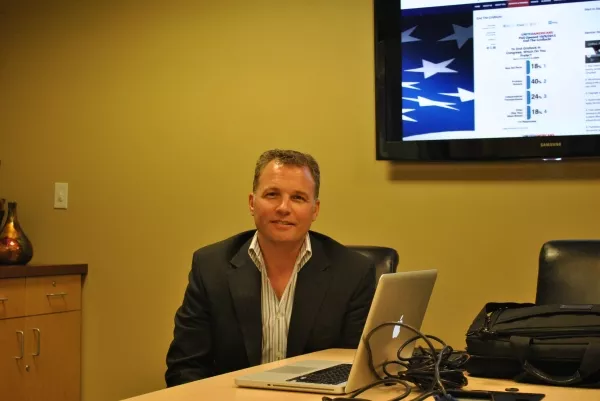 Rachel Piper
Michael Smith
Michael Smith is the founder of United Americans, an organization that asks voters directly—through once-a-week text messages—what they think about issues from health care to the Syria conflict, allowing them to weigh in from their armchair as opposed to a voting booth. Members of United Americans can also submit their demographic information, such as income, age, gender, and party affiliation, to provide context to the results; the member-owned, copyrighted information will, United Americans hopes, help inform representatives how their constituents feel. Results are also displayed immediately on UnitedAmericans.com.

How is United Americans different from traditional polling?
Statistically, it's not necessary to ask everybody—if you randomly ask 226 people in the U.S., you pretty much have the results of the whole country. The power of this is that if we ask everybody, we can tell the press what we think, instead of them telling us what we think. More importantly, elected officials, if they hear that 80 percent of Americans feel this way, it's easy to discount that—"Maybe two of those people were in my congressional district—it doesn't reflect my district, so I can do what I want." But if we say that 80 percent of registered voters in your congressional district feel this way—well, now there's a different story to the data.

Are decision-makers obligated to review or consider this information?
With what we're doing currently, no. Until we get a million people—that's our first baby tooth. Right now, we're texting around 1,000 people. But our results are mirroring ABC, CNN results. And the results start coming in right away.

In the work I've done before, we get the buy-in beforehand from people in power. We don't have that with this grass-roots movement at this point in time. But what's unique about what we're doing is that we're linking your cell phone number to your voter I.D. number. We have a tool on our site where you can look up your voter I.D. number from any state. Then, we have a small transaction fee for membership—it validates your address, where your credit-card statement goes. Based on that, we know which congressional district you're in. So it's a triple verification of who you are and where you are. Ideally, we'd have millions of people participating on any issue the country faces.

Right now, we need to get the word out, and get people engaged. Everyone who hears about it is like, "Why haven't we done this before?"

What are your goals beyond getting 1 million people signed up?
We have another platform where we can put 100,000 on a conference call. We need to get to know each other as Americans—we want to re-Americanize Americans. Imagine a 100,000-person conference call with about 2,000 people per state attending. We have a geographical homogenizer, where people don't run into anyone who thinks differently, so they think their construct of reality is what it is, because it's never challenged. But if we can put people on a conference call, and they can share ideas respectfully? Humans behave in the context in which they are found. In the blogosphere, we're horrible. Things will come out of our fingers that would never come out of our mouth at a table. If we can facilitate a meeting space—whether that's on a phone call or a Webinar, the end goal is to bring people to the table. We can participate and have it be the original concept of America that it was meant to be.

How do you make sure that fringe voices won't dominate your results?
What we hope to by re-Americanizing people is first teach them who they are as Americans. And then you can see someone else as an American, and as an equal, and we can have a conversation. Because if I've already discounted you as a lib-tard or a heartless conservative, we're not going to communicate. There's no point. And then we talk about what success would look like—not how you're going to get there. Once you have all the various perspectives of what success looks like, then we can collaborate and get there.

Twitter: @RachelTachel