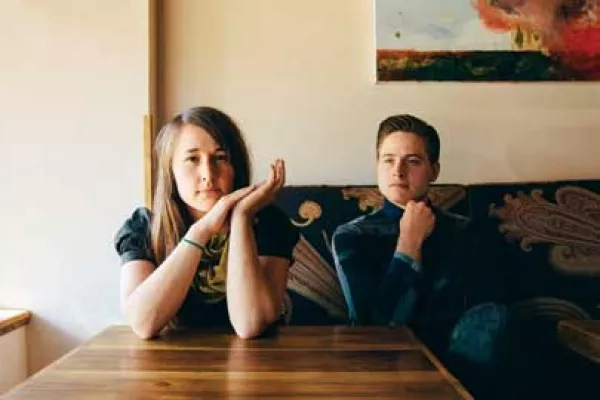 In the world of popular music, bands can engross a listener with politically charged anthems, operatic story-songs or mind-bending conceptual albums, but what Mideau offers lyrically is its search for meaning in the mundane—and it's a beautiful thing.
"The innocence and simplicity of childhood, as implicitly contrasted against growing up into adulthood, is a ubiquitous theme," says vocalist and multi-instrumentalist Libbie Linton, speaking about Mideau's self-titled debut album. "There are lyrics about driving to work, pulling up to stoplights and waiting, and about managing expectations."
"I think we're both inspired by finding beauty in the unremarkable," adds multi-instrumentalist Spencer Harrison.
Similar to the steady forward growth of one's life, the transcontinental twosome Mideau (pronounced "Mid-doh") slowly built the sonic temple for their emotions one verse, one nuanced sound and one deliberate lyric at a time with Linton in Provo and Harrison in Washington, D.C.
Mideau as a project dates back to a 2011 Provo Rooftop Concert Series show, where the two performed and later commiserated about how they were both longing for something more with their half-hearted personal musical activities, something that would "inspire us to put more of ourselves into music," Linton says, adding that she wanted something bigger and more challenging.
Harrison had recently left Fictionist, a Provo-based band now signed to Atlantic Records, to move to Oxford, England, and says that he was fearful of becoming the guy who left The Beatles and was replaced by Ringo Starr. "It was a time of both confounding darkness for me, self-discovery and some extremely bright light mixed in," he says.
A serendipitous musical union formed while Harrison was in Utah for six months, but he soon moved away, leaving the two to collaborate via the digital universe.
"It has required a less-than-conventional approach [to writing songs]," Linton says. They'd send each other fragments and mull over them, collaborate and build it to grandiosity. "Songwriting became more iterative … we ended up feeding a lot off of each other," she says. "As a result, we ended up with something that is much bigger and bolder than what we would come up with on our own."
This made for a longer writing process than, say, jamming in a basement or in a studio, but the songs and, by extension, the album, became more deliberate. "Art can be impulsive and random: intersecting lines and blobs of color," Harrison says. "Sometimes art looks random, but in fact is extremely intentional. This record for us fits more in the camp of very thought-out—handpicked details, with many happy accidents peppered throughout."
To afford such a masterful album and to record the exact aesthetic they wanted for each song, Mideau launched a Kickstarter campaign in December 2012. Producer Nate Pyfer (The Moth & the Flame, Polytype) pushed the songs to new heights, and the tunes became a collaboration with drummer Aaron Anderson and violinist Katie Davis Henderson adding to the arrangements. Linton says the duo avoided, at all costs, the trap of something being "good enough."
"Benny" is a prime example of the band's ethos. The tune deals with anxiety, hope and navigating through the day-to-day. "In the writing, there's a lot of nostalgia and a dealing with a recurring longing for a different time," Linton says. Musically, she says, Mideau wanted it to be hopeful and soar, and "serve as a sort of wake-up call to pay attention and notice the details in what's around you," she continues. "It's natural to get used to what you see and hear and experience every day, so it becomes easy to under-appreciate the many things around you that are actually worth paying attention to. We're trying to fight that with this song."
Mideau, in sound and lyrics, proves that beauty is everywhere.
MIDEAU
CD Release
w/Oceanear, Little Barefoot
Velour, 135 N. University Ave., Provo
Friday, Sept. 13, 8 p.m.
$7

Twitter: @AustenDiamond