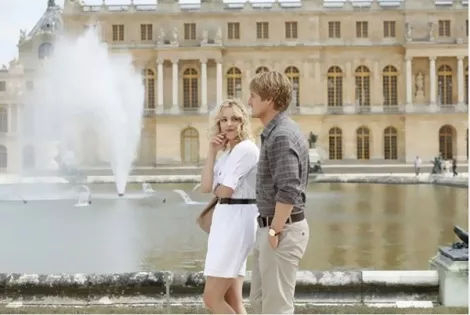 Midnight in Paris invites film critics to participate in an annual event almost as steeped in tradition as bitching about the Oscars: Determining whether the latest Woody Allen movie is a return to form or the latest nail in his career coffin.

It's more of the former than it is the latter, in ways that are alternately fun and frustrating. He casts Owen Wilson as his surrogate, a successful but artistically unfulfilled Hollywood screenwriter named Gil. On a Paris vacation with his fiancee, Inez (Rachel McAdams), Gil longs to soak up the atmosphere while working on a novel. But he's about to soak it up in a particularly unusual way: When the clock strikes midnight in one unique spot, he can hitch a car ride to 1920s Paris, with its congregation of great artists and writers.

Allen has often been at his best when experimenting with fantastical conceits—from his early short fiction, to Zelig and The Purple Rose of Cairo—and he's on to something here as he plays around with the allure of nostalgia. The historical cameos allow for hilarious performances, particularly Corey Stoll as a no-nonsense Ernest Hemingway and Adrien Brody as a strangely rhinoceros-obsessed Salvador Dalí. And where many of Allen's leading men in recent years have floundered with attempting to duplicate the Woodman's trademark mannerisms, Wilson offers reaction takes that are distinctly his own.

But then there's the darker side of late-model Woody. His female characters can be shrill and one-note, and McAdams is saddled here with a thankless part. Allen also becomes a bit too enamored with in-jokes about his 1920s milieu, turning those scenes into the Jazz Age aficionado equivalent of geeky references in superhero movies.

Still, there's something about Midnight in Paris that's less forced than most of Allen's recent disappointments. In its easy, romanticized rhythms, it feels more like old times—or maybe that's just nostalgia talking.

MIDNIGHT IN PARIS


Owen Wilson, Rachel McAdams, Marion Cotillard
Rated PG-13