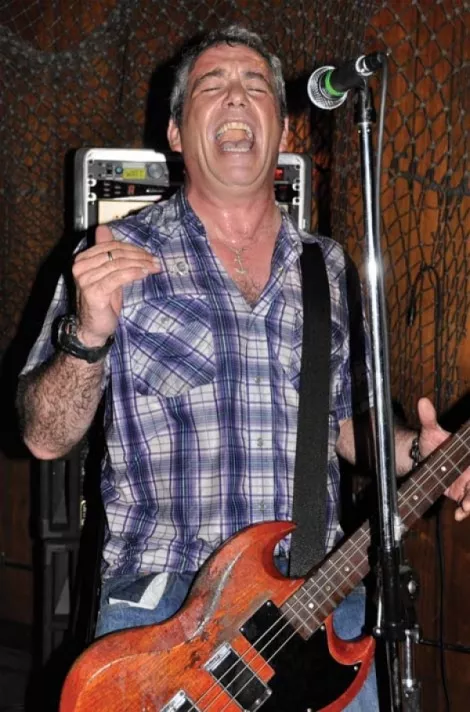 Not every man can combine a love of Hieronymus Bosch,
The Wizard of Oz
and punk rock into a 30-song treatise on middle age, let alone make it a compelling listen.
But in Mike Watt's bass-popping hands, the seemingly incongruous influences come together to form a mesmerizing display of passionate playing and contemplative lyrics on the punk legend's new Hyphenated-Man.
The album is a throwback to Watt's days in pioneering punk band the Minutemen, formed with his best friend D. Boon in 1980. Boon died in a van accident in 1985, and everything Watt's done since—leading the band fIREHOSE, releasing four solo albums—has been an homage of sorts to his fallen comrade.
Yet nothing Watt has done since D. Boon's death has had quite the direct line to the Minutemen years as Hyphenated-Man. When a couple of filmmakers came to Watt for help in making We Jam Econo, a 2005 documentary about the Minutemen, he was forced to listen to more Minutemen music than he had since D. Boon died.
"That made me interested in working in that Minutemen style again," Watt relates from the road, where he and his Missingmen, guitarist Tom Watson and drummer Raul Morales, are playing 51 shows in 51 days.
"I wanted to write about right now because I'm in a weird place in my life. I'm a 53-year-old punk rocker. And I wanted this weird mixture of the familiar—my past—and something very strange, very different, so it wouldn't be some whack, punk version of Happy Days."
By that, Watt means he didn't want to just make some bogus nostalgia trip of an album. Rather, he wanted to explore the myriad issues of being middle-aged while staying grounded in that old Minutemen style. That's where Bosch comes in; Watt always thought the Dutch painter's works, full of tons of small, ornate images, were similar to Minutemen records that would combine upwards of 40 short tunes to create a cohesive whole.
The Wizard of Oz got Watt thinking of middle age, too. "My take on Dorothy is that she's tripping on what guys do to be guys," Watt relates. "Part of middle age, I think, is figuring out what it is to be a man. And she was doing that, looking at the Tin Man and the Scarecrow and Lion. It's kind of a coming-of-age story for her."
Hyphenated-Man is the most instantly gratifying listen of Watt's solo excursions since 1995's Ball-Hog or Tugboat? He wrote the entire album on D. Boon's old Telecaster guitar, and every song explores a different aspect of Watt's psyche, using hyphenated titles throughout (songs include "Bird-In-The-Helmet-Man" and "Blowing-It-Out-Both-Ends-Man").
"I was afraid to talk about certain things on this album, but I thought D. Boon would help me in a way, give me courage," Watt says. "Middle age is about reconciling a lot of things. Part of it is dismissing that self-important shit, especially in this line of work, when people are so self-important just because they strap on machines and make sounds. That doesn't mean they're better than other cats."
Watt is known as one of the nicest guys in rock because of just that attitude. He and D. Boon started the Minutemen partly as a response to the bombastic rockers of the '70s who held themselves above their fans. Watt, on the other hand, hangs out with his fans after every gig, and encourages them to start their own bands every night from the stage.
Hyphenated-Man has been met with rave reviews, and even though punk rockers don't really care about such things, Watt appreciates the response.
"Back in the old days of punk, you learned not to care what people thought because 99 percent of people hated it," Watt says. "But I'm very grateful to get that kindness. It shows that younger people, or people in general, are more open-minded about music than when I was a younger man."
MIKE WATT & THE MISSINGMEN
w/ Bloodworm, The Numbskull Trio
The Complex Vertigo Room
536 W. 100 South
Saturday, April 23, 7 p.m.
$15
TheComplexSLC.com, SmithsTix.com