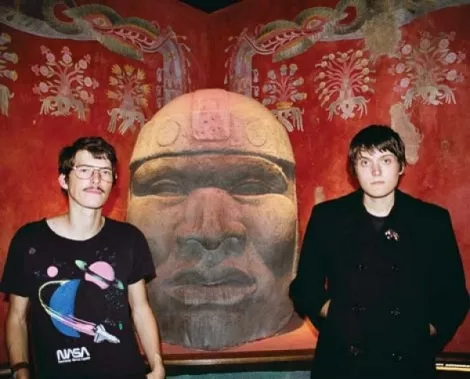 As a Phileas Fogg for the 21st-century indie-pop set, Charlie Brand is there to guide you through woolly and far-fetched terrain. Through 2008's Tell It to the Volcano (Modern Art), the Miniature Tigers lead singer/guitarist encounters "Haunted Pyramids," invokes iconic markswoman Annie Oakley, details the side effects of baby dinosaurs maturing, and banishes an ex to a volcano. In "Cannibal Queen," the album's dulcet, irrepressibly hooky standout, Brand unashamedly feasts on a female's heart, noting, "Oh, she lets me right in and I fed 'til I'm full." These aren't the scenarios you'd expect to hear an unassuming Phoenix-bred band discuss on their debut, which is precisely why the premise is captivating. Imagination transforms their American pop into something exotic.
Like the best yarns, Volcano's metaphors stem from stinging realities. "'Cannibal Queen' was about my girlfriend," explains Brand. "I was having this summer where I was obsessed with cannibals and native tribes. I was watching a lot of Discovery Channel and reading books about it. I wanted to write about that but it didn't feel right to be like, 'Then, the natives rode down the river.'" Filtered through the songwriter's life, "Cannibal Queen" became "something that felt real to me."
Brand typically begins his journey into the unknown with a song title pulled from the far-out. Armed with a Blackberry, he keeps an electronic ledger of possible future tracks. "Sometimes, a weird combination of words—made-up nonsense, essentially—will come into play," he says. "I'm really not even sure. It just happens."
The majority of Volcano was penned when Brand was between relationships. (There's no telling who "Cannibal Queen" is about, then.) Coming off a break-up, he recalls, "It was a bad time. I was writing songs that reflected that." Then, as his situation improved and he found someone new, his material gained a brighter tone. Looking back at work created when his feelings were particularly strong, he doesn't apologize for anything said in those metaphors. "I stand behind the songs but I don't feel as close to them as I did. When I wrote them, I felt intensely close. Now, we've been touring all year and play those songs every night. It's almost like muscle memory."
Keeping muscles in mind, another trait embedded in Brand's repertoire is his use of the human body—and its destruction—as metaphor. Beneath the Tigers' sweet veneer is an undercurrent of emotional and physical brutality. In "Dino Damage," little creatures grow up to dismember their elders: "You gotta let go when they get that old / You gotta let 'em go / 'Cause if you hold on, they'll puncture your lungs / And separate your spine from your skull." A woman's "Hot Venom" meshes with Brand's blood, painting a picture of both lust ("I can feel it on my fingers and taste it on her tongue") and its consequences ("You can't go back now/ That's not how this works/ And as long as she's gone, I can never be happy"). Perhaps the traumatic is "Cannibal Queen": Sure, the protagonist claims to love his victim but she is, after all, being exploited for his satisfaction.
Until evaluating it, Brand didn't realize the abundance of body imagery in Volcano. "I guess I've never really thought about it," he says, sounding bewildered. "I guess I was going through a phase. On the album we're working on now, there is not a whole lot of that."
To record their currently untitled sophomore album, the Tigers will soon travel to Dreamland, a church-turned-studio in Woodstock, New York. Brand emphasizes that the follow-up will expand on previous ideas, but is hesitant to relate exactly how. "It's a little less based on metaphors," he offers. "It's less romantic than the last album, if you consider the last romantic. It's a weird album."
"Weird" is a word that Brand says a lot, but it's hardly a negative. In the hands of the Tigers, weirdness is fanciful. "We set out to do something different each time. The album after this one could be electronic," considers the frontman with a laugh.
"It's hard to say."

MINIATURE TIGERS
Kilby Court
741 S. 300 West
Saturday, Jan. 2
6:30 p.m.