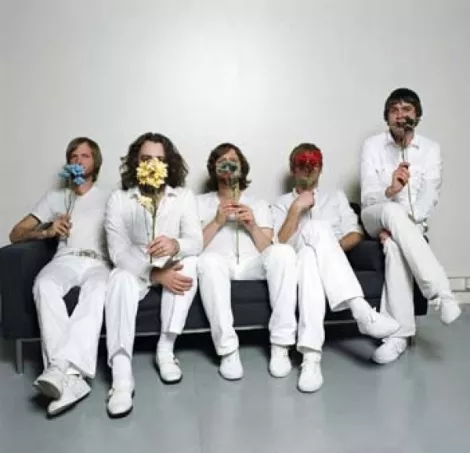 Seattle bands have been blowing out the birthday candles as of late. That includes two 20-year anniversaries and one 10-year celebration in the Emerald City this September. Cameron Crowe's Pearl Jam documentary, Pearl Jam Twenty, premiered, and Nirvana's Nevermind was reissued two decades after it exploded onto the music scene. More quietly, the prog-rock group Minus the Bear are blowing their own noisemakers.

"They made a word for it, you know. It's called a decade, so we might as well do it up," says bassist Cory Murchy. To "do it up," the five-piece is taking their show on the road and playing their full-length debut Highly Refined Pirates in its entirety at each tour stop.

The band is technically pushing it a bit by promoting the Big One-O mark by playing this album, because it wasn't actually released until 2002. Their debut EP, This Is What I Know About Being Gigantic, however, was released soon after they formed in 2001. But celebrating the nine-year anniversary of Highly Refined Pirates doesn't make sense, because anniversaries not divisible by five are hardly ever celebrated with fanfare. Who cares about the ninth or 19th anniversary?

Although Minus the Bear play math-rock, Murchy doesn't seem to care about this math-related quandry. He's just excited to have made it to the band's first double-digit mark. "It's been quite a journey," he says.

Persnickety musings about celebrations aside, the set list should prove interesting.

"We've never played these songs off the record, back to back. It'll be cool to revisit some of the ones that we've hardly, if ever, played live," says Murchy, adding that they spend a lot of time crafting the set list. It's an important part of the show, and there are definitely bad set lists, he says.

"There's gotta be flow—for the audience and for us. Maybe, sometimes, there's a song we might struggle to get through, but if people are reacting to it, it's hard not to appreciate playing it," Murchy says.

Highly Refined Pirates was met with mixed reviews upon its release. Pitchfork.com, for instance, gave the album a near-scathing 5.4 out of 10. Other bloggers were more generous, but, overall, the album was hard to pin down because of the band's high-wire balancing act between their immense technical savvy and their ability to make catchy pop hooks. Tunes like "Monkey!!! Knife!!! Fight!!!" and "Absinthe Party at the Fly Honey Warehouse" hit the middle mark, but others totter on one side or the other.

Critics and fans didn't know what to make of song titles like "Get Me Naked 2: Electric Boogaloo," "We Are Not a Football Team" and "Booyah Achieved," among others. That quirk was not a tradition the band maintained.

"We were surprised at what a stir it made, and we just got tired of answering questions about it," Murchy says. "We thought it was fun and goofy, but it turned the band into this big joke. We are, granted, goofballs, but we are very serious about the music."

Since that debut, Minus the Bear has made three other full-lengths, including the 2010 release Omni, which marked a transition for the band. They moved from Suicide Squeeze Records to Dangerbird Records, and longtime member Matt Bayles, who had previously produced all of Minus the Bear's albums, left the band.

While those are just the most recent mile-markers, Murchy lists other highlights of the past decade: appearing on Jimmy Kimmel Live! several times, playing many gigantic festivals like Coachella, recording an acoustic session on Daytrotter.com and gigging at classic venues like The Fillmore in San Francisco and Showbox in Seattle.

"[Looking back,] it's one of those doubly weird things: You can't believe it's gone by that quick, and you can't believe that you've been doing it for that long," Murchy says.

MINUS THE BEAR
In the Venue
219 S. 600 West
Wednesday, Oct. 5, 8:30 p.m.
$18 in advance, $20 day of show