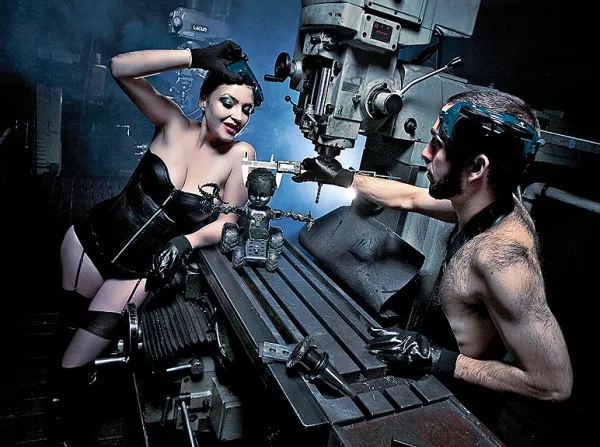 Music pioneer and inventor Les Paul didn't impress with his first electric guitar. Called the "Log," it was rudimentary—constructed out of guitar strings and a 4-by-4-inch piece of wood—but had the incredible sound Paul's creations would later become known for. But the audience's response was lukewarm. It wasn't until he added "wings" to it to make it look more like the classic vision of an electric guitar, adding visual appeal, that listeners enthusiastically responded. "People hear with their eyes," Paul said.
That story is also how local electro-pop duo Minx explain why their music's visual side is nearly as important as their actual synth-y, dance-friendly sound, as heard on their newest full-length album, 13, released Nov. 13. "We tend to be a little bit more crazy with some of our stuff, and we have to be because we're entertainers," says guitarist Raffi Shahinian. "I love music, but I want people to be entertained when they see the music and hear it."
Thus, a Minx show isn't complete without homemade props—including a "stage cage"—shiny signs bearing the band's name, synchronized dancing, lots of glitz and artsy costumes (think strange space-age helmets made of ribbon) for Shahinian and charismatic, glamorous frontwoman Ischa.
"We're super arts-and-craftsy like that," Ischa says. "The Minx marquees, those we have made ourselves. They're made out of cardboard boxes and wood pieces and materials that I have a hard time admitting that I hoard, because … I'll just see cardboard boxes sometimes and not be able to leave them because I think they could be something better."
But Minx didn't always feel like they had so much creative free rein. Both previous members of the now-defunct politically minded rock quartet Uncle Scam, they started playing together as just the two of them in summer 2011. They turned their backyard jam sessions into an official band, Minx, in February 2012, and ended the Uncle Scam project a month later. From then on, it was only open skies and endless possibilities for the trajectory their music could take.
"It's really been liberating … because now I'm not stuck to playing certain genres or, like, within the realms of what … people want," Shahinian says. "There's no more limitations."
For their new album, Minx struck a balance between their first two releases, a mixtape project—where they picked and chose from 45 songs to create custom CDs—and LP Golden, which came out in March. Whereas Golden was something of a concept album, "where you can listen to it all the way through and it's somewhat of a story," Ischa says, 13, she feels, is "a little bit more all over the place."
Shahinian describes 13 as "crazier … there's more contrast between the songs."
Another difference between 13 and Golden is the mindset Minx had during the writing process. While creating Golden was highly focused and "streamlined," Shahinian says, Minx allowed themselves to play with what would work and what wouldn't for 13, which he and Ischa recorded, produced and mixed entirely on their own, "experimenting and learning things the easy way, the hard way, every which way," Ischa says.
"Doing this album, I kind of experimented with things I wouldn't have," Shahinian says. "Different synthesizers [and] plug-ins."
That freedom is apparent on 13, a sassy slice of pop built around three key ingredients: Shahinian's synth wizardry and rock & roll guitar riffs, and Ischa's beautifully powerful voice. The lyrics to "Fly Away" sound like Minx's mission statement of how important it is to do what you love instead of being trapped in a job you hate just to make money. "Lollipop," with loops of Ischa's voice built up in layers to create a full sound, is full of sexy innuendo. "Can't Get Enough" captures that dizzy, head-rushing side of love with the lyrics "you're the frosting on my cake."
But the album highlight is "TicToc," a female-empowerment anthem that encapsulates Minx's feminist mindset. "Can't stop, I'm rolling," Ischa raps. "I got people to meet, I got shit to do. … 'Cuz I'm a queen, and I'ma wear that crown."
Subjects of feminism and gender roles are a large part of Minx's music, so representing and supporting female musicians is important to them. Shahinian and Ischa are proud hosts of The Woodshed's monthly Ladies That Rock night, which features bands that are fronted by women. "Hosting ladies night has been one of my very favorite things, because every month there's a lady-fronted band," Ischa says. "I think there's something very cool about the guys that are willing to play with those girls."
Looking forward, Minx has plans to tour in support of 13 (the release of which is being celebrated with a private party on Nov. 16; contact Minx at their Facebook page to receive an invitation). They also already have ideas for their next project, and are constantly perfecting their flamboyant stage presence.
"We were talking about what we can do next," Ischa says with a laugh. "I mean, popping out of boxes, up and out of vases, up and out of cakes—it's all been done! But we can do it again, right?"
But it doesn't matter if Minx's antics raise an eyebrow or two. It's all about the art of performing. "People will maybe wonder what we're doing," Ischa says. "Sometimes we wonder what we're doing. But we make no apologies."
Twitter: @VonStonehocker