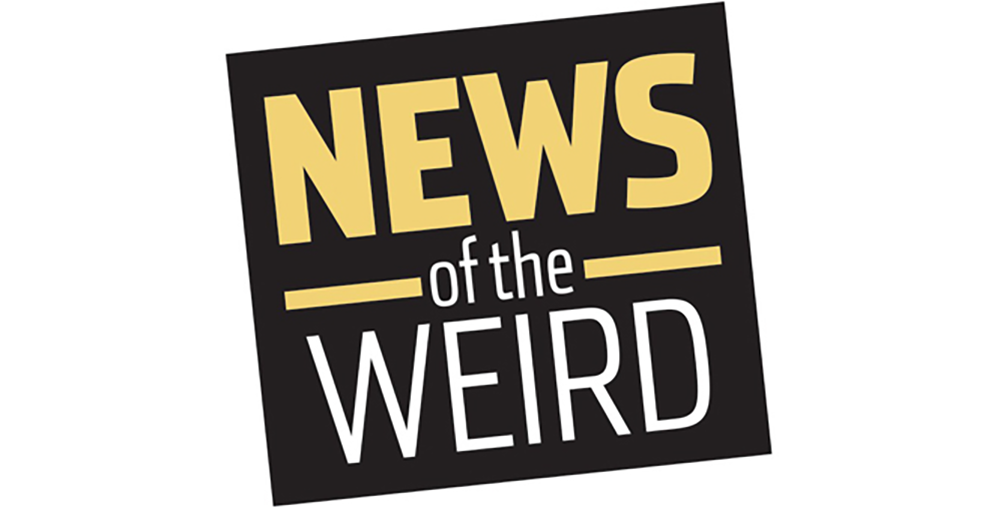 Mmm, Tastes Like Chicken
In Plymouth, Mass., on Aug. 17, a friendly game at Southers Marsh Golf Club turned ugly when Derek Harkins, 46, and an unnamed 57-year-old man got into a brawl on the 18th hole. But you gotta hand it to Harkins: The Patriot Ledger reported that he pointedly ended the fight by biting off the other man's finger up to the knuckle, according to Plymouth Police Chief Michael Botieri. The victim, from Marshfield, was taken to the hospital, but his finger could not be reattached. Harkins was arrested at the scene and charged with assault and battery, mayhem and disturbing the peace.
Undignified Death
The happiest place on earth couldn't work its magic on Aug. 15 when a worker at nearby Harvest Power fell into a vat of oil and grease from Walt Disney World. The plant in Lake Buena Vista, Fla., recycles the resort's food waste, then converts it into renewable energy and fertilizer. John Korody, 61, and another worker were emptying the contents of a semitruck into a vat when Korody slipped on a grate and fell into the vat. His co-worker tried to pull him out, but the fumes overtook them both, and Korody slid farther in, according to The Washington Post. The Reedy Creek Fire Department responded, but Korody was pronounced dead at the scene.
Smooth Reaction
Debbie L. McCulley, 57, of Salem, Va., has been banned from all future Floyd County High School sporting events but, on the bright side, her indecent exposure case might eventually be dropped, following an incident area lawyers are calling "moon over Floyd." McCulley's husband, Mark, is the JV softball coach for Glenvar High School, and the charges resulted from Debbie's unusual reaction to her husband's team's loss to Floyd County in May. She "stood on or close to the pitcher's mound and pulled down her pants with her right hand to expose her right butt cheek," according to Floyd County Sheriff's Deputy G.H. Scott. But Debbie told the officer that her husband had confronted the opposing coach after the game, and she was afraid he would be "attacked," so she was trying to divert attention from the two men. The Roanoke Times reported that Debbie wrote a letter of apology and will be performing community service. Chris Robinson of the Virginia High School League noted that crowd behavior at games is "probably leaning a little bit in the wrong direction."
Weird Science
United Press International reported that a 42-year-old British woman saw her eye doctor after experiencing swelling and drooping of her eyelid earlier this year. After performing an MRI, doctors discovered a cyst and performed surgery, during which they found a hard contact lens embedded in the eyelid. It turns out that the patient had suffered a blow to the eye 28 years ago and had assumed the lens fell out. She experienced no symptoms until the recent discomfort.
Annoying
After 16 years, neighbors of "Eva N." in Sturovo, Slovakia, have gotten relief from her particular brand of torment, reported the BBC. From morning until night, the woman had played a four-minute aria from Giuseppe Verdi's "La Traviata" over and over, with her speakers on full blast. "The whole street is suffering," complained one resident. At first, the music-lover played the music to drown out a neighbor's barking dog, but continued the practice until Aug. 6, when she was arrested for harassment and malicious persecution. If found guilty, she could face between six months and three years in prison.
• A pothole in Toronto, Ontario, Canada, got a new life as a vegetable garden this summer after area residents grew weary of waiting for the city to repair it. The hole, which is several feet deep, had been expanding for months, neighbors said. So they filled it with tomato plants, which are now ripening and getting so tall they require wire cages for support. Now, "It's sort of, like, become the community garden," resident Bryan Link told CBC Radio. Finally, Mayor John Tory has agreed to not only fill the pothole, but to move the tomato plants to a community garden.
Unexpected Hazard
An unnamed Irish teenager's hiking outing became fodder for any number of bad punsters after the boy was hit by a falling sheep while walking in Northern Ireland's Mourne Mountains. The sheep fell from a crag on Aug. 17 and landed on the boy, who was treated for potential injuries to his head, neck, back, abdomen and leg. "It is believed the sheep was uninjured and left the scene unaided," reported Metro News. Punny comments on a social media post made by the Mourne Mountain Rescue Team included: "Mutton been looking where he was going, I bet he's feeling a little sheepish now" and "Ewe want to be careful on the mountains!"
Inexplicable
On an Aug. 17 flight between Chicago and Narita International Airport in Tokyo, a 24-year-old American man, who was reportedly unprovoked, urinated on a 50-year-old Japanese man sitting two rows behind him. The younger man had consumed at least four glasses of champagne and one cup of sake before the incident, police told Japan Today, and claimed not to remember what he had done. He was restrained aboard the remainder of the flight and turned over to police in Tokyo.
Oops
Pennsylvania State Police told Lehigh Valley Live that Evan T. Kasick, 52, of Upper Milford Township, was injured on Aug. 16 when he wrecked his motorcycle—in his own driveway. Kasick sped into his driveway around 7:30 p.m. and struck a concrete barrier, causing him to be thrown from the Honda bike. He was taken to an area hospital with undisclosed injuries, and police issued a ticket for driving at an unsafe speed.
Compelling Explanation
Near Mason City, Iowa, on Aug. 20, the Iowa State Patrol pulled over a Ferrari 488 Spider that was clocked going 137 mph during a rainstorm. "Not a great idea to drive this fast in the rain," the trooper posted on Facebook with a photo of the radar readout. The unnamed driver, however, wasn't fazed; she thought she was going "around 100." Fox News reported that if ticketed in a 70-mph zone (the highest speed limit in Iowa), her fine would be $335.
Superpowers
Phoenix teenager Josiah Wiedman, 13, was walking home through a park in early August with a friend when he was struck by lightning, "sending me 9 feet into the air, making me bounce on my head and then flip over to my back," he told ABC News. Afterward, doctors put Josiah into a medically induced coma for three days, and when he came to, he made a speedy recovery. His mother, who didn't expect her son to survive, dubbed him "Superman"—and indeed, Josiah said he's waiting for his special powers to kick in. "I haven't felt my powers yet, but I will soon," he said.
• Moses Lanham, 57, fell 18 feet from a rope in gym class when he was 14 years old. As a result, the Michigan man is now known as "Mr. Elastic." Lanham has double cartilage and extra tissue in his knee joints, hips and ankles, which makes it possible for him to turn his feet 180 degrees backward and walk. In fact, he tells Metro News, walking with his feet pointed behind him is more comfortable than walking normally. "I've heard one other (person) can turn his feet, but not walk," Lanham said of his fame. "When I perform this in front of people, I love the reactions," he said. "One time, I actually had a person throw up after I turned my feet around."
Send tips to weirdnewstips@amuniversal.com