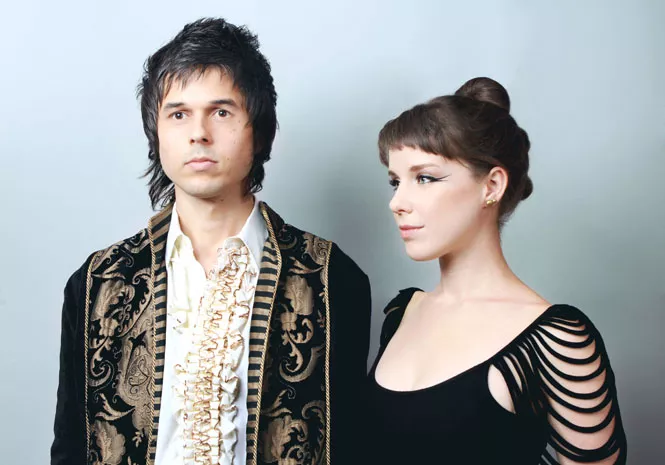 Calling from her hometown of Baton Rouge, La., Moon Honey vocalist/songwriter Jessica Ramsey remarks that after living on the West Coast for the past six months or so, she'd temporarily forgotten about the South's ever-present humidity. "It's oppressive, but in a good way," says Ramsey, who was back in Baton Rouge at the time for a Moon Honey homecoming show. But Ramsey and her bandmate, guitarist Andrew Martin, have found more than un-Louisiana-like weather in their new Los Angeles home.
In 2014, Moon Honey—formerly a four-person band—became a duo when the group's bassist and drummer departed to pursue school and other ventures. Left to determine the future of the prog-rock/psychedelic band, remaining members Martin and Ramsey decided to move to California, an area they'd become familiar with on tour. "I really fell in love with the West Coast in general, just the mountains, the beach, the desert, the redwoods," Ramsey says, as well as "the lifestyle in Los Angeles, being closer to all these people that have careers in music and likeminded artists in the community that we wanted to live in."
So, Moon Honey headed west, a move that has reverberated throughout practically every aspect of the band, including the feel of their music and the pace at which they create. But most of all, relocating to Los Angeles signified that Ramsey and Martin were going all in, devoting themselves entirely to the music with rekindled passion and focus.
"When we decided to move to the West Coast, it was mainlybecause it was only going to be [about] music, and it was a life shift from where we cut out all of our other life ideas, and we wanted to dedicate our entire lives to this band," Ramsey says. "We want the music to be our life's work, nothing just trivial—just hard, hard work."
Being a duo rather than a full band has proved creatively fruitful for Ramsey and Martin, who have come to rely on each other more and more during the writing process. "We've started to form an unbreakable bond, me and Andrew," Ramsey says. "Musically, one does not want to exist without the other, and I think that that is evident in our style."
Since the beginning, she and Martin have influenced what the other brings to the table. Martin's mind-bending, intensely detailed writing—influenced by artists such as Jimi Hendrix and King Crimson—directly impacted the unearthly, feral vocals by Ramsey, who, surprisingly, doesn't have a background in singing. The way her trill-laced singing style developed, she says, "was just in following the way that [Martin] writes. He would give me the tracks, and I would write the vocal melodies and lyrics over it." The only goal Ramsey had in creating her vocal parts was "to just be authentic," she says. "Whatever came out of my mouth, I accepted."
And now, with the duo pursuing a shared vision for Moon Honey's future, listeners can soon expect the follow-up to the band's surreal, esoteric and poetic debut album, 2013's Hand-Painted Dream Photographs. "We're more focused because we're both on the same page, so things are moving a lot quicker," Ramsey says. "Our energy is all going into music and nothing else. So we've been writing new stuff and can't wait to release it."
As yet untitled, the new album will reflect Moon Honey's new surroundings. Being in sunny California, Ramsey says, has made their music "a little bit more lighthearted. Which is interesting, because Los Angeles can be a very dark city—it's so huge and there's so much competition and crime. ... It could've brought us down a little bit, but we are really, really enjoying the fast-paced nature of it and meeting so many people." A couple of the songs "even sound kind of tropical," she says, which she partly attributes to the fact that she and Martin—who grew up in the Cayman Islands in the Caribbean—are "finally getting to go to the beach."
And thanks to "our energy being more focused, I think that the new music will sound more focused," Ramsey says. Unlike Hand-Painted Dream Photographs, which was painstakingly recorded over three years in Moon Honey's home studio, and made up of "a ton of layering and instruments playing on top of each other" that created a "very sonically dense sort of landscape that could be difficult for a lot of people to understand," Ramsey says, the new album will demonstrate that "we are just working on our songcraft and being more minimal and really highlighting certain melodies—letting things breathe a little bit more."
But even though Moon Honey has left Louisiana for the West Coast and is poised to release an album that could feature a new direction for the band, Ramsey and Martin's approach to their music at the fundamental level remains unchanged.
"We want to write timeless songs that are full of soul and make people want the things we want, want freedom," Ramsey says. "But we also want to be never replicating anything that's happened before, and to be pushing the boundaries of music."