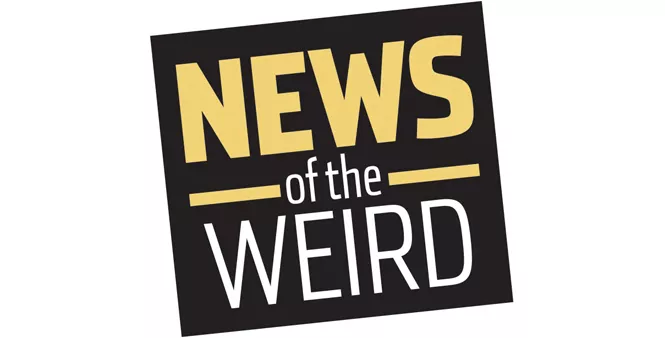 Mother of the Year
Ebony Woody, 34, of Columbus, Ohio, was nothing if not thorough on the morning of Sept. 18 when, following an argument with her daughter, she purposely drove her car onto the sidewalk and struck the 17-year-old, who was walking to school, according to Columbus police. After knocking the girl down and running over her leg, Woody stopped and backed up, driving over the leg a second time. QFM96 reported Woody generously gave the girl a ride to her father's house, where she dropped her off without reporting the incident. Woody later turned herself in at police headquarters and faces charges of felonious assault, aggravated vehicular assault and endangering children. The daughter was treated for two fractures to her left leg.
Animals on the Lam
Auburn, Mass., police received a number of calls over the weekend of Sept. 15-17 about a wayward goat, but it wasn't until the wee hours of Monday, Sept. 18, that No. 448 was finally corralled at the La Quinta Inn in Auburn, reported CBS Boston. The "mischievous runaway farm animal" was seen on surveillance video entering the lobby of the hotel and wandering the halls, "presumably to rest a bit," police said. Peter Blash, No. 448's owner, said the goat jumped a 5-foot-high fence and "took off like a criminal." However, Blash said, "I had one that made it all the way to Sturbridge."
• Just north of Benton, Kan., a rancher posted signs promising a reward to anyone who could help him find his missing longhorn cow, Mercedes. The Wichita Eagle reported the 3-year-old black-and-white bovine went missing on Sept. 11 during Cross Trails, a weekly cowboy church service at Greg Johnson's Prairie Rose Ranch. Friends, neighbors and family have searched high and low for Mercedes, recognizable by her 5-foot-wide horns, but the only sighting of her has been near the El Dorado, Kan., Walmart, about 10 miles away. Johnson says this isn't the first time she's run off: "She is more of a loner."
Questionable Judgment
Coolidge, Ariz., resident Victor Pratt boasts that he's played with snakes his whole life. So when a rattlesnake slithered by during a family party at a nearby lake on Sept. 7, Pratt grabbed the viper and showed the kids "how to catch it and I was playing with it like little kids do. I wasn't thinking. I was showing off," he admitted to FOX 10 News. The rattler apparently didn't want to play along and bit Pratt on his face and neck. Pratt's sons quickly drove him to a nearby emergency room, and he was later airlifted to Banner-University Medical Center Phoenix, where Dr. Steven Curry treated him. "There is a 100 percent chance he would have died if he'd not made it to the hospital within minutes," Curry noted. Pratt remained unconscious for several days. He told reporters he had learned his lesson and would not play with rattlesnakes again.
Oops!
A family in Coventry, England, are "quite mortified" after calling the Royal Society for the Prevention of Cruelty to Animals in September to rescue a lizard peeking from underneath a bed in their home. But when officer Vic Hurr arrived at the home, she discovered the "lizard" was not a "lizard at all, it was a pink stripy sock." The dirty imposter sock, about 7 inches long and 2 inches wide, wasn't moving, Hurr noted. "I think the family eventually saw the funny side," an RSPCA spokeswoman told The Independent. "The sock had obviously been there quite a while. It was a typical teenager's bedroom, I suppose."
• The Caving Club at Indiana University explored Sullivan Cave in southern Indiana on Sept. 17, but when they headed back to campus, they forgot one thing: a 19-year-old freshman physics major who had become separated from the group and was trapped behind a locked gate. When the club president realized two days later that a caver had been left behind, members rushed back to save him. "You could tell they were pretty shaken up," the caver told the Indiana Daily Student. "They did near kill me." The student reported he licked moisture off the cave walls during the ordeal and wrote goodbye letters to his family on his iPhone until the battery died. (Bonus: The rescued caver's name is Lukas Cavar.)
The Weird Apocalypse
Cable television viewers in Orange County, Calif., were stunned on the morning of Sept. 21 when an ominous message accompanied by an "Emergency Alert" banner flashed on the screen. At increased volume, a man's voice boomed: "Realize this, extremely violent times will come," said viewer Stacy Laflamme of Lake Forest, who was watching HGTV on Cox Communications' cable system. Spectrum customers also received the alert. The warning seemed especially timely given that doomsday writer David Meade had predicted the end of the world "as we know it" to occur two days later. Laflamme told The Orange County Register the message "sounded like a radio broadcast coming through the television." Dennis Johnson, a spokesman for Spectrum, said: "We have confirmed that we were fed an incorrect audio file," but neither company could determine where the audio had come from.
Bright Ideas
Kevin Michael Cook, 24, of New Castle, Pa., was too drunk to drive on Sept. 3, so he enlisted the help of an 8-year-old girl. WPXI News reports the girl told Darlington Township police that Cook, a family friend, ordered her into a car at her grandmother's house and forced her to drive him toward East Palestine, Ohio. The car stopped after nearly wrecking twice, as bystanders called 911. Police tried to give Cook a sobriety test, but he was too impaired to finish it. He was charged with endangering the welfare of a child, driving under the influence and driving without a license.
• Prosecutors in Geneva, Switzerland, are looking for the culprits who flushed about $100,000 in 500-euro notes down four toilets in the city in May—one in the vault area of the UBS Bank, and the other three in nearby bistros. While neither throwing money away nor blocking a toilet is a crime, Vincent Derouand of the Geneva Prosecutor's Office told the Tribune de Genève, "we want to be sure of the origin of the money." The cash was confiscated during the investigation, but Derouand said there was no immediate reason to think it was dirty money.
Government in Action
Texas state Rep. Dawnna Dukes' corruption trial is scheduled for Oct. 16, when she will face charges of giving a taxpayer-funded raise to a legislative aide as compensation for ferrying Dukes' daughter between school and home. The Austin American-Statesman reports that prosecutors in Travis County also plan to present evidence of 19 additional "extraneous acts," including accusations that Dukes spent $51,000 in taxpayer money on an online psychic, was absent for roll call 65 percent of the time, and appeared impaired at a House committee meeting when she showed up late, explaining: "I know I'm talking a lot. I'm full of morphine and will be headed out of here soon."
Awesome!
The Greene County (Tenn.) Sheriff's Department alerted drivers along Chuckey Pike on Sept. 20 not to be alarmed by a body that appeared to have been crushed by a house's garage door. "This is a Halloween decoration!" the department's Facebook page warns. "Do not call 911 reporting a dead body." Officers had rushed to the scene with sirens blaring after a caller reported the body, but then discovered the clever (but really early) holiday tableau.
Send tips to weirdnewstips@amuniversal.com