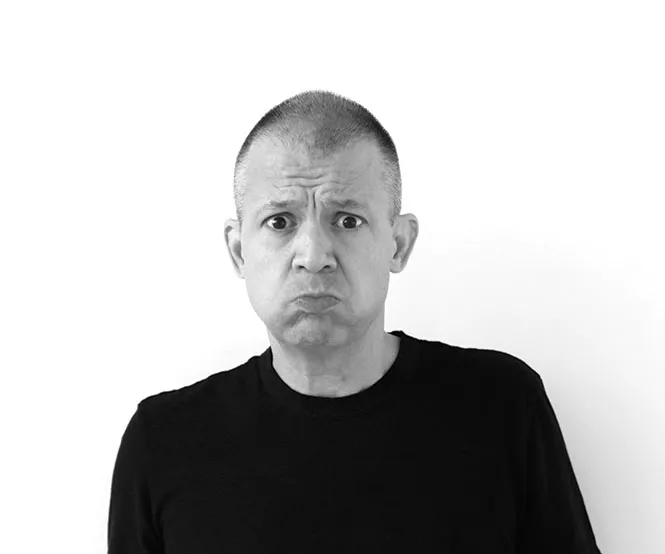 Jim Norton has a lot going on these days. Aside from being a co-host on Opie with Jim Norton, the comedian is running his own SiriusXM program, The Jim Norton Advice Show; working on a new original animated series, The Chip Chipperson Show, based on one of his characters; and will be co-hosting a new UFC podcast later this month with former welterweight champion Matt Serra. Earlier this year, he started a new tour called Mouthful Of Shame, bringing his uncensored sensibility to everything from Caitlyn Jenner to Donald Trump.
City Weekly: You're coming up on two years running with Opie on the morning show. What's your time been like working with him as a team?
Jim Norton: You know, it's weird without Anthony. You never get used to it. I know Opie well enough to work with him, but it's one of those things where I don't know what the show is sometimes. They call it Opie with Jim Norton or Opie with Jim, but it's still Opie's show. When it was Opie and Anthony, that was okay, because that was the way I came in. But now that it's a different show, I feel like 'Man, I'm 47 and I'm still just kinda on someone else's show.'
How's The Advice Show been?
I enjoyed that today! I was doing an episode today in my living room on a piece-of-shit outdoorsy canvas chair, so it was kind of fun. I love doing it from home.
It was announced last week you're joining Matt Serra for a new UFC podcast, which is super cool for me as a fan. What are you guys looking to do with the show?
Don't know—it's a great question. We've done a few sit-downs, but nothing for broadcast yet. So next week, when we sit down and do some run-throughs, we'll probably do a recording on the 20th for it to go up [on June 21].
Do you have any ambition to do live fight commentary down the road?
No, [Joe] Rogan's the best announcer in sports. We might broadcast live from somewhere, do some live events, but I don't know the sport well enough. Kenny Florian does a great job, [as well as] Mike Goldberg. Even fighters have a real hard time doing that. It's a real art form.
The Chip Chipperson Show got 31 percent of its funding on Indiegogo. Are you still looking to produce it, or are things on hold for now?
Oh, yeah! The reason I did flexible funding is because the guy who ran the page asked for a lot more money than I wanted to ask for. No one was being deceptive or scummy, or trying to 'get over.' I said originally maybe $100,000 maximum, and he was saying 'no, you gotta do $200,000,' because he does campaigns in the millions. People sometimes lose a third [of the funding] in the perks you have to give people. So we wound up with $61,000, Inidegogo took their cut, and now we got a finalized contract. It's probably going to cost me to send out [perks] ... I'm guessing around $15,000. I'm probably going to have $41,000 to play with. So I'm not going to do as many episodes, or raise the animation quality. But I want to do something different because, the feedback we got was that some people loved it and thought it was really funny, I heard some really smart feedback on what was wrong with it. But some people who love Chip, they're used to Chip operating in the real world, even though it's always in the studio, people are used to it being this live interaction. And seeing it in a cartoon world was weird. So how do I capture that live feeling—what can I do to make them happy, too?
So aside from all of those projects, what else do you have in the works?
I want to do another special, which I'm supposed to find out about this week. But a third book, I've been thinking about for a long time. I just keep getting motivated, then unmotivated, then motivated, then unmotivated. ... I've just kinda been lazy about it.
You've played SLC multiple times. Any cool stories of touring or coming through Utah?
I met a couple of girls in Utah, [but] it's a tough market to get laid in. But I love the crowds up there. First [time] coming through, you never think the crowds will be as good as they are, but they're actually good comedy crowds. I'm hoping people will come out and see the show and love it because of that reason.
What can people expect on this tour? All new material, or a mix of old and classic?
Oh yeah, Charlie Sheen stuff, Cosby stuff that wasn't in my last special, of course Jared from Subway, Caitlyn Jenner, Trump, just everything that's kinda been happening. ... But a lot of the stuff ... even though it's topical, I try to tie it all in so it feels like you're watching something [that will still be] relevant in a year.