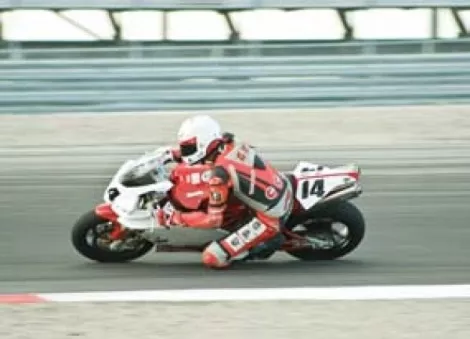 If you show up at EnergySolutions Arena and ask if you and your out-of-shape buddies can play a little three-on-three on the Jazz hardwood floor, you're likely to get a polite decline. Walk into a Major League stadium on an away day and ask if you and your friends who can barely hit the ball out of the infield can take a little BP, and you'll probably need to make a five-figure donation to get them to even think about giving you 15 minutes on the field. Show up at the $100 million, world-class, state-of-the-art
Miller Motorsports Park
in Tooele in a 2001 Chevy Cavalier with 200,000 miles on it and ask if you can take a few spins, and the response will be, "Come on in for open-track day."
Unless you're fabulously wealthy or famous, you'll probably never get a chance to spot up on the three-point line at the ESA or throw off the mound at Dodger Stadium. But, if you show up with an operational car or bike and anywhere from $120 to $275, and you can have the experience of hitting 150 mph (or more, depending on the quality of your ride) in the straightaways and leaning into the turns on the exact same patch of asphalt as the Le Mans drivers use.
"We open it up to any street person," explains Jill Giles, who runs the open-track program. "Street person" in this case doesn't mean somebody who lives on the street, but somebody who brings in a vehicle they regularly use on the street. "A lot of guys want to take their own cars out on the track. Anybody can bring in a car."
"It's phenomenal. It's euphoric. There's nothing else like it," raves Nigel Ashcroft who was born in Liverpool, now lives in Park City, and regularly shows up in Tooele to ride his motorcycle. "It's amazing to have a world-class track like this right in our own back yard."
Besides open-track day, Miller Motorsports Park also offers other "you are there" opportunities, such as the "Two-Up" program or simulated Mustang racing where you can get on the track in a vehicle moving at top speeds without even having to drive.
For the open-track program, drivers are required to go through a short training program and be cleared by an instructor before hitting the track. Automobiles ($175 half day/$275 full day) and motorcycles ($120 half day/$190 full day) run on different days, and the 15 slots for the auto sessions generally fill up quickly. More than one vehicle is allowed on the track at once, but racing is not allowed by the facility or welcomed by many of the riders, who simply want to test their own skills rather than compete with others.
"We're not out here to race," Ashcroft says. "I've got to go to work tomorrow morning."
Although going 150 mph may not sound like the safest thing in the world, it's hard to think of a safer place to do it, especially when compared with trying to hit top speeds out on the street. "To people who like to go fast up the canyon, I say come on out here and give this a try," says Don Roberts, an instructor for the open-track motorcycle program. "The liberating aspect of the track is that there's no gravel, there's no cars, there's no dogs, there's no herds of sheep or anything like that. It's the safest environment you could possibly ask for."
"It's a controlled environment, but there's no speed limit," says Clint Hardman of Lehi, explaining the dual appeal of the program. Hardman only recently had his first open-track experience and found that "just having a clean track means you can take the turns more aggressively and learn what the bike can do."
John Daviss, who was recently visiting Miller Motorcycle Park from Victoria, British Columbia, Canada, also noted, "The thing about this track is that it's very safe, very modern. You're not going to run into a concrete barrier if you miss a turn."
Of course, more important than the safety of the riders is the increase of safety to society by having people who feel the need for speed find a safe outlet for their fix. "Riding fast here on the track makes you a safer and slower rider when you get back on the street," Ashcroft explains, which is due in part to the rider improving his or her skills while at the track.
Hardman brought his wife and two small children along to the track when he made his first ride. Jamie Hardman noted of her husband, "I'd rather him do it here than go crazy on the road."
Clint agreed, saying, "A lot of people want to get more aggressive, but it shouldn't be on the street. This is definitely the place to do it. I'm glad they have something like this."
MILLER MOTORSPORTS PARK OPEN TRACK DAYS 2901 Sheep Lane, Tooele. Motorcycles July 14, Autos July 15. 435-277-RACE, MillerMotorsportsPark.com