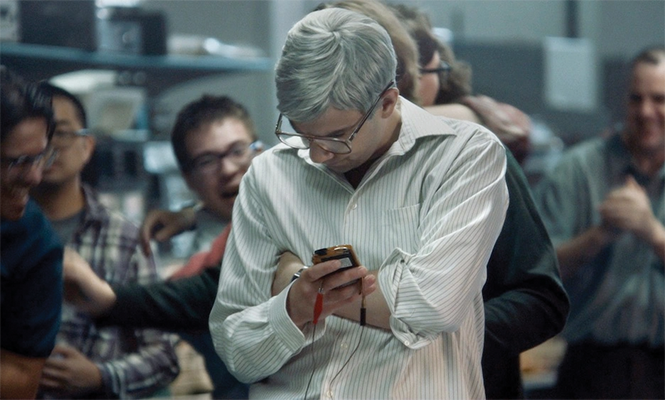 You could spend a lot of time—and many writers already have—on why 2023 in cinema has seemed to be the year of "based on a true product." From Air to Tetris, from the upcoming Flamin' Hot to this week's BlackBerry, movies are tongue-kissing the entrepreneurial spirit. Maybe it's an indication of how we tend to mythologize business innovators/disruptors/billionaires-with-too-much-time-on-their-hands. Maybe it's a chance to show us just how down-and-dirty corporate shenanigans can get. Whether it's either of those or something else entirely, it's clearly ... a thing.
The problem you encounter when focusing on the common threads that make up a trend is that you can overlook what might make one specific case within that trend unique, or at least more effective than its siblings. BlackBerry, for example, hits several notes that some of the others don't even seem to be trying for. It succeeds as character study, as an acting showcase and as a profile of what rapacious capitalism can do to even the best intentions.
It opens in 1996, with Canadian engineers Mike Lazaridis (Jay Baruchel) and Doug Fregin (co-writer/director Matt Johnson) trying to sell their latest product concept—a hand-held device that combines the utility of a phone with access to email and internet—to a manufacturer represented by executive Jim Balsillie (Glenn Howerton). Balsillie barely seems to be paying attention to their pitch, but when he finds himself out of a job, he shows up at Lazaridis and Fregin's door with an offer of seed money if he can become co-CEO. And he turns out to have what it takes to make the newly-dubbed BlackBerry a retail phenomenon.
Since it's likely that no one reading this currently owns a BlackBerry, it's not exactly a spoiler to note that the giddy heights the company reaches in the early 2000s precedes an equally precipitous fall. So as is generally the case when the audience already knows how your story ends, the success of BlackBerry depends on how it unfolds along the way. Johnson and co-screenwriter Matthew Miller—adapting a non-fiction book by Jacquie McNish and Sean Silcoff—demonstrate an ideal sense for how to convey the story visually, employing a pseudo-documentary style of hand-held cameras and snap-zooms providing a you-are-there urgency. Johnson also understands how to be brutally efficient in conveying information, in a manner that plenty of directors could take lessons from; it takes a montage that lasts all of 12 seconds to let the audience know "BlackBerry is now hugely popular," before moving on to much more important plot points.
That also leaves more time to build characters, most vividly accomplished in Howerton's performance as Balsillie. The fact that Balsillie is a total dick is clear from the outset, as he does an end run to take credit for a co-worker's efforts, and that continues in various profane tirades throughout the movie. But BlackBerry never dismisses that Balsillie also has a particular kind of brilliance, leading to opportunities his techie colleagues never could have managed. Howerton is phenomenal at evoking the ego of someone who's always certain he's the smartest guy in the room, and he's able to do just as much with a red-faced rant as with a dropping of the eyes that suggests utter contempt for the person he's dealing with.
The clash between Balsillie's cutthroat sensibility and the creative spirit of Lazaridis's engineering team—whose cluttered workspace doubles as a theater for their movie nights—also allows BlackBerry to be something considerably more than an act of cheerleading for quarterly growth numbers. It's not particularly subtle that Johson's headband-and-tank-top-wearing Doug becomes a kind of mouthpiece for the dangers of "selling out," but the movie effectively shows that achieving the kind of maximum efficiency demanded by a whip-cracking new COO (Michael Ironside) comes at a cost of being a place where people actually want to work. It's a bit of a bummer that Lazaridis isn't fleshed out as fully as Balsillie—Baruchel turns social awkwardness into his only defining characteristic—but BlackBerry's conclusion still finds poignance in the idea that some of the most basic visions he had for his creation have been lost. Here's a movie that may be part of a trend, but like so many successful businesses, it finds a way to stand out by being both different and better.