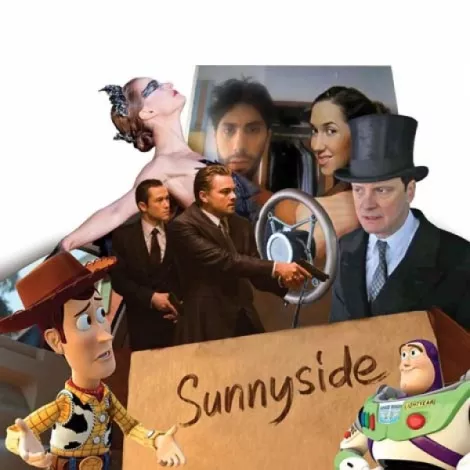 Scott Renshaw's Top 10 of 2010
1.
Winter's Bone
2.
True Grit
3. Toy Story 3
6. Catfish
7. Inception
8. 127 Hours
9. Black Swan
10. Exit Through the Gift Shop
It seemed that 2010 was the year of "but did it really happen that way?" at the movies. Not surprisingly, it was a question that usually missed the point entirely.
The query was heard most often concerning documentaries, including the terrific Catfish and Exit Through the Gift Shop. Assuming for argument's sake that everything in both of those movies was fabricated, the stories they told were still fascinating: the former as it darted masterfully from comedy to thriller to drama while exploring why some people immerse themselves in virtual worlds, and the latter as a wonderfully entertaining tale of how easy it is for art to become a con. The question was asked as well of The Social Network, and again the thematic and creative triumphs should have made it relevant to exactly no one (except maybe Mark Zuckerberg).
In fact, reality—and our tenuous relationship to it—was a common thread in many of the year's best films, like Inception and Black Swan. Others heightened reality either with vivid visuals (127 Hours) or with stylized language, as in the case of the year's two best movies, Winter's Bone and True Grit. Curiously, both films featured as their heroines determined teenage girls dealing with family responsibilities after the loss of their fathers. That was one reality a lot of people could agree on this year: Those two movies, and the respective lead performances by Jennifer Lawrence and Hailee Steinfeld, were really good.
MaryAnn Johanson's Top 10 of 2010
1. Never Let Me Go
2. Black Swan
5. Agora
6. Inception
7. The Girl With the Dragon Tattoo"
8. Catfish
9. Four Lions
10. Another Year
It's been such a terrible year for studio films that I'm sort of shocked to find more than one of them at the top of my list. The general impression I have of the "best films of the 2010" is a nebulous indie-ness—and that applies to the studio films, too. Inception folds in upon itself not only to tell a ripping tale but to challenge how we tell cinematic stories; Despicable Me turns the superhero trope on its head. Even within the confines of creatively bankrupt Hollywood, we do sometimes find something accidentally fresh and innovative, and those stories really stand out among the well-told but very familiar films that couldn't quite bust into my top 10.
I assemble my list on the fly during the year as an ongoing ranking of all the films I see, which I hope helps it from getting overly dominated by the year-end awards bait. And I have no criteria other than these films moved me the most, in one way or another. It's likely a sign of my own biases that so many of my top 10 are stories about women, told with verve, panache and an authenticity about the lives of girls and women that the male-dominated film industry—studio and indie alike—rarely manages. I'm delighted to see that there are more than a few great films this year that just happened to be about the other half of the human race.
Eric D. Snider's Top 10 of 2010
These are the 10 best films I saw in 2010. Please bear in mind that I didn't see Marmaduke or that romantic comedy where Jennifer Aniston was handcuffed to Gerard Butler, so you'll have to take my list with a grain of salt.
1. Toy Story 3: How wonderful that it's no longer surprising when the funniest, sweetest, deepest, most exciting and most emotionally arresting film of the year is a cartoon.
2. Inception: Trippy concept, complicated story, flawless execution.
3. Black Swan: Natalie Portman makes stage fright truly terrifying in Darren Aronofsky's exploration of what artists will do to achieve perfection.
4. The Social Network: Ostensibly about the founding of Facebook, this crackling techno-drama astutely observes the way the millennial generation communicates.
5. The King's Speech: The year's most joyful picture. I nominate Colin Firth for king of everything.
6. Rabbit Hole: For emotional catharsis, it's hard to beat this sensitive drama about a married couple coping with grief.
7. 127 Hours: A one-man show is hard to pull off. A one-man, one-handed show is even harder.
8. Mother: I'm still haunted by this Korean mystery about a woman trying to clear her son's name in a murder investigation.
9. Animal Kingdom: More mothers and sons are in this harrowing tale of survival of the fittest in Australia's criminal underground.
10. Four Lions: This audacious British comedy treats terrorism seriously while mocking its practitioners. It's amazing someone even had the guts to try this, let alone that they pulled it off so well.