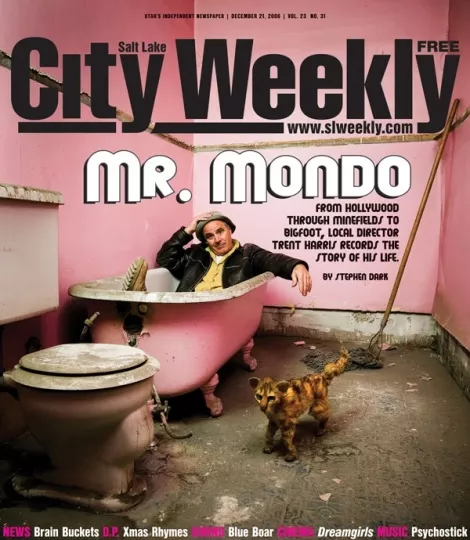 BI can see his nuts but I can't see his head," film director Trent Harris growls. He sits before a monitor looking at actor Dan Morley squatting before the camera.
Morley plays Arnold, an institutionalized writer crazy enough to believe art can change the world. Fully clothed, Morley nevertheless looks worried.
"You can see my nuts?" he mutters.
Harris, 54, is filming his own script, Delightful Water Universe. He describes it as a "soft-porn political thriller with Bigfoot thrown in."
The story's set in the future, Harris says, "when we have a nincompoop for a president, the media's gone soft and all the money's owned by a few megacorporations."
The opening salvo of filming for Delightful took place over several weekends in October. The location was a dilapidated second floor above a photography studio near 400 North and 300 West, owned by a friend of Harris' who's lighting the film.
Insulation hangs from holes in the ceiling. Plaster falls off the wall every time Morley brushes up against it. A stripper's pasties and black pumps sit on the floor. Pizza boxes are piled next to soft-drink cans. The cameraman will later use the boxes to raise Harris' digital video camera a foot off the ground.
This is a far cry from the hometown iconoclast's bygone Hollywood days when he directed the 1991 comedy Ruben and Ed. Then, he had a $1 million budget from a major Hollywood studio, Columbia Tristar. Now, he finances his work from documentaries he shoots for PBS' Religion and Ethics series.
But Harris' career isn't just about devolving from corporate Hollywood film making to guerrilla-style indie work on a shoestring. The Trent Harris story is more complex than that.
Part of that complexity comes from the elusiveness of the man behind the artist. He sits in his cinderblock office-cum-editing-suite in downtown Salt Lake City, reviewing his career as afternoon slips into dusk. In the half-light, to the soundtrack of a call girl in an office down the hall hacking away at a cough, Harris' conversation projects images of his own life story into the air. At times, it seems as if he's in Plato's cave, conjuring up shadows on the wall. He weaves entrancing stories of his life in Hollywood, of his struggles since. Push beyond those words, and he has little more to offer. Perhaps it's because he's a master at interviewing others or, as he suggests in reference to some subjects, "they're just not things I think about."
At first glance, his work can also prove frustrating. His precocious films appear to have little in common, ranging from Ruben and Ed, which bombed at the box office, through several documentaries set in former war zones, to Plan 10 From Outer Space, an affectionate Mormon satire dressed up as a 1950s science-fiction epic.
Probe a little deeper and what unifies Harris' work is that it's undeniably personal. Perhaps that's one reason he can't find a distributor and can only sell it one DVD at a time through a Website.
Whether it's the death of his best friend from AIDS, his Mormon upbringing, his love life or his passion for heroic misfits who make a difference in the world, all wend their way through his films. Like a true auteur, he explores constantly the same themes of serendipity and fate, honesty and self-revelation.
"Success and failure come through quite a bit," he says. "This culture defines success in strange ways, like being rich and famous, and I try to redefine it in different ways, like starting over."
At the heart of Harris' work is a young man in bell-bottom jeans he met in 1978 in a parking lot outside a Salt Lake City television studio. Harris stumbled on him by chance while practicing with a new video camera. He is the star of Harris' most fascinating work, part documentary, part dramatization, The Beaver Trilogy.
The Beaver Kid, who goes by the name Gary in the documentary scenes, is the Harrisian hero. He's relentless in his quest to be true to himself, consequences be damned. In Gary's case, that quest required dolling himself up as Olivia Newton-John to perform one of his idol's songs at a talent show before his small, conservative Utah hometown of Beaver—and Harris' camera.
That performance went on to define Harris and his work more than he can explain. "He's one of the most courageous people I've ever met," Harris says of the Kid.
Guts is something the Beaver Kid and Harris have in common. The film director's quest to capture reality on film has led him to confrontations with murderous child soldiers and cannibalistic militia in Sierra Leone. Living on this razor's edge exacts a price. Returning from a recent documentary-filming trip to Peru, Harris went numb down one side.
"They tested me for everything from a brain hemorrhage to leprosy," he says. They found nothing.
Like the Kid, Harris can't deny, as he puts it, "the notion of pursuing your dream." But while the Kid's dream was to be a star, Harris has always had a different direction in mind.
"I want other people to see the world like I do," he says. "I want to bully them into seeing it the same way."
Raised LDS but long since lapsed, Harris grew up in small, predominantly Mormon towns like St. Anthony and Rexburg in southern Idaho. His father was a potato farmer, his mother a journalist, champion golfer and travel devotee.
As a teenager, he began making films noteworthy for their experimental bent. He recalls cutting Super-8 footage he shot of mud to a soundtrack of Jimi Hendrix. At the Romance, Rexburg's theater, he earned a few bucks running Elvis Presley and Godzilla flicks through the projector.
After graduating from the University of Utah's film program, Harris went into TV. In the late 1970s, KUTV producer Diane Orr, daughter of station owner George Hatch, set up a program called Extra. She wanted journalists to work with filmmakers, and Harris was one of her hires. He did pieces on Timothy Leary, the Ramones, Patti Smith and Alan Ginsberg.
What turned out to be Harris' last work for Extra began in the KUTV parking lot one afternoon in 1978. He filmed a young man taking pictures of the Sky Two helicopter. The youth, who hailed from Beaver, a town four hours south of Salt Lake City, did off-the-cuff impersonations of John Wayne, Sylvester Stallone and Barry Manilow for Harris' camera.
"I love KUTV," the Kid gushed.
"That encounter was a life-changing experience," Harris says. But he also acknowledges the documentary film he shot of the Beaver Kid "has been a problem for me my whole adult life."
Shortly after their parking-lot encounter, the Kid asked Harris to come down to Beaver. The Kid had organized a talent show during which he planned to impersonate Olivia Newton-John. He wanted Harris to tape the show.
Harris went down to Beaver, where he shot a tense, Felliniesque scene in the town's mortuary. A mortician styled the Kid's makeup and helped him put on his wig. The Kid then pulled on a leather jacket and knee-high boots to become Olivia. Just before leaving for the local theater, Gary said in an unnaturally gruff voice, "See ya later, pal!"
Gary's performance of a Newton-John song during the show, delivered straight to camera, is almost unbearably raw. Think American Idol circa 1979, channeled by Rainer Fassbinder.
The weekend after the shoot, Harris received a call from Gary asking him not to air the segment. "He had second thoughts, but I told him it was no big deal," Harris recalls.
Harris went back to work on Monday and realized he'd misplaced a microphone. "I'd left it in Gary's car by accident," he recalls. "I called his mother and she said he was in the hospital."
Extra pulled the segment from airing the same day.
As to why Gary was in the hospital, Harris prefers not to say on the record. In the movie, Gary's billed as Groovin' Gary. Harris refuses to supply the Kid's full name or phone number. He wants to protect the man who remains a friend.
Follow Harris' career a little farther down the line, however, and what Gary might have done after that phone call becomes clearer.
Harris left Salt Lake City for Los Angeles and the American Film Institute (AFI) in 1979. By this time, Orr had become firm friends with Harris and experimental filmmaker C. Larry Roberts, Harris' closest friend. Orr and Roberts made an award-winning documentary about a Mormon family titled The Plan. When Orr tried to write a script with Harris, however, she says she produced the worst work of her life. Despite that, they remain close friends.
Out of Harris' four years at the AFI came two short films. Both were versions of the unaired Beaver Kid segment. "It's an incredibly powerful story," Harris says.
The first remake stars a very young Sean Penn; the second, an equally fresh-faced Crispin Glover. While Harris remained faithful to the first scenes of the documentary footage, in his dramatic remakes, he also made significant changes. A venal film director was added. Penn's Kid, distressed about his inability to stop the airing of the footage, almost commits suicide. In the third version, resembling a made-for-TV movie, Glover, after a half-hearted suicide attempt, dons his wig, thumbs his nose at his small-town critics, then drives off into the sunset.
There seems little doubt the real-life Kid was hospitalized after a self-inflicted gunshot wound from which he later recovered. A 2001 piece about Beaver on Salon.com states as much. Harris, in an interview the same year on PBS' radio show This American Life, acknowledged only that the Kid had "an accident with a gun." Whatever happened, Harris still beats himself up about it.
"I wasn't sensitive to his pain," he says. "I don't know if I could have done anything different. The signs were there, I didn't want to pick them up."
Once his AFI studies were finished, Harris kept the wolf from the door by selling scripts he'd written, including one about Charles Manson. In 1993, Hollywood puckered up and gave the wannabe director a kiss—only it ended up a raspberry.
Harris wrote a script called Ruben and Ed, about two Republicans traveling to the Utah desert to bury a frozen cat. Ruben, played by Crispen Glover, is a socially inept hermit with long hair and platform shoes. Ed, played by Howard Hesseman, has been kicked out by his wife for failing to make a success of himself. He signs up for a pyramid scheme selling real estate. Ruben offers to attend one of Ed's get-rich-quick seminars if he helps bury his cat in the desert.
For Harris, Ruben and Ed is about letting go. He wrote the script while unable to overcome his grief for the death of his best friend, surrealist filmmaker C. Larry Roberts.
Roberts was diagnosed with AIDS in the mid-'80s. Just before he died, Harris took Roberts on a road trip to see his favorite American landmark, Mount Rushmore.
At the time, Harris was having a hard time dealing with a break-up from his then-girlfriend.
"God, Larry, I feel terrible," he recalls telling his friend.
"You know, I don't feel so hot either," Roberts replied.
Produced by Working Title, Ruben and Ed had all the earmarks of a cult success, a "silly" movie as Harris describes it, that only a foreigner or outsider could make.
In Seattle, it brought the house down. But an industry screening in Los Angeles for the film didn't get a single laugh. After the distributors opened it in Los Angeles and New York, Harris picked up the Friday papers. "I read the reviews and went, 'Oh, f—k,'" he said.
He still doesn't understand the reception his film received. "The Boston Globe said it was the worst movie of the decade," he says. "Why pick on such a small movie?"
He took three friends from Salt Lake City to a west Los Angeles theater. They were the only three people in the cinema.
Harris was furious. "Unbelievably angry. I felt I'd been cheated." When he packed his bags and moved back to Salt Lake City, he says he was so mad, "my ears were bleeding."
Back in Utah, he was determined to make the film he wanted, and only with friends. He wrote a script and shot and edited a film in 18 months.
Plan 10 From Outer Space premiered at the Sundance Film Festival in 1995. The film is a knowing blend of Mormon myth and history wrapped around a demented Karen Black warbling from a spacecraft. "Plan 10 was about all the stuff growing up Mormon I thought was cool," Harris says. "With the doctrine of eternal progression, you could get your own planet. And with polygamy, you could people it."
Harris' Website promoting the film quotes lines from reviews that give an accurate idea of its flavor. One Sundance Film Festival plug describes it as "Nancy Drew on acid," while the science-fiction film magazine Cinefantastique labeled it "Rocky Horror meets the Mormons."
Harris' motto is "Crash forward." For him life is "a strange dance and chaos is in the lead," he writes in an e-mail. "Serendipity, accident is the rule—to me, that is the joy."
The Beaver Trilogy exemplifies that philosophy.
To cobble together money, Harris occasionally showed his work at the now defunct Utah Film and Video Society. Uncertain what to present for one screening, Harris threw together the three Beaver Kid versions on one reel. He was astounded by the result. So later were film critics, who flung praise at Beaver as loudly as they booed Ed.
"A rivetingly strange, multilayered inquiry into celebrity, obsession and serendipity," said A.O. Scott of The New York Times, according to Harris' Website. A critic from The London Times was equally enthused: "Filmmaker Trent Harris is a genuine maverick who has posited his first piece of genius." In 2001, it earned him a Los Angeles Film Critics Association Award.
Much of its bewitching power comes from the strange emotional forces it liberates within the unsuspecting viewer. On one hand, the transition from Gary's unadulterated, guileless passion for stardom through Penn's tortured interpretation to Glover's oddly wholesome performance, provokes an almost palpable sadness. The farther you get from the original Gary, the farther you get from his innocence. This innocence contrasts with the mounting Ride of the Valkyries intensity of Penn, followed by Glover, reinterpreting Gary's stab at Newton-John's pop song "Please Don't Keep Me Waiting."
After the film's screening at the 2001 Sundance festival, one of the people who approached Harris onstage was a young man wearing a baseball cap and a leather jacket.
"You might not remember me …" the Beaver Kid said.
Harris dragged the Kid out into a snowbank for an emotional reunion, only to be interrupted by departing filmgoers from the Beaver screening wanting to take pictures of the Kid. Later Harris took the Kid to the Sundance festival's big party. Movie stars wandered the room, but it was the Kid everyone wanted to talk to.
If the Kid's moment of stardom closed the door for Harris on the Beaver story, his more recent work demonstrates that his appetite for social misfits with heroic qualities remains unsated. There's one difference, though.
"What he's trying to say now is much more global," Orr says.
That's putting it mildly. Harris has visited 40 countries in 10 years. "It's not that difficult," he says of his globetrotting. "I live in a $300-a-month apartment and drive a clunky car."
Much of that traveling has been with 32-year-old Andrea Barraclough. She met him in a bar in Trolley Square in 1997. "When he came in, everyone shouted out his name," she recalls.
Barraclough appears in an early scene of Harris' The Cement Ball of Earth, Heaven and Hell, a documentary about Aki Ra, a former Khmer Rouge fighter turned mine clearer. She worries on camera about him going out into the jungle with Ra, who defuses mines with a stick and a penknife.
But persuading Harris not to go would have been as difficult as stopping Ra from his mission to render his country's mine-polluted jungle safe to walk through. "The happiest time of my life is looking through the camera doing documentaries," Harris says. "Walking through mine fields [behind Aki Ra], I knew that was amazing footage. It's an incredible rush."
Along with Beaver, Cement is Harris' most layered and moving work to date. Longtime friend and Salt Lake City rare-bookshop owner Ken Sanders is republishing Harris' collection of anecdotes on the bizarre in Utah, Mondo Utah, this month. Sanders calls Cement and the subsequent relationship Harris formed with Ra one of "Trent's finest moments."
That relationship extended to Harris bringing Ra over to lecture in Salt Lake City. Aki Ra went back with $5,000 in his pocket from lecturing stipends.
One of the film's most remarkable and haunting scenes occurs when Harris stumbles upon an old man who oversees a temple in the jungle. The old man sells him a tiny elephant for $2 and tells him the building is the echo temple. Did he want to go in?
"Hell, yes," Harris recalls. "I was the king of the echo people," he adds, referring to a line from Ruben and Ed. As Harris films the old man in the temple, the guardian slaps his own chest repeatedly. Each slap resounds through the air like a tuning fork pressed to mortality.
"I'm pretty sure my character just out of defiance would refuse to take the pills orally," actor Dan Morley argues about the scene they're shooting. Arnold's guard has thrown some medication on the floor for him to take.
Harris dispenses with this moment of actorly ambition without mercy. "Well, you know what to do with them then," he snaps.
Sanders talks about Harris' relentlessness when it comes to him getting what he wants on a shoot. "It's kind of damn-the-torpedoes. He's determined to see it through. I don't know if he considers the consequences. Sometimes they're good; sometimes they're bad."
Those consequences of late have included the strange strokelike symptoms that laid him low six months ago. Without being able to find any cause, Harris' doctor suggested it might well be stress.
As producer, director, editor and cameraman on 25 segments for the PBS series Religion and Ethics, he and writer-frontman Lucky Severson have ventured into dark territory. No more so than a recent trip to the Burmese-Thai border to interview two torture victims named John Glenn and Pat Boone.
"They'd been horribly tortured," Harris says. "You could see it in their faces. I was afraid the Burmese military would put me in a cement room with one light bulb and beat me."
A trip to Sierra Leone for a piece on child soldiers saw Harris accompanying a would-be journalist named Edwin Koi on a trip to meet militia-cum-cannibals. "The most afraid I've ever been was [in front of] a 13-year-old in Freetown [Sierra Leone's capital]," Harris says. "Killing me would have meant nothing to him. He saw people like chickens."
It took a year for Harris to get a camera to Koi so he could work as a journalist.
"Trent believes if you can get $100 into someone's hands who needs it, you can make a difference," Orr says.
He places small faith in the power of art, particularly film. He prefers art museums over cinema.
"Art is soft, it's toothless," he says, a sentiment echoed in his new screenplay. He makes films, he says, because it's fun. But he was surprised by the impact early this year of the Danish cartoons mocking the Prophet Mohammed. The ensuing uproar led to riots and deaths.
"It was a terrible thing," he says. "I don't want to say it was encouraging, but that cartoon had so much power."
Much of Harris' power as a filmmaker, Orr argues, is his ability to keep the child within him alive. "He's preserved the little boy in himself," she says. "And he's very sophisticated at the same time. You can't fake that innocence. He just turns that on."
Harris has garnered half a dozen awards for his TV work on Religion and Ethics. He's also an enduring fixture of the Salt Lake City arts world. Orr suggests he's Salt Lake City's version of John Waters. But she also points out that growing up in the LDS culture means you learn to be a very private person. "You have to decide whether you want to be in conflict all the time or be polite and develop a rich inner world."
But whether being a local hero is enough for a man who shot, as he says, "for the big time," only to be shown the door is hard to say.
Barraclough, for one, believes he's successful, even while acknowledging that events perhaps didn't turn out quite as hoped. "I think he's a success. But he did want more, he wanted to be famous outside of a two-block radius of his home on some level. You don't become an artist to be unknown all your life."
For Orr, Harris' Hollywood failure—if you can call it that—has its own value. "He's proud of his failure," she says. "He wears it like a banner."
Orr says his best work happens when he refuses to compromise. For Harris, if the day ever dawned when he couldn't find an audience for his work, let alone a distributor, it wouldn't matter.
As he once told Orr, "I will write, direct and star in the damned thing; [then] I'll watch it, and I'm done."