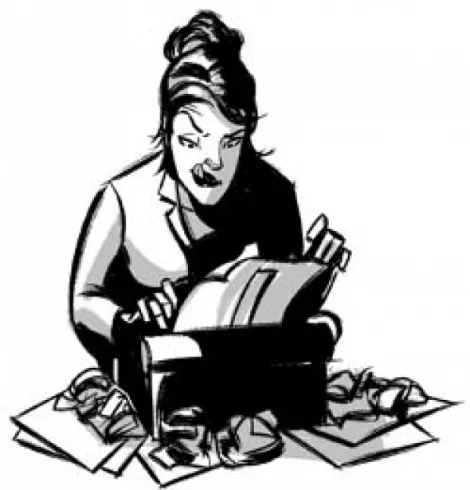 Lucky day. Somehow the planets have aligned to allow a perfect three-way topical intersection: the NBA Western Conference Playoffs, the raid on the YFZ Ranch in Texas, and Law Day—the annual May 1 celebration that offers the public a glimpse of our least understood branch of government—the judiciary.
Launching into Week 4 of the FLDS child welfare battle raging in San Angelo, Tex., the heat of public scrutiny is all over Judge Barbara Walther. In the past several days, Walther has shown herself to be the kickass variety of judge from a grainy old western. Her decision to support the removal of 437 children from their homes, then to remand them to foster care while the state conducts DNA testing and further investigation into abuse allegations was deeply risky. Her work stands to break new legal ground in child protection or to paint Texas as one big boneheaded system.
First, Walther has the unenviable task of balancing parents' rights against those of their children. It was only in the last half-century that the American legal system took to recognizing children as deserving of the same representation as adults. So we're now witnessing that evolution in all its glory: for instance, each FLDS kid gets an attorney (guardian ad litem) to represent his or her interests; each child will ultimately have an individual plan for his or her future, which may very well include reunification with parents.
And all of this plays out under growing public suspicion that Texas child protection authorities lack sufficient evidence to bust up a thriving and peaceful community. Meanwhile, they go about their business trying to build a case. Nailing down if "Sarah," the alleged 16-year-old who started it all with a telephone complaint about sexual abuse on the ranch even exists is important. But DNA results to match children and parents matter even more. Due back in 30 or so days, those findings will tip the scales on this case more than "Sarah" ever could. This issue has always seemed to hinge on more than "one call, that's all."
Right now, all the calls rest with Walther, whose job essentially comes down to an NBA referee in a billowing black robe. In the best scenario, a ref should oversee a game like she isn't even there, as in: She is sure as possible about her calls. She blows her whistle in a timely way. In the interest of a smooth and entertaining game, she doesn't call ticky-tacky fouls. She listens to the players' and coaches' initial protests but draws the line at escalating arguments (and Jerry Sloan's unfiltered potty mouth).
But say the game goes bad. Say those big NBA stars get too physical, throwing elbows and slamming opponents to the floor. Luis Scola shoves Andre Kirilenko a bit too hard. Aaron Brooks slams an already-injured Deron Williams to the floor. Say the ref has to eject a coach. When the nature of the game amps up, the ref becomes a very visible part of the show. Like it or not, she has to start making tough calls.
So here we are, back in Texas. So long as Child Protective Services, the Texas Rangers and all the attorneys involved in the FLDS case do their jobs well, Walther will do just fine. For now, she is convinced investigators have enough evidence to keep the children from their parents. Given the secretive, conspiratorial nature of the FLDS culture, Walther has ruled this way to prevent mothers from coaching and intimidating their children and compromising the investigation.
Chances are this case will flush out a bunch of horny old boars who believe God gave them the right to rape little girls. And chances are the wheels will fly off the whole thing, with little to no solid evidence against the men. The Texas court system stands to lose big. The 437 children could be returned to their parents, but at what cost to the court's and state's reputation?
And finally, we come to Law Day, set each year for May 1. Utah Supreme Court Chief Justice Christine Durham has been active in promoting legal education in conjunction with Law Day for decades. She recently characterized for a University of Utah audience the love-hate relationship Americans have with the judiciary. A fierce libertarian streak that runs through the American people, she said, which demands both "freedom from the law" and "freedom under the law."
Which about sums up what's going on in Texas. FLDS parents want freedom
from the law to practice their religion and build their families as they see fit. And since this is no longer the free-wheeling Territory of Deseret but 21st century America, 14-year-old girls have the right to freedom
under the law through a state that protects them from adult sexual coercion and abuse.
Judge Walther is managing the action right now, and the play is about as technical as it gets. Still, she has a certain armor about her doesn't she? Let's hope she keeps making the calls quickly, but calling them fairly, too.