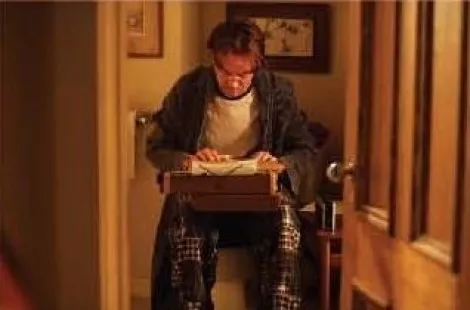 Near the end of Brooks Branch's Multiple Sarcasms, we see the play that his protagonist, Gabriel Richmond (Timothy Hutton), has been working on as therapy for his personal and relationship crises. The play-within-the-play's audience seems to think it's clever and hilarious work—and the filmmaker operates under the misguided assumption that we in the theater will be just as easily amused.
But there's precious little worth laughing at—or caring about—in this dramedy that follows New York City architect Gabriel over a year of midlife crises, including strained relations with his wife (Dana Delaney) and confusion over his feelings toward his lifelong best friend (Mira Sorvino). As he slips into a funk he doesn't quite understand, he begins spending a lot of time sitting on the toilet attempting to be a playwright. You only wish Branch didn't provide such an easy metaphor for the quality of this script.
The film is set in 1979, for no apparent reason other than to give Mario Van Peebles (as Gabriel's boss) an excuse to wear a killer Afro. This context, however, reinforces a comparison to vintage Woody Allen in its attempt at leavening neurotic relationship autopsy with urbane humor. Unfortunately, Branch's brand of wit generally involves a fascination with female genitalia and bodily functions that includes a fantasy production number of dancing tampons celebrating Gabriel's daughter (India Ennenga) having her first period.
Branch has managed to gather a generally impressive cast—particularly Sorvino and a saucy Stockard Channing as Gabriel's agent—to make the material occasionally feel more insightful and cohesive than it actually is. Mostly, we're stuck with a dour Hutton trying to make this character's pity-party resonate. Gabriel has a screenwriter to create an audience that will laugh along with his mundane musings. Those of us sitting in a real audience aren't quite so easy to manipulate.

MULTIPLE SARCASMS


Timothy Hutton, Mira Sorvino, Dana Delaney
Rated R