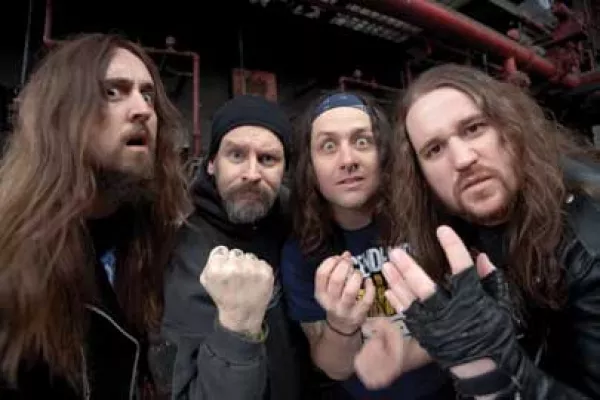 Municipal Waste frontman Tony Foresta exists in a sweet state of denial. The throwback thrash act is opening for fellow Richmond, Va., residents GWAR again. Only this time they're playing just before the sci-fi/horror metal icons take the stage, putting them at risk of being "GWAR'd" by the fans, who've been known to start chanting their favorite band's name in the middle of the preceding act's set.
"It's kind of weird that I'm not worried, because I should be. I remember when we were on that tour last time we were like, 'Thank god we're not playing before GWAR,' " Forestas says with a laugh.
Of course, Foresta has reason for some assurance. Municipal Waste's preparing to release their fifth album, The Fatal Feast, on April 10, and it's arguably their finest release to date. It's not so much that they break new ground—this is thrash metal, after all, a 30-year old style—as that they do a fine job of reflecting everything they're about.
"We wanted it to have all the elements from the other albums we liked and still tweaking it to where it's a classic Waste album," Foresta says. "I think we pulled it off. There's a lot of the more humorous stuff, the more serious stuff, the faster stuff, the rocking shit and even a Motörhead-y song in there, too. It's a little different, but it's still a Waste album and you can tell."
The band formed more than a decade ago around Foresta and guitarist Ryan Waste. After releasing their 2003 debut, Waste 'Em All, they replaced the rhythm section with bassist Phil Hall and drummer Dave Witte (Burnt By the Sun), and have been going strong ever since. They signed to Earache for 2005's Hazardous Mutation, and, bolstered by the U.K. label's reach, were able to get off to a quick start in hardcore-friendly Europe. America was slower to come around, but by the time they finished 2007's The Art of Partying, thrash was on the resurgence.
"We were already working on our third record when all the thrash revival shit started going on. We were like, 'What? We've already been here. You guys are a little bit late,' " Foresta snarks.
They followed in 2009 with Massive Aggressive, which was noted for its more political tone. Foresta protests that that's not new for them—it's just that in the past, those songs were overshadowed by more humorous tracks like "Beer Pressure" and "Lunch Hall Food Brawl."
There was certainly no mistaking the tone emanating from the churning Metallica-inflected paranoia of "Relentless Threat," the moralist-bashing "Divine Blasphemer" or the spunky hardcore jam "Media Skeptic." The mood of The Fatal Feast is a bit more wry, from the party ode "Covered in Sick/The Barfer" to the alcoholic delusions of "You're Cut Off" and their jaundiced look at the "12 Step Program."
It's a more balanced album, from the lyrics to the music, and also their longest—at 16 songs and nearly 40 minutes—because they just had so much material built up. They took their time—almost a year—writing and recording the album. Instead of employing a producer, they did it themselves working at a studio near their house.
Foresta's hoping that their prior experience with GWAR fans, the authenticity of their old-school thrash sound and the power of these new tracks might win them a reprieve, but he knows there are no assurances.
"People know what we're doing is real, and not some gimmicky cash-in," Foresta says. "Hopefully, there will be a mutual respect, but I know there are going to be some nights where it's 'Fuck you.' We've got thick skin. We can handle it. It won't be the first time and it won't be the last."
MUNICIPAL WASTE
w/ GWAR, Ghoul, Legacy of Disorder
The Great Saltair
12408 W. Saltair Drive, Magna
Tuesday, April 10, 7:30 p.m.
$20 in advance, $22 day of show