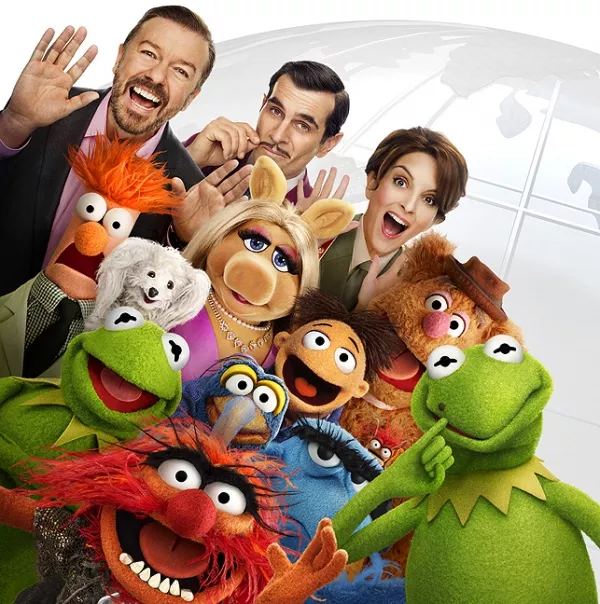 "We're doing a sequel," sing the Muppets in the opening number of Muppets Most Wanted, "And everybody knows that the sequel's never quite as good." It's part of the wonderfully self-aware, fourth-wall-breaking humor that has always been a Muppets trademark—and, as it happens, it also turns out to be true.

Then again, it would almost have to be. The 2011 revival of The Muppets was a magnificently exuberant road-trip return to the roots of The Muppet Movie; this one is merely a perfectly enjoyable return to The Great Muppet Caper. Picking up where the first film ended—literally at the exact moment where it ended—it finds the Muppets considering a world tour suggested by the suspiciously named Dominic Badguy (Ricky Gervais). And it turns out to be cover for an escaped criminal mastermind named Constantine, who uses his striking resemblance to Kermit the Frog to orchestrate a switcheroo that lands Kermit (Steve Whitmire) in a Siberian prison.

The return of most of the key Muppets creative team—director James Bobin, co-writer Nicholas Stoller, songwriter Bret McKenzie—ensures a certain comedic continuity, and the key new live-action actors (Gervais; Tina Fey as the Siberian prison commandant; Ty Burrell as a Clouseau-esque Interpol agent) are all game performers. The silly stuff—a sign identifies a significant location as "Plotpointburg"—is appropriately silly, the cameos enjoyably goofy, and there's even a great gag about the focus on new Muppet Walter (Peter Linz).

Yet it's also just slightly … less. Maybe it's the lack of an immediately earworm-y tune among McKenzie's new compositions to match "Life's a Happy Song"; maybe it's a slightly more rambling plot. Or maybe it's simply a diminished nostalgia factor with the most recent movie only two years removed. Muppets Most Wanted is merely an enjoyable charmer—and I suppose all not-quite-as-good sequels should be so lucky.

MUPPETS MOST WANTED



Ricky Gervais, Ty Burrell, Tina Fey
Rated PG

Twitter: @ScottRenshaw