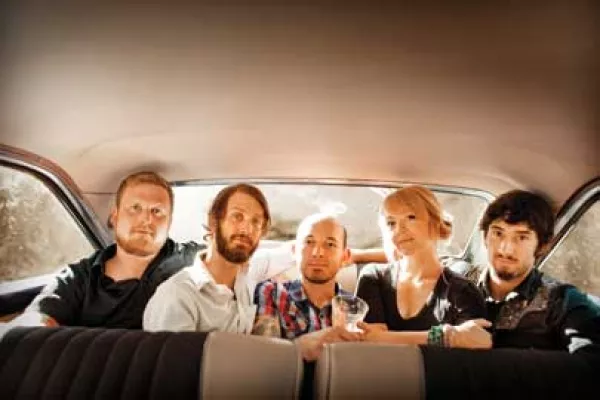 A battle against hordes of the undead, a dead-end coal-mine shaft, a small town's showdown with the devil, an act of desperate revenge—these are all images conjured by Western-tinged indie-rock band Murder by Death's brooding, whiskey-soaked tunes. And the five-piece's upcoming album, Bitter Drink, Bitter Moon—their debut on Bloodshot Records and sixth full-length album, to be released Sept. 25—is yet another example of Murder by Death's knack for rich storytelling and ability to greet darkness as if it's an old friend.
Murder by Death was formed in 2001 in Bloomington, Ind., and gained a cult-like fan following through a committed DIY work ethic, endless touring and talented musicianship—combining Adam Turla's rich baritone vocals and rugged guitar work; Sarah Balliet's beautiful, liquid cello melodies; drummer Dagan Thogerson and bassist Matt Armstrong's strong rhythm section; and the multi-instrumental flavors mixed in by new recruit Scott Brackett (formerly of Okkervil River and Shearwater).
Bitter Drink, Bitter Moon will, without a doubt, satisfy fans' thirst for dusty, pitch-black Americana tunes.
"The title evoked a lot of what the album did musically," Turla says. "There are some really very desolate-sounding tracks on this [album], and it's very brutal and brooding. So we thought it worked."
With a name like Murder by Death, dark subject matter comes with the territory. "I think we've always just responded to darkness, and that's what brought us all together as writers—our sort of interest in the morose side of things," Turla says. "That's just been our common thread." And although Bitter Drink, Bitter Moon isn't a long-form narrative like some of the band's past albums (Who Will Survive, & What Will Be Left of Them?, especially), that signature Murder by Death storytelling and sense of place is still present.
"There's this darkness lurking [on Bitter Drink, Bitter Moon], and I think that came from … some things going on in our little town in Indiana that last summer when we were writing," Turla says. "A couple of girls went missing, and that really took over the whole town. And everyone was very concerned about it, and it was just sort of a tragedy in places that seem peaceful and reserved. There's sort of this dark-underbelly feeling [on the album], even though there are a few tracks that we tried to create that were more upbeat. We wanted to sound upbeat but have really dark content."
Bitter Drink, Bitter Moon was written in 2011 in a southern Indiana basement and recorded with producer John Congleton (Explosions in the Sky, St. Vincent, Black Mountain) in Dallas, and Murder by Death delighted in the fact they were free to take their time in crafting the melodies.
"It was fun to write because we'd never given ourselves the amount of time to develop the ideas," Turla says. "Back in the day, we made so little money from the band that we were just on the road all year. And we were just playing shows all the time. So it was a luxury for us to focus on what was a really fun part of being in a band—the creative element."
Murder by Death has released one new single, "I Came Around," in anticipation of the new album. It's an accordion-laced tune about a funeral that perfectly captures the album's aesthetic of an upbeat sound tempered with gloomy subject matter, which Turla describes as "one of the best [songs] we've ever written." Other tracks include "Hard World"—"It's just a really weird song, under the guise of an upbeat rocker but there's a lot going on under the surface," he says—and "My Hill"—"I can't get it out of my head. It's just mandolin and vocals. It's got such a feeling to it."

MURDER BY DEATH
w/ Ha Ha Tonka, 4OnTheFloor
Bar Deluxe
666 S. State
Wednesday, Aug. 15, 8 p.m.
$15 in advance, $18 day of show
Kolbie Stonehocker Twitter: @VonStonehocker
Photo by Greg Whitaker