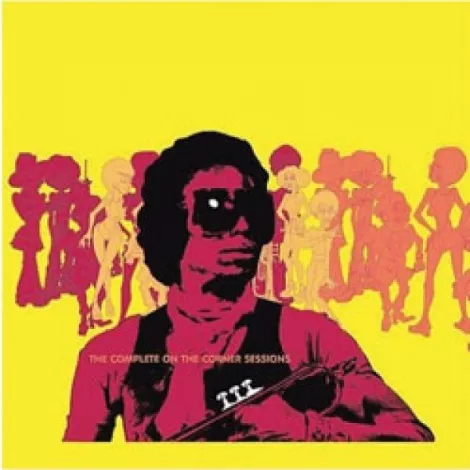 Miles Davis The Complete On the Corner Sessions

Forget parents—it's the critics who just don't understand, or at least they didn't when Miles Davis first released
On the Corner
in 1972. The original version took its cue from modern classical innovations, particularly the technique we now recognize as looping, along with groundbreaking combinations of rock- and funk-oriented sounds. Such fusion baffled many jazz reviewers who immediately dismissed Davis' bold, orchestral explorations as repetitive and even boring (!). God knows what they would've made of this six-disc box set, the eighth and final installation in the deluxe Miles Davis Series, which combines
On the Corner
with 1974's
Big Fun
and
Get Up With It
, including two hours of previously unissued material. Those new to jazz and Davis might actually dig the Complete sessions more so than earlier, more traditional works insofar as they helped lay the foundations for contemporary rock, R&B and hip-hop (Check the insanely tight drumming today echoed by Questlove). Each listen brings new revelations, from the first driving thump of Michael Henderson's dammmnnn-that's-funky bass to Davis' discordant Vincent Price organ on the mind-blowing standout "Rated X." Get this now.
Legacy Recordings
Negativland A Big 10-8 Place
First off, a personal disclosure: I really, really, really don't like Bono. He's annoying. He needs to take off his giant glasses or fess up to the degenerative eye disease that will make me feel bad for playa hating. Of course I took an immediate liking to Negativland, having discovered the experimental group's famous "goof" on U2. Their
U2
EP, complete with spoofs on the Irish pop band's classic hits, resulted in many legal battles and a strange place in history.
Big 10-8 Place
(released in 1983, just now reissued) is nothing like that album. Its conceptual roots draw inspiration from Contra Costa, Calif., and consumer gospel. Odd and off-putting, Place is fascinating as a nostalgic gem—reviving the decades-old practice of slicing and splicing bits of analog tape to create something out-of-bounds. It's pretty neat, but pop lovers might want to stick with Bono.
Seeland
Bear Claw Slow Speed: Deep Owls
Get off the
Guitar Hero
bandwagon and strip down with Chicago's Bear Claw, a bass/drums trio whose Steve Albini-produced sophomore album is track after relentless track of dissonant, sledgehammer punk driving home intelligent fury. Who, or what, is wrong? Is it Bush? An ex-lover? Maybe it's just the listless sheep sitting back to watch the world burn: "Well, I'll tell you what/ I want no part of your human race." What then must we do? Grab life by the balls and reclaim it. Form of Rocket fans, this one's for you.
Sick Room
cw