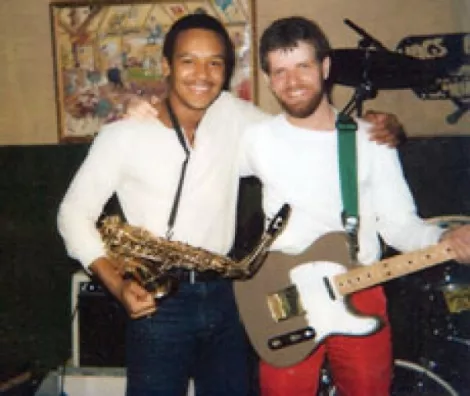 As one-half of local treasures The Legendary Porch Pounders,
Dan Weldon
is famous from his home base of Ogden to Provo to Sun Valley to Austin. But before he and Bad Brad Wheeler found blues-folk alchemy together, the 50-something singer-songwriter-guitarist put a lot more interesting stickers on his guitar case. He's been to Korea, Japan, Turkey and still other countries and, as Jon Bon Jovi once intoned, "seen a million faces and … rocked them all."
Spangly stardom and filthy lucre may not have been in the cards for Weldon when he played with cover band The Movie Stars on those United Service Organization tours, but he gathered experience and stories aplenty. Like that time in Korea, must've been 1982 …
"It was my very first USO tour, and we'd just gotten to Korea," Weldon begins. The band was doing 45-minute shows, and the rest of their time was theirs to make merry. Early in their Seoul engagement, Weldon got wind of "this huge music store, about the size of one of our small malls" with "hundreds of Fender guitars."
At the time, Weldon was sporting "this wild Dean guitar"—a pointy job like late Pantera guitarist "Dimebag" Darrell Abbott once played. The guitar was too flashy, too mean, for smilin' Danny Weldon—"It definitely didn't fit my personality"—and he was on the prowl for somethin' better, namely a sweet little Telecaster. A trade on his mind, Weldon's wheels started to turn. How does a Yankee, speaking virtually no Korean, wheel and deal with his no-English Korean counterpart?
"My guitar was blacklisted in Korea; they couldn't import it," Weldon says. "So I knew it was valuable there." Weldon ran back to his hotel, grabbed the guitar and returned to the shop. "I could see the guy eyeballing it, and he's really lovin' it." They settled on a word to describe the deal: "changey."
The shop owner produced a scrap of paper, and the two men scribbled figures. Weldon, however, wasn't able to convince the proprietor of the Dean's value—"he thinks I'm just makin' it up." Then Weldon recalled that his bandmate had a copy of Playboy, and in among the cheesecake photos and really good articles was a featured ad for the Dean guitar that even showed its retail price.
Two cab rides later, Weldon was back at the store. The shop owner snatched the magazine out of Weldon's hand. "[He] starts thumbing through it, not even caring about the Dean. Then he gets on this little intercom and the next thing you know, there's 30-40 little Koreans that come out of the woodwork and they're all thumbing through this magazine, goin' crazy with it. They're feeding me coffee and pastries and stuff just so I'll sit there patiently."
Eventually, they got back to business. Weldon got his Telecaster and an off-brand case with electric blue fur lining. En route to the hotel, he realized he forgot to keep his semi-sentimental guitar strap, a gift from his ex-wife, attached. "I knew, after all that, that I'd never be able to convince this guy that it wasn't part of the trade," Weldon laughs. He couldn't go back anyway—The Movie Stars had a gig.
With the USO, says Weldon, sometimes they played for 10 people, other times many more. This particular show was at a nicer theater, there'd be good sound, good lights—and about 1,000 people. Tonight it behooved them to be "on."
Weldon strapped on his new Tele, and the band went into "Too Much Time On My Hands" by Styx. "We've got a smoke machine goin', everybody's waiting to see this big band from the United States rock out," Weldon says, imitating the tense, pulsating synth part: "Be-bo-be-bo-bow-bow-bowbow."
In the song, the tension is released by a big, sustained power chord. But Weldon, a feel player, fretted the chord without looking, forgetting that the scale length on a Fender guitar is shorter than a Dean's.
"Sometimes you can get away with hittin' a bad chord," he recalls, "but I hit the worst one I'd ever heard. It was freakin' terrible. The band looked at me in amazement and I just stopped playing, held my guitar out, and flipped it off. The audience thought it was part of the show; they just went crazy.
"I hit the second chord and it was back on."