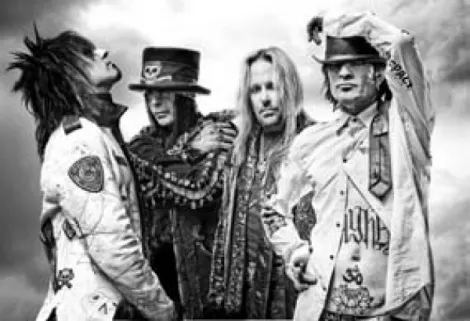 In the Beginning,
Mötley Crüe
just ruled. But why?
City Weekly
thinks we have it all figured out.
Fïngër ön thë Pülsë öf thë Möral Mäjörïty
Everybody knew that Satan was the moral majority's kryptonite. Ditto anything remotely gay. Yet, on their second album, Shout at the Devil, Mötley Crüe hit upon a way to really incense uptight, irrationally frightened adults. To the heady stew of harmonized, ominous intonations of Aleister Crowley-esque writings, they added pentagrams, makeup—for the gay factor—and the most sinister device of all: ümläüts.
Evil Geezer on Guitar
Mick Mars is so old—but how old? And does he look any older now than he did in Crüe's salad days? Think about it. He looked 50 on the cover of Shout at the Devil, but according to Wikipedia, he's only 57 this year. He's also the most evil looking, yet relatively the tamest: supposedly his only vice was booze—and he's sober now. As well, he has been playing hurt all these years, enduring Ankylosing Spondylitis, a gnarly arthritic condition that kept him on painkillers for years—yet no addiction. He also underwent hip replacement surgery, but he's still touring. And he wails on guitar. Surely he is the devil.
Actual Crazy-Ass Drummer
Forget the giant penis—Tommy Lee has mega-balls. First of all, he was brave enough to touch cock-rock groupie Bobbie Brown with his 10-foot-pole. Then he married Pamela Anderson after she was with Bret Michaels, who we now know is an inveterate poonhound who fears not the reaper (see gaggle of diseased, psycho golddiggers on Rock of Love, volumes 1 and 2 [see True TV for news on Vol. 3]). Then, when they divorced, and Anderson told the press he gave her Hepatitis C, he dared to tell City Weekly the following:
City Weekly: You were married to, and got to have wild monkey sex with, what a lot of guys view as the Hottest Woman on the Planet, Pamela Anderson. Was it worth it?
Tommy Lee: Uh, actually, um … no. [Laughs] No.
CW: And didn't you think Leah Lail, who plays the nerdy computer chick on V.I.P., was hotter?
TL: You know, at times, yeah. She was sexier. Just 'cause she's not so blown out, you know? [Laughs]
Then, after such greasy, infectious blobs like Kid Rock and Rick "I boned Paris Hilton and lived to profit from it" Salomon had a taste, Lee reportedly reconciled with Anderson. So either he sports cojones grandes or he's as dumb as his thing is long. Do you think Anderson really wants to get back with a guy who gave her a potentially fatal disease, kick her while she's holding their child and called her "blown out?" It seems like, after Rock and Salomon, she's just plotting some serious payback.
The Voltron Effect
There must be some kind of spell on the band. In their original configuration, Mötley Crüe is fucking awesome. Apart, they're hopeless. Vince Neil's solo material was absolutely terrible—completely bereft of attitude, relying only on his honking vocals and single impressive resume item: Crüe. Nikki Sixx's side projects, save for Brides of Destruction, are milquetoast pop rock outfits, also lacking the piss and fire of Crüe—even backstage, as City Weekly witnessed this past October when Sixx A.M. opened for Korn. Evidently, Sixx alone was only able to draw a modest flock of generic skanks—and the deli tray looked none too fresh. And Lee's work outside of the band has been uninspired meathead rap-rock. Mars, for his part, chose to collaborate with a former member of Evanescence.
But when you put them together, it's pretty amazing—which is why, despite fights, lawsuits and the like—they keep reuniting, and are able to do arena tours. Although Neil's goose-honk, Sixx's songwriting, Lee's anything and Mars' guitar playing are massively unimpressive on their own, the chemistry between them is undeniable. And they put on one hell of a show, replete with flashpots, columns of flame and a list of hits as long as, well, you know. Too bad you'll have to sit through Papa Roach, Sixx A.M., and Trapt to get to it at Crüefest on Tuesday, but at least Buckcherry will provide a welcome respite somewhere on the bill.
Mötley Crüe: Crüe Fest 2008 Usana Amphitheatre, 5400 S. 6200 West, Tuesday July 29, 5 p.m. SmithsTix.com