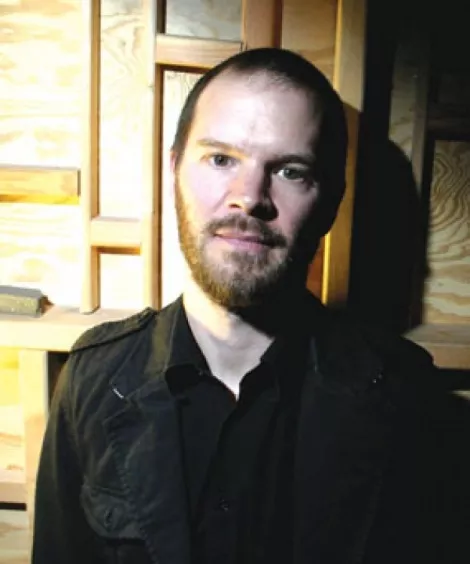 Salt Lake City musician Jeremy Chatelain isn't your linear success story. The leader of local roots-rocker outfit
Cub Country
isn't basking in the riches and glory of the cliché rock-star archetype. Instead, in a roundabout way, Chatelain has proved artistic output can flourish no matter where you call home.
Back in '95, the then 20-something Chatelain decided to relocate away from his Utah upbringing, with the intention of "finding himself." While he'd polished his chops with local, some might say poignant, bands like Insight and Iceburn, Chatelain recognized his abilities as a songwriter were still largely untapped.
He first headed to Brooklyn, N.Y., where he met up with friends in the post-hardcore outfit Into Another, joining their tour entourage. "I was on the road with them for probably three months and, of course, I got the itch to play music again," Chatelain says.
Through his New York friendships and musical contacts, Chatelain snagged the opportunity to join a new band called Handsome (not to be confused with the similar-sounding named Hanson, those teens responsible for the bile-generating hit "Hmmm Bop"). Handsome featured ex-members of Quicksand and Helmet and was touted as the Next Big Thing in the mid-90s alternative-music scene. But after the release of their Epic Records debut, they were held to a strict regimen of rehearsing and touring, and other major label contract obligations that yielded little payoff.
Chatelain says that the process "was like Spinal Tap, but [as] reality" and points out that the experience "seemed to go against every creative pursuit that I enjoyed about being in a band."
Once the contract with Epic ended not two years after he was signed, Chatelain decided, rather than chasing stardom, to look further into the songwriting.
In 1997, Chatelain hooked up with Jawbreaker frontman Blake Schwarzenbach, and the two began to bounce songs off of each other, resulting in the proto-emo outfit Jets to Brazil, with Chatelain on bass guitar. Soon, Jets to Brazil was signed with respected indie record label Jade Tree and started to tour the country. During the next few years, Chatelain composed material that he would eventually play as Cub Country, a project named after the Utah scout camp of his youth.
Three years later, Cub Country released Cub Country vs. Utah Slim, a debut of orchestrated folk and alt-country tunes, while still playing and touring with Jets to Brazil. Both of Chatelain's bands existed concurrently and even shared members in live line-ups. But it was in Cub Country, where the songs came more from Chatelain's experiences as a displaced Utah boy/musician, engulfed in Manhattan's shadow.
High Uinta High (2002), Cub Country's next release, featured a collection of 11 heartfelt songs methodically recorded in various cities, from Brooklyn to Chicago, as well as in Seattle and even Salt Lake City with local studio wiz Andy Patterson. While these songs were pieced together in dense urban settings, the end result projected rural images referencing Chatelain's Western upbringing.
When Jets to Brazil disbanded in 2003, Chatelain and his wife/Cub Country band mate Kathryne headed to Chapel Hill, N.C., where he went back to performing solo under the Cub Country moniker. His next album Stay Poor Stay Happy (Future Farmer) featured musings on the urban experience meshed with longings for a simpler existence off the societal grid. Chatelain briefly left the solo path for a chance to play bass with math-metal giants Helmet but quit after a European tour with the band to move with his wife to Seattle. There, he again jumpstarted Cub Country, touring the Northwest with groups including Salt Lake City favorites Band of Annuals. This meeting of fellow Utah talents became a key point in Chatelain's evolving career.
When Jeremy and Kathryne moved back to Salt Lake City in 2006, Cub Country was revamped once again with their current line-up of Trever Hadley and Brent Dreiling (of Band of Annuals), along with drummer Matt Montaigue and guitarist Wim Becker.
This young yet experienced group of artists gave Cub Country a fresh dynamic as did the surrounding art and music scene. Chatelain believes that the same community he sprang from is still just as passionate and committed to making art as ever.
"I think art is important for the general public … it's going to enrich your life," he admits, adding that "… it's vitally important for a city, especially like this [city], which can feel repressive …"
Cub Country is currently finishing up a new album under the working title Stretch That Skull Cover and Smile, a phrase directly lifted from the works of Kerouac. Not surprising, considering both the band and the author have been down their own figurative and artistic roads.