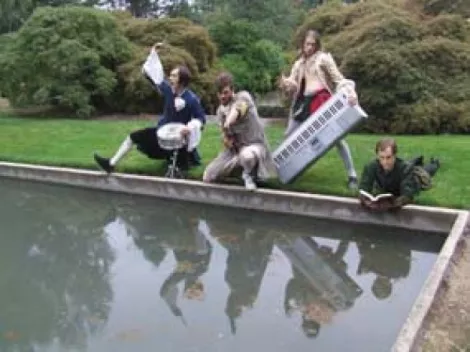 Ignorance and Shakespeare go together like ignorance and metal; therefore, Shakespeare and metal are natural partners. That is to say, it may not make sense, but it sounds hella good. Together. Metal and Shakespeare. What I'm gettin' at: Some people get it, some don't—and are proud of it. Oh, and each has been called the work of Satan (to say nothing of the theory that Danish metal singer King Diamond is suspected, beneath the kabuki makeup, to be the immortal Bard).
So we asked Lord Simms, master of versification and axemanship for The Metal Shakespeare Company, if his music—"bardcore"—is meant to make Shakespeare more interesting? Or is it evangelism, a way to expand awareness and understanding of Shakespeare's work, like Stryper and Creed have done with Jeebus?
"Well, 'tis more enjoyable to observe a crowd of people, not merely standing and staring, but stirring wildly, like a maelstrom," says Simms. "And for this reason, we find it's preferable to perform the works of Shakespeare set to music, as opposed to merely spoken."
So is Shakespeare intrinsically metal? How do his flowery, high-falutin' plays and sonnets lend themselves to metallic reconstruction? Please answer in a monologue.
"The Bard is intrinsically metal because, first of all, there is quite a bit of blood in many of the plays. And we all know that metal and violence—especially warfare—are somehow wed. But, mostly, the Shakespearean catalog focuses on the values that are most prized in metal, which are bravery, valor … coincidence. And some Shakespearean villains would make excellent frontmen of metal bands. I, for one, would definitely attend a concert put on by Othello, were he to pick up a Flying V."
But can one really do justice to Shakespeare in 4-1/2 minutes? His works are considered the pinnacle of the written word—how can you reduce them to a few Satanic verses over galloping riffs and squiddly guitar solos?
"Well sir, Shakespeare is not unlike rock music. You've got an album with 60 minutes of music, but often what is remembered is merely the chorus from one particular song that was particularly popular. So we find it preferable to take the 'hits' if you will, the most memorable lines from the play, and string them together. Often we distill a play down to its most metal moment, such as the dagger speech of Macbeth, in which the character is plotting murder but is also besieged by illusions, another common theme in metal."
Your song "Coriolanus"—based on the play—that's about Caligula, right? All the butt-sex stuff?
"That is entirely untrue, sir. It is about a Roman warrior who is vying to become emperor, and he's thwarted by a villain—Aufidius, whose speech we use for our song. That was the first play that was set to metal by me. It was in a tavern that the idea was conceived, and in this tavern there was a jukebox. We asked this mysterious device to perform a song for us by Iron Maiden. And to this song I sang lines I happened to have memorized for my studies of the Bard at university. It was then that we realized it would be entirely possible to perform the works of the bard to heavy metal."
So other than the songs—and fancy threads—what's the stage show like?
"It varies. On this particular tour, I shall be performing as a soothsayer. I've been developing my talents of intuition and we shall take a collection of questions from the audience before the performance, call them onstage and attempt to see into the Other World and help them with decisions or grieving, or lust. On previous tours, we've brought an arsenal of weapons that are 'safened' with dulled tips, et cetera, and asked the audience to battle one another. And always, if we perform alongside a great axeman, we request he perform with us in a duel, because our axeman—Viceroy Matthew—is quite skilled as well. And we allow the audience to select the winner of the duel."
Speaking of lust … Is there more or less groupie action when you set Shakespeare to metal?
"Perhaps there is less."
THE METAL SHAKESPEARE COMPANY @ Burt's Tiki Lounge, 726 S. State, Thursday May 29, 9 p.m.